The Xiaomi Redmi Note 4 which is expected to launch in India on January 19 has been listed on Amazon India for ₹27,267.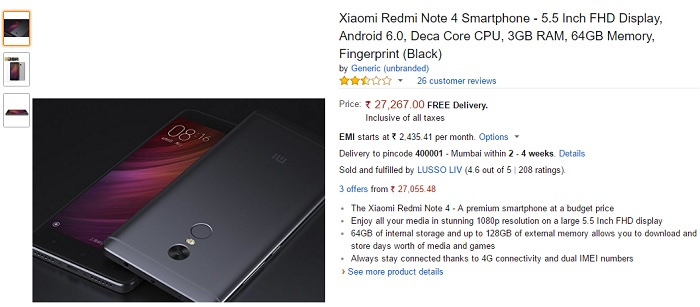 The device isn't being sold by Xiaomi though, rather, it is being sold by a seller who goes by the name of 'Generic (unbranded)'. There are two models which have been listed on Amazon India by this seller, one is the Black colored variant and the other is Gold colored variant.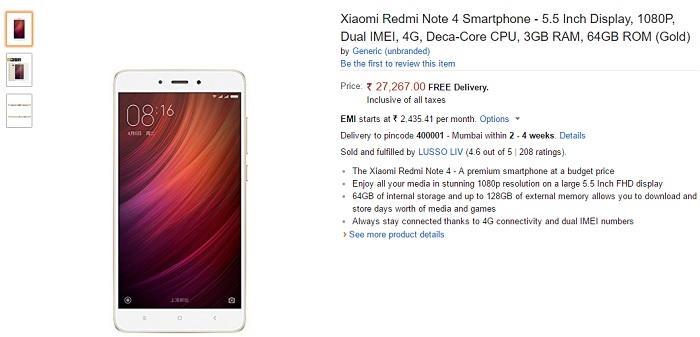 As this device is yet to launch in India, we suggest you don't rush out to buy one. Also, another reason to avoid buying this device is that both these models are powered by MediaTek Helio X20 SoC, and, due to a legal battle with Ericsson in India, Xiaomi is not allowed to sell MediaTek powered devices in the country. Hence, it is very likely that the Indian variant will be come with Snapdragon 652 SoC under the hood.
Besides all of this, the Redmi Note 4 listed on Amazon India is priced way too high and you may not get any warranty or after sales service for this purchase. Talking about the specs of the listed devices, both the Black and Gold colored variant are powered by MediaTek Helio X20 deca-core processor which is coupled with 3 GB of RAM. The device boasts a 5.5-inch Full-HD display and comes with 64 GB of internal storage.
Like we said above, Xiaomi is expected to launch the Redmi Note 4 in India next week on January 19, so, if you are eager to buy this device, we suggest you to wait it out till the device has been made official in the country.