Late yesterday Xiaomi hinted about a press conference scheduled for April 11. Given the previous rumors about the Mi 6 launching on Aprill 11, everyone assumed that the Chinese smartphone giant would unveil the flagship smartphone today. However, Xiaomi feels that the upcoming smartphone is very special for it and it kept a special event today only to announce the launch date. Yes, its next week.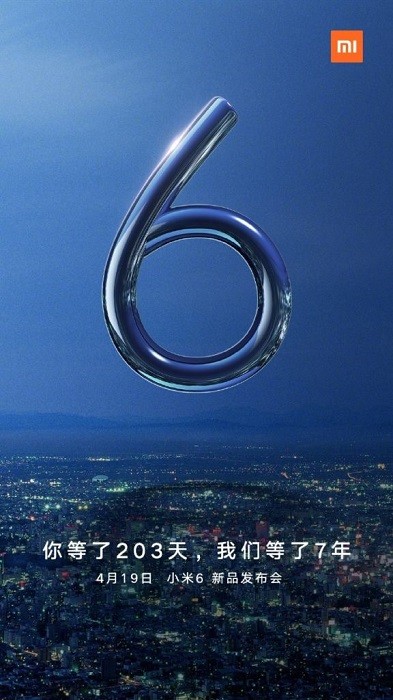 Xiaomi has announced that it would unveil the much-awaited Xiaomi Mi 6 on April 19. The invite to the launch invite states; "You waited 203 days, we waited 7 years". Assuming that Xiaomi is talking about the Xiaomi Mi 5s which was launched 203 days back, we get a feeling that the company has quite a lot in store for its upcoming flagship offering.
While the official announcement is still a few days away, almost everything about the Mi 6 has been revealed. For starters, the Mi 6 would flaunt very slim bezels with a iris scanner and a dual rear camera setup. The handset would be available in two variants – Mi 6 with 5.15 inch display and the Mi 6 Plus with a 5.7 inch display.
Additionally, the Mi 6 flasghip series would be powered by the Qualcomm Snapdragon 835 chipset and would be available in 4 GB and 6 GB RAM variants depending on the model. As for the pricing, the Mi 6 is expected to start at 2199 Yuan (approx. Rs. 20000) and the Mi 6 Plus would be priced starting at 2699 Yuan (approx. Rs. 25000). We have just another week to wait!