If innovation had a nickname, it would be Xiaomi. The company, which has ventured into India after breaking sales records in China, is being eagerly anticipated in the market as its first phone in India – the Xiaomi Mi 3 goes on sale today.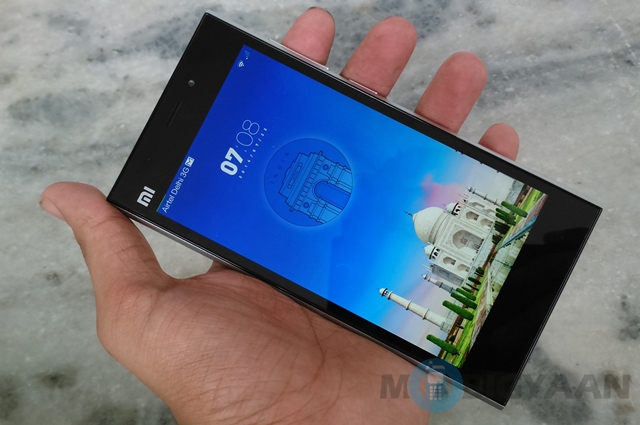 The phone, which offers a ton of stuff at a very attractive price of Rs. 13,999 is something any Indian consumer would be delighted to consider. It comes with a Snapdragon 800 processor, a 5-inch full HD display, 13-megapixel rear cam with dual-flash and the famed MiUi ROM.
The Xiaomi Mi 3 is the company's entry pass to India. While China is moving on to the next generation of this phone with Mi 4 on the same day, the Mi 3 is actually debuting in India with amazing specs. It's price tag and specs combination is unprecedented. What is offering at its price tag, is something that even phones will double the price tag don't offer and that is what pulls it ahead of the race. This is something it can cash on and create a space for itself in the dynamically changing Indian smartphone industry. But, the real test will be when consumers go for it. But, whatever might be the case, it is gaining recognition fast and people are sitting in eager anticipation of how the smartphone might perform.
Well, the end to your anticpation has come. Here is our detailed Xiaomi Mi 3 review.
Xiaomi Mi 3 specs:
5 inch display
1920 x 1080 pixels resolution
2.3 GHz quad core Qualcomm Snapdragon 800 processor
Adreno 330 GPU
2 GB RAM
16 GB internal memory
13 MP primary camera
2 MP front facing camera
Google Android v4.3 Jelly Bean
3050 mAh battery
Hardware
Generally, smartphones in the mid-range aren't known for their looks. The price privilege means that you have to mostly sacrifice in terms of design and specs. Thankfully, this is not the case with the Xiaomi Mi 3. The Xiaomi Mi 3 has a smooth rectangular form factor and it looks and feels pretty good. It is a mix of plastic and glass, but thankfully its not a 'plasticky' device.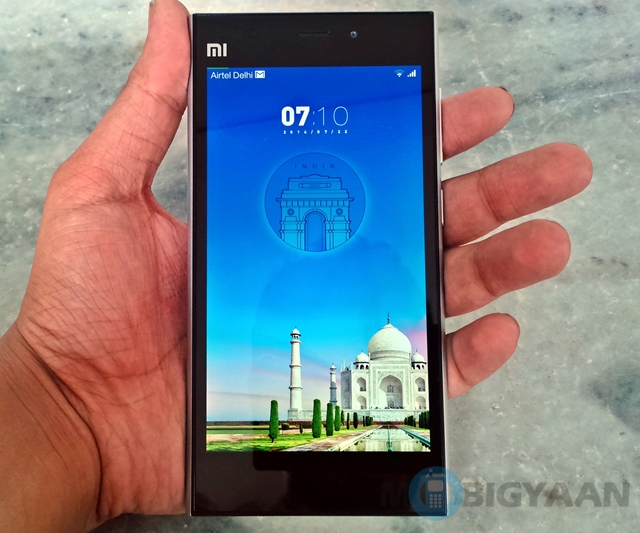 The Xiaomi Mi 3 has a standard 5-inch frame and is pleasing to the eye. It comes with rounded corners, which make the handset easy to fit in your palm and easy to hold. Most importantly, these corners won't pierce your skin, when you keep the phone in your pocket.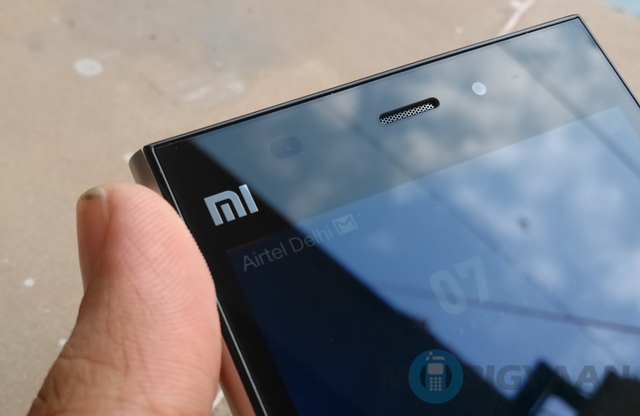 The Xiaomi Mi 3 is largely dominated by its 5-inch display and rightly so. The side bezels are of average thickness, while the upper and lower bezel is a little thicker, presumably to accomodate the fromt cam and speaker and capacitive buttons respectively.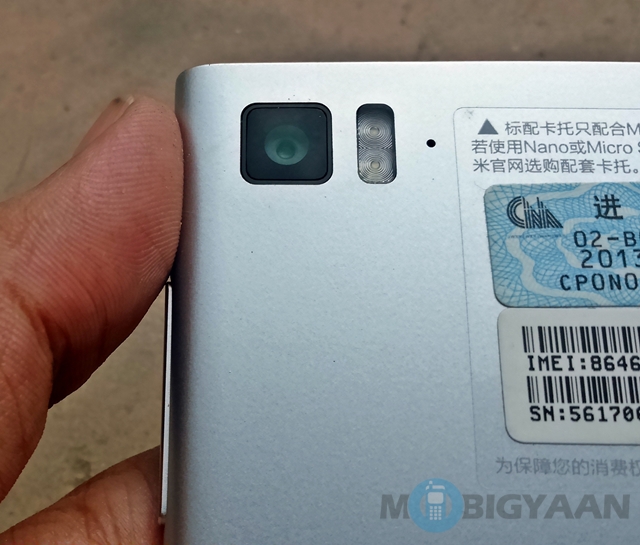 The camera at the back is located at the left corner of the handset and looks suave accompanied with a dual flash.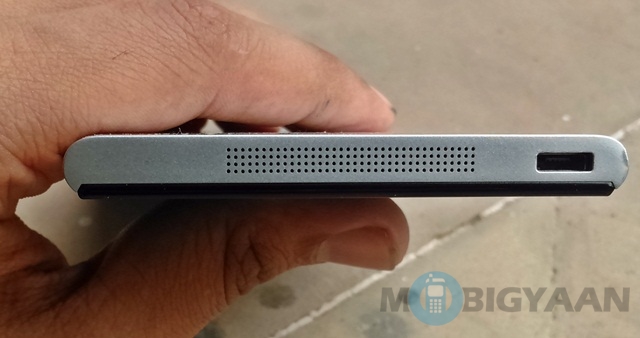 The MicroUSB slot is located at the bottom, while the 3.5-mm audio jack is located at the top. There is also a speaker located at the bottom accompanying the MicroUSB jack – a practice which is slowly becoming universal among smartphones. It lets you hear music, irrespective of whether the phone lies on its back or on its front.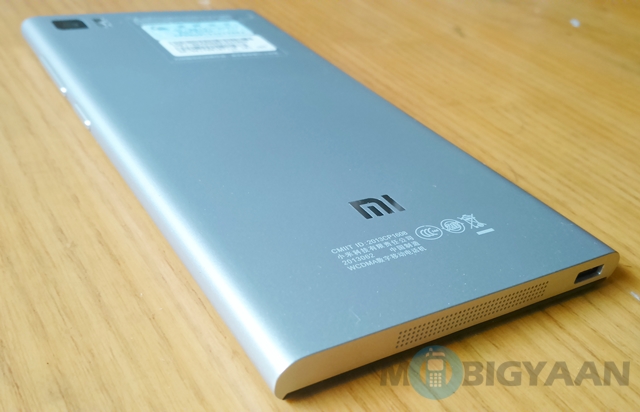 The Xiaomi Mi 3 comes with a non-removable 3050 mAh battery. It comes in two versions the 16 GB one and 64 GB one. The former has currently made inroads to India. It sadly though, offers no MicroSD slot.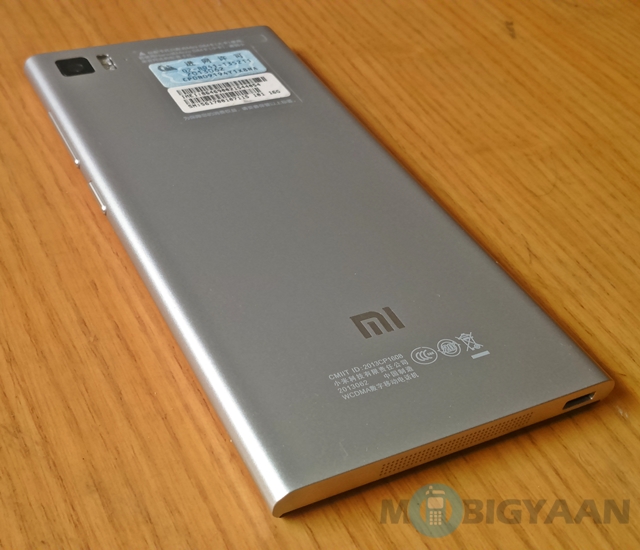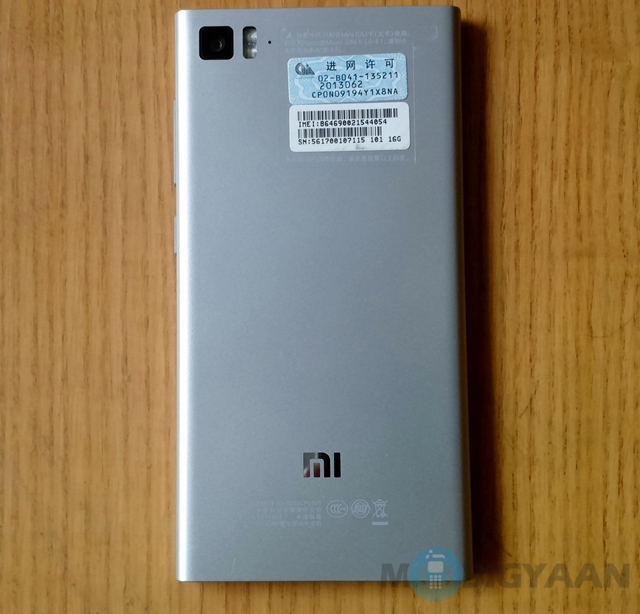 When I first saw the handset, one of my major concerns was whether the back of the handset would turn out to be scratchy. Thankfully, my fears were unfounded. The Xiaomi Mi 3 can take a little wear and tear. Both the display and the back of the handset do not get scratched easily.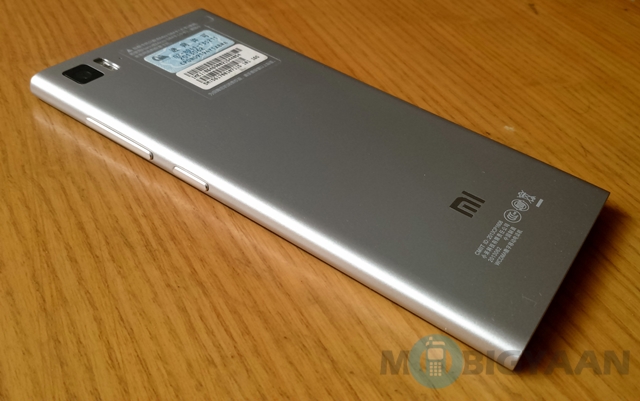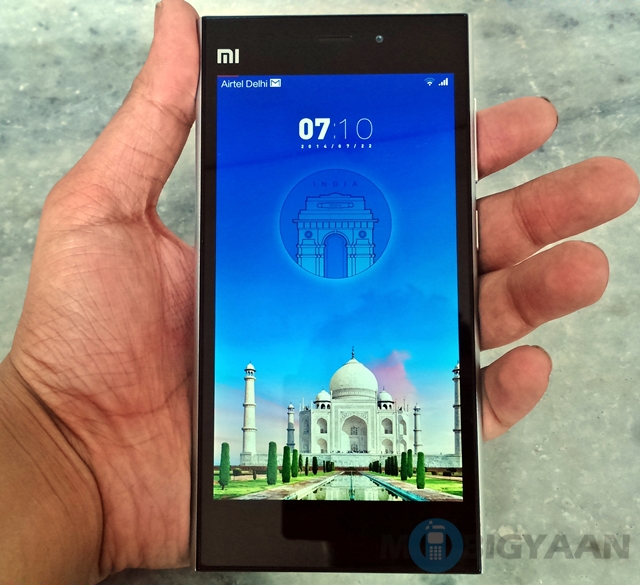 The handset looks a little delicate, but it isn't. The silver back adds a stylish zing to the handset and makes it a pleasure to look at. The front too, is pleasing to the eye. The handset is neither too thick, nor too thin and looks pretty cool.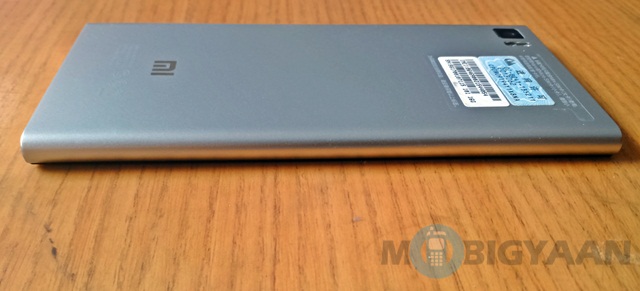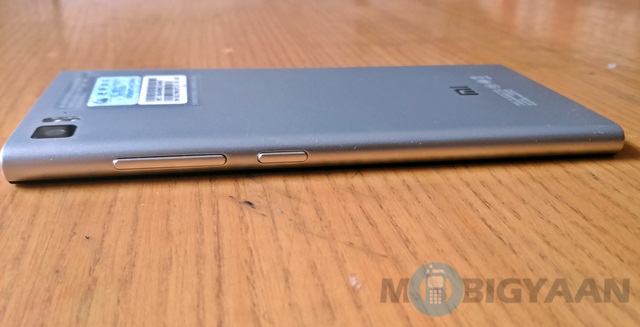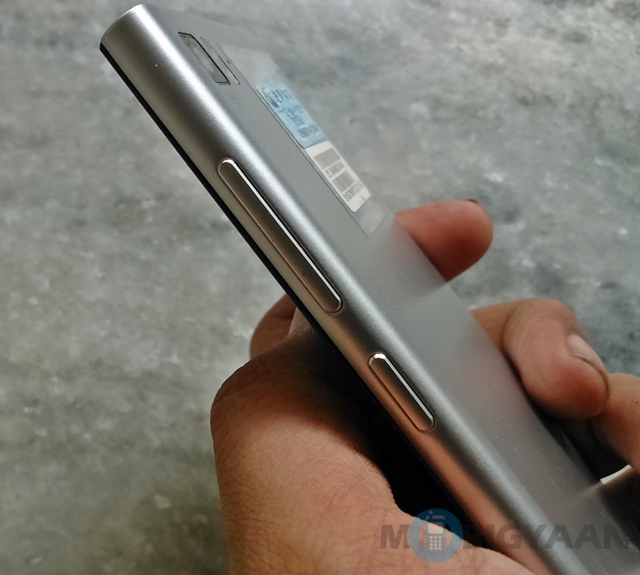 You won't really have any problem as far as the form factor of the Xiaomi Mi 3 is concerned. It looks far better than many other handsets in the market.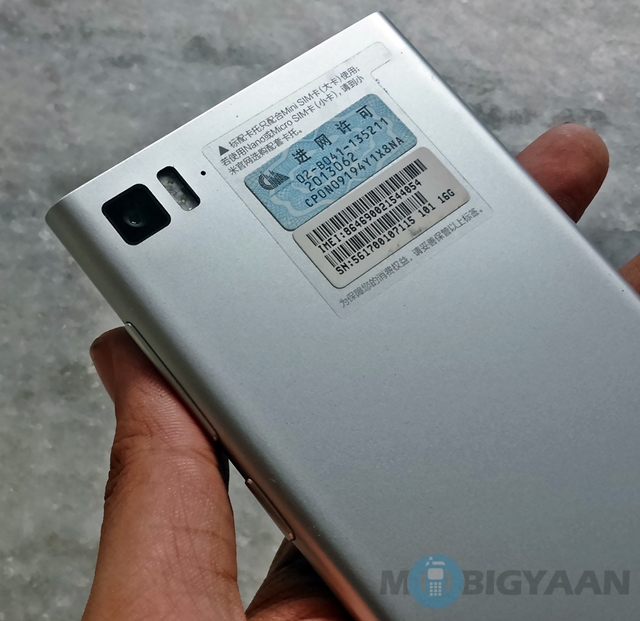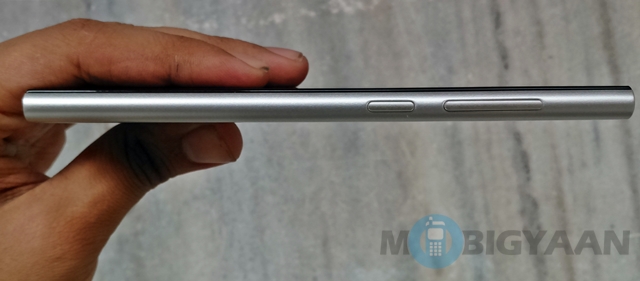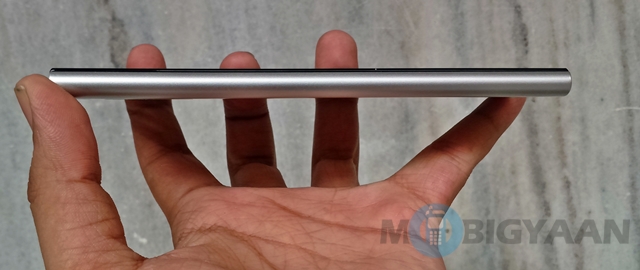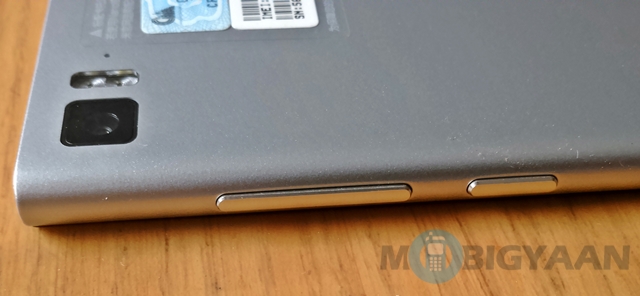 But the toast of the handset is definitely its 2.3-GHz Snapdragon 800 processor and display resolution 1080 x 1920p display at this price point – a combination that hasn't been offered by any smartphone manufacturer and isn't likely to offered anytime soon. This puts it far ahead of the race than any other manufacturer and rightly so.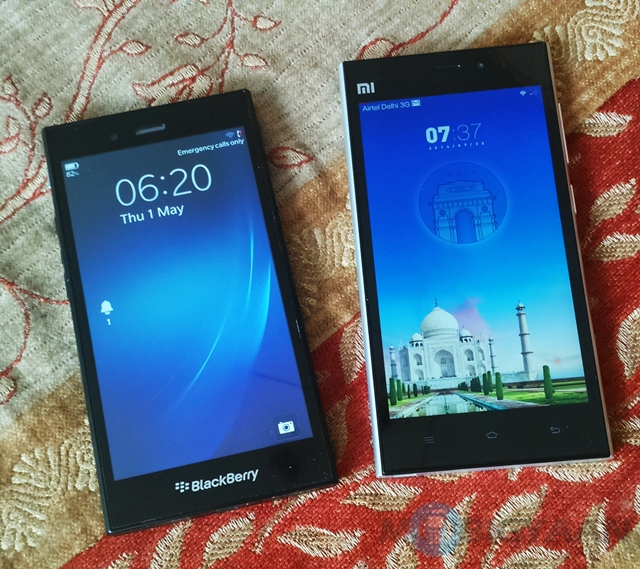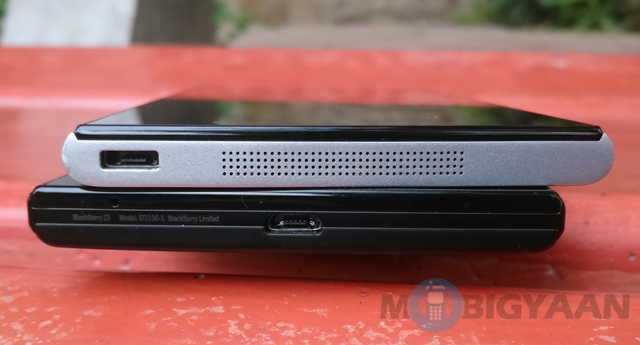 Xiaomi Mi3 compared with BlackBerry Z3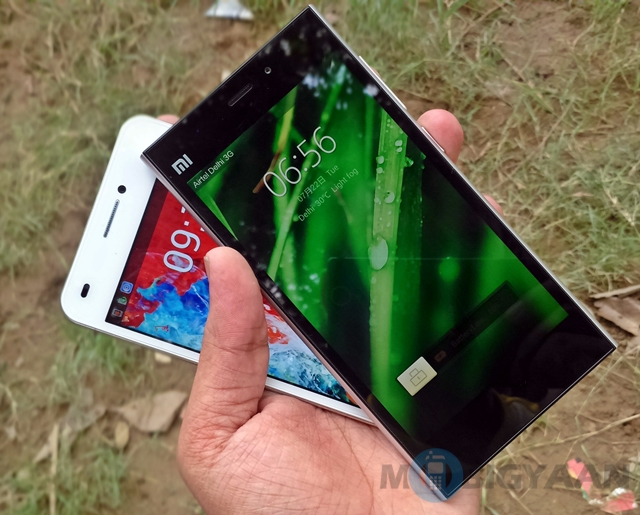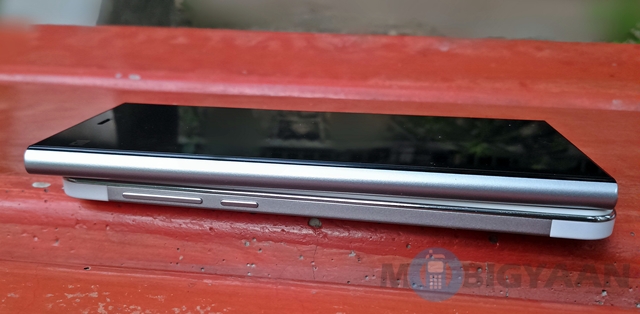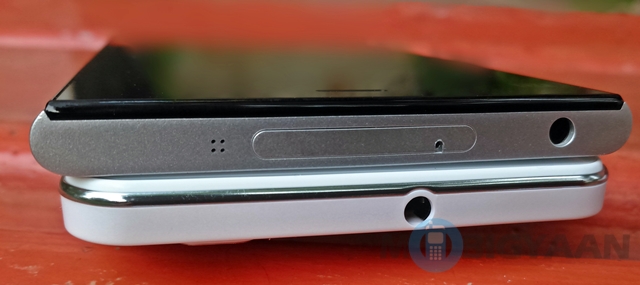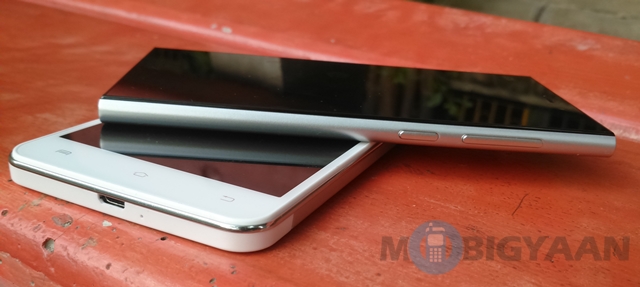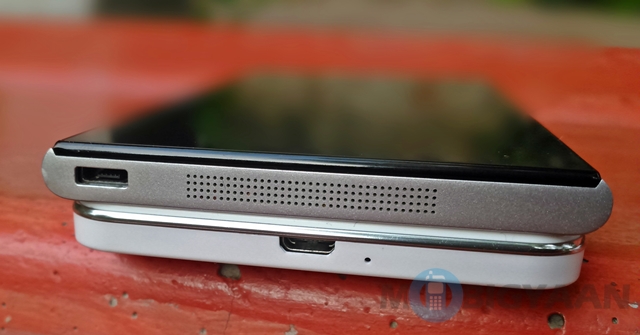 Xiaomi Mi3 compared with Xolo Q1200
The Xiaomi Mi 3 is the right mix of specs, looks and durability – something that is currently a rarity in the smartphone industry.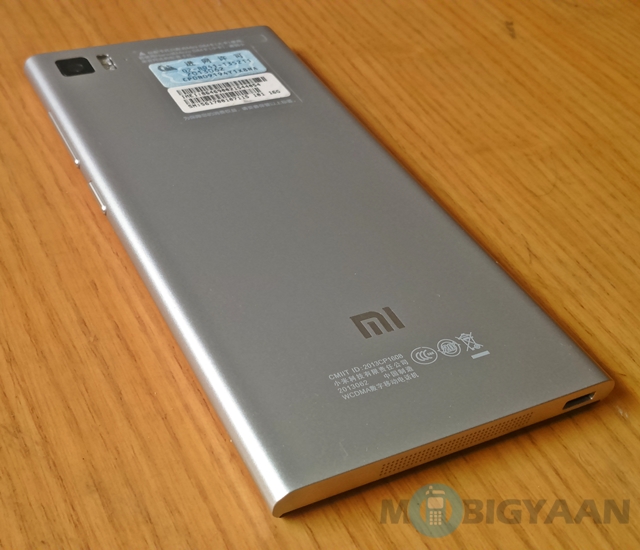 The Mi 3 is a good-looking phone. It is just the right size for an average consumer and feels great to use. Any person having his or her hands on this phone will be mostly delighted by what it offers.
Display
The Xiaomi Mi 3 comes with a 5-inch 1080 x 1920p display. It is a beautifully executed full HD display.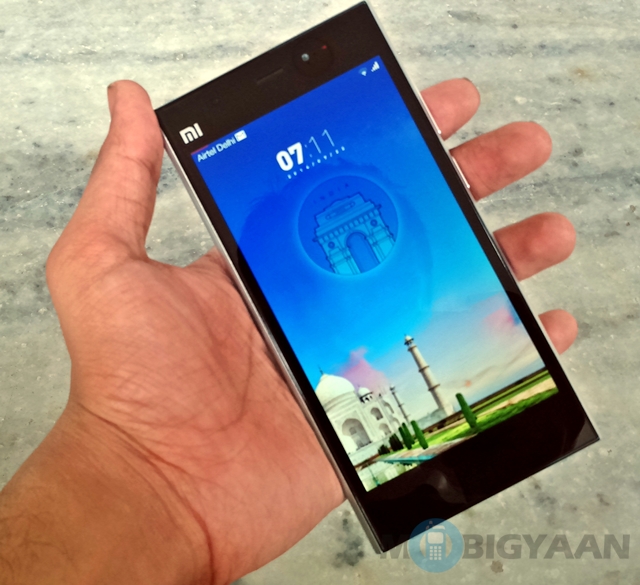 The Xiaomi Mi 3 display looks pretty cool. But, to make the best use of it, I would suggest that you download some of the beautiful free themes available. I particularly liked the colorful Xiaomi India theme, which brought out the colors in the display. The viewing angles are great and the sunlight visibility is good. There is no color leakage.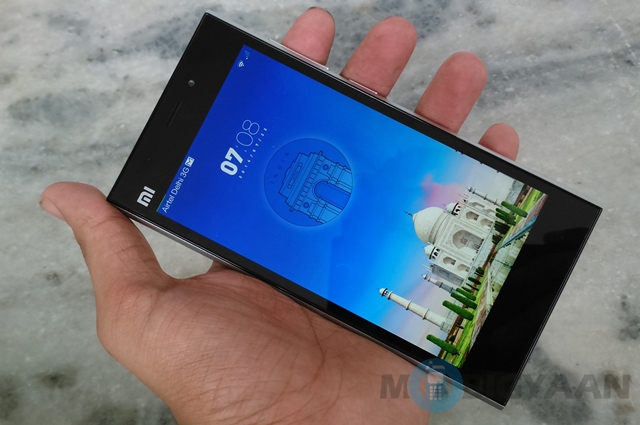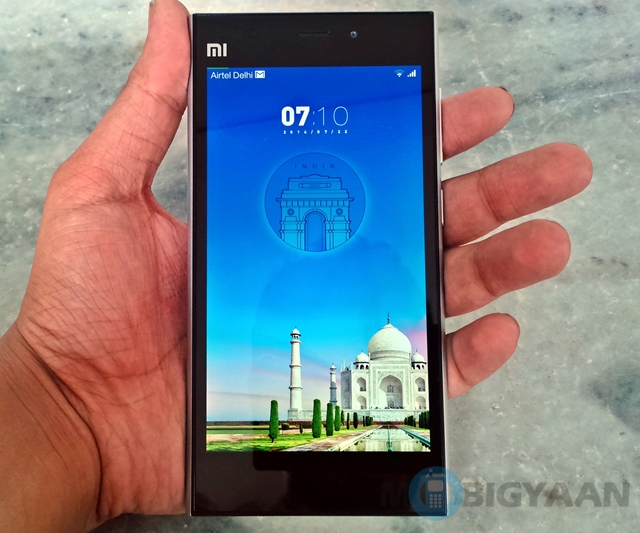 The best thing about the display is that is highly optimized. But, the most interesting thing is how sensitive the display is. It is coated by a smooth layer of glass and is so sensitive that in fact, that it will even detect the little touches and respond pretty fast. The display is neither blindingly bright, nor is it too dim.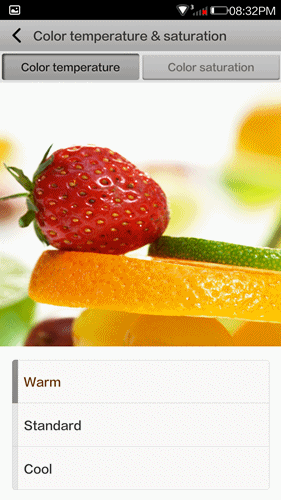 You can also opt for different kinds of color temperatures to suit your taste.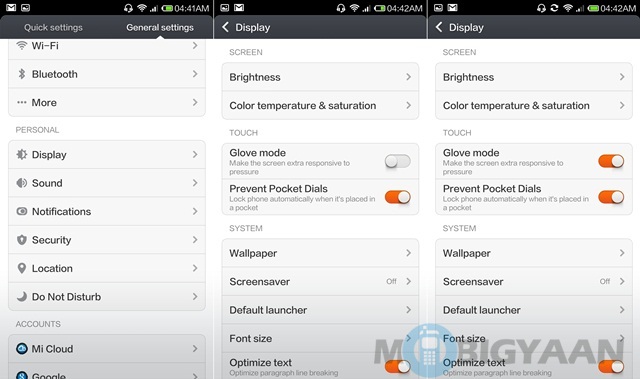 There is also a Glove mode onboard that lets you access the screen with gloves on due to increased sensitivity.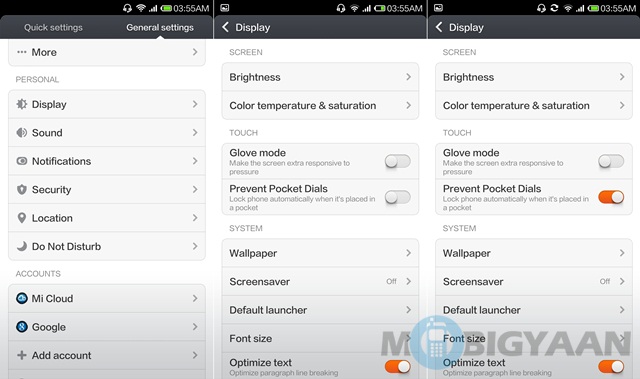 An innovative feature from Xiaomi is 'prevent pocket dials'. It locks the phone automatically when you place it in your pocket and saves you both money and embarrassment.
Overall, this is definitely the best display I have seen in the mid-range from any manufacturer up till now.
Software
The MiUi ROM is the highlight of any Xiaomi device and the Mi 3 smartphone isn't any different. Before I spell it out in detail, let me describe the basics.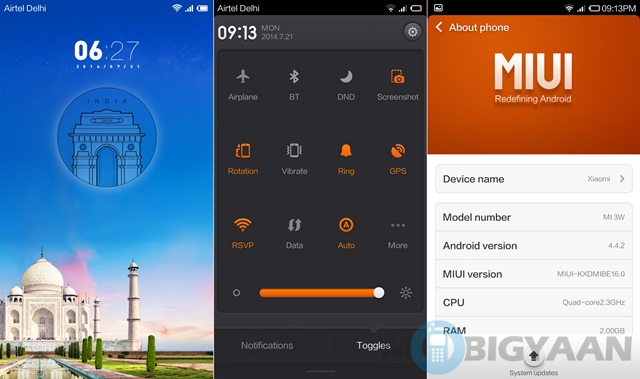 Xiaomi has endowed the Mi 3 with Android 4.4.2 even though the Chinese version of the handset carried Android 4.3. Xiaomi has understood that when it comes to smartphone software, simplicity is the key to pleasing people. This is echoed throughout the software.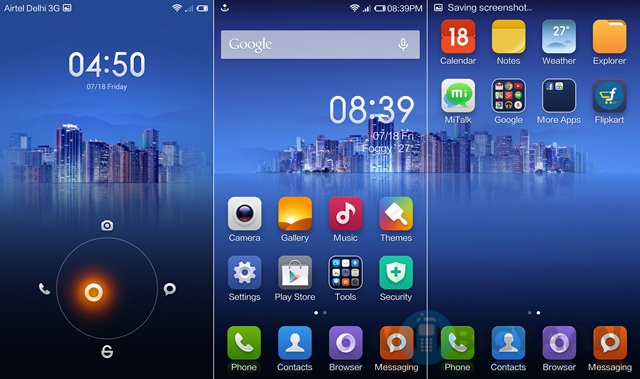 To start with, there is no app drawer. All  the phone has is an app desk. This is a little weird at the first sight, but you will soon enough be at ease with. In fact, one can appreciate the fact that all the icons of general usage are easily accessible. Another thing that is appreciable is that Xiaomi has not tried to be an alternative to Google on an Android phone. Most companies generally bloat the phone with their own apps in addition to ones from Google. This makes the handset buggy and full of stuff that you might never use but will still be present on your phone forever. It has let these apps be and made it easy to utilize them.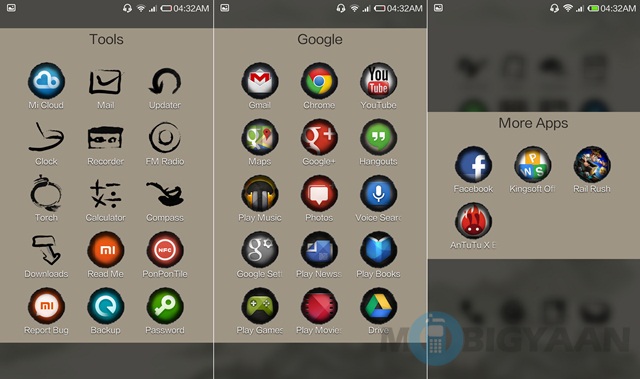 The apps on board are also well-organized in form of three folders – Tools, Google and More apps. This  lets you organize clearly whatever apps you need and doesn't clutter the display. Third-party apps on board are Facebook, Kingsoft office and Flipakart. You can put whtever app you want download in the More apps folder to keep things organized.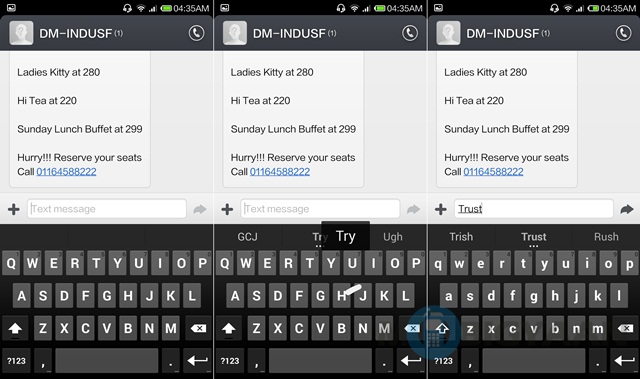 Another thing – they have utilized whatever Google goodies were available instead of preparing alternatives that wouldn't do as good a job as the Google one does, but still would add to the price of the handset. For e.g. they have used the Google Keyboard instead of designing one of their own.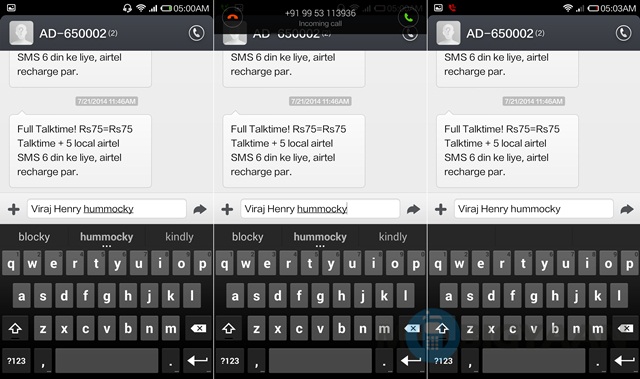 Not only that, there are little surprises scattered here and there. For instance, if you are doing something on the phone, for instance messaging. You will not be disturbed from what your are doing if a call comes in, actually a bar will appear on the top of the display letting you reject or accept the call, without being disturbed with what you are doing currently i.e. you won't have to type a gruesome text message again just because a call came in while you were doing so. That's pretty neat!
But there is hidden goodness there, that will be unearthed as you dig deeper into the software.
Let me underline some of the amazing features for you:
Themes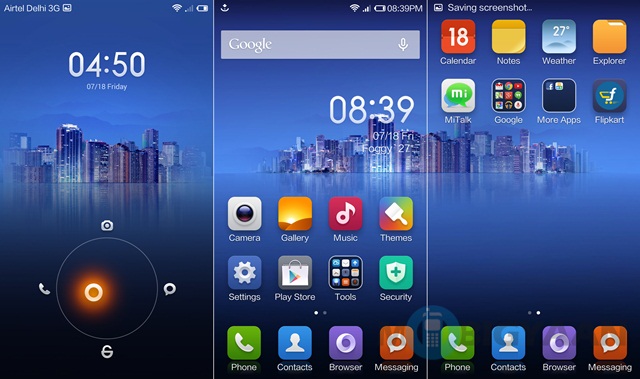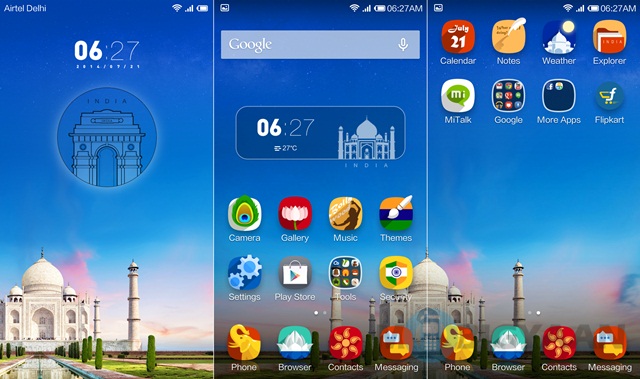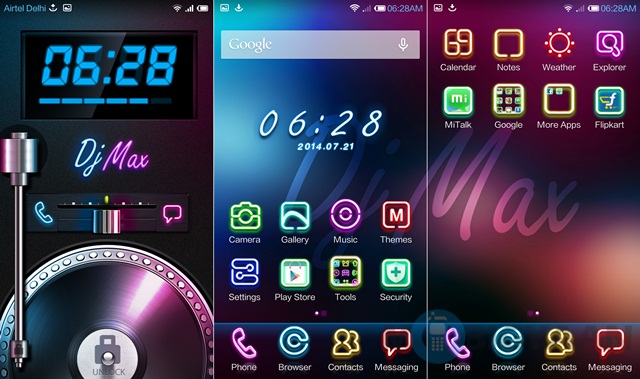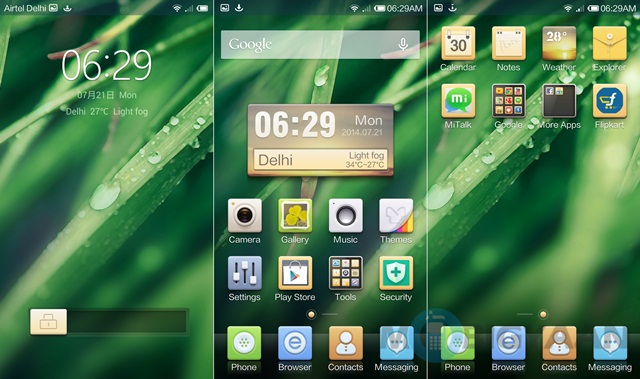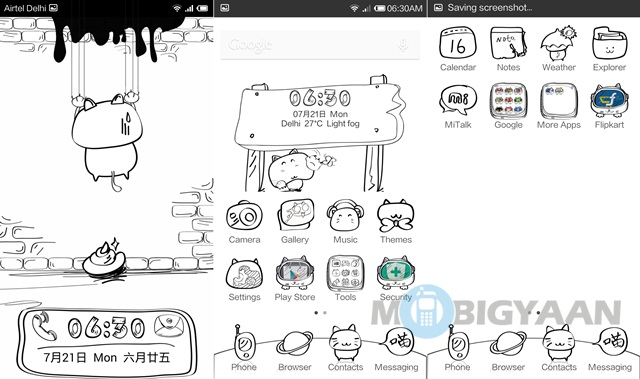 The company has actually put in a lot of amazing themes in the device and these are not run of the mill themes.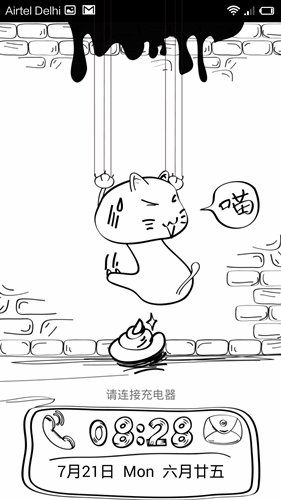 I truly fell in love with some of the animations.
You actually get a lot of amazing themes that change not only the homescreeen, backgrounds and the wallpapers but everything else including icons, notifications and the other animations. It makes it a delight to look at.
Permissions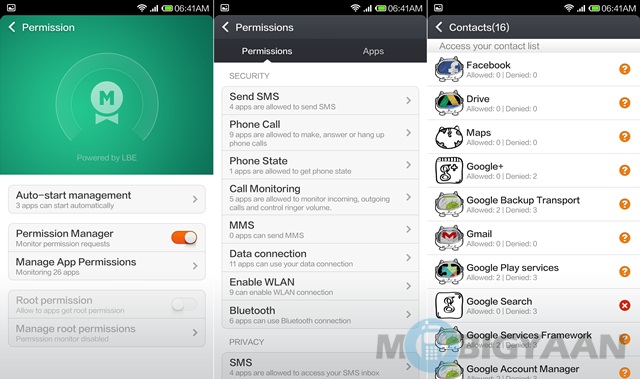 Ever wondered when apps ask you for permissions and you unilaterally say yes? The MiUi ROM actually lets you moderate permissions for every app. It will also show what app is trying to access what. You will actually be surprised to know stuff. For e.g. I was actually surprised to know that my calendar app wanted access to my photos.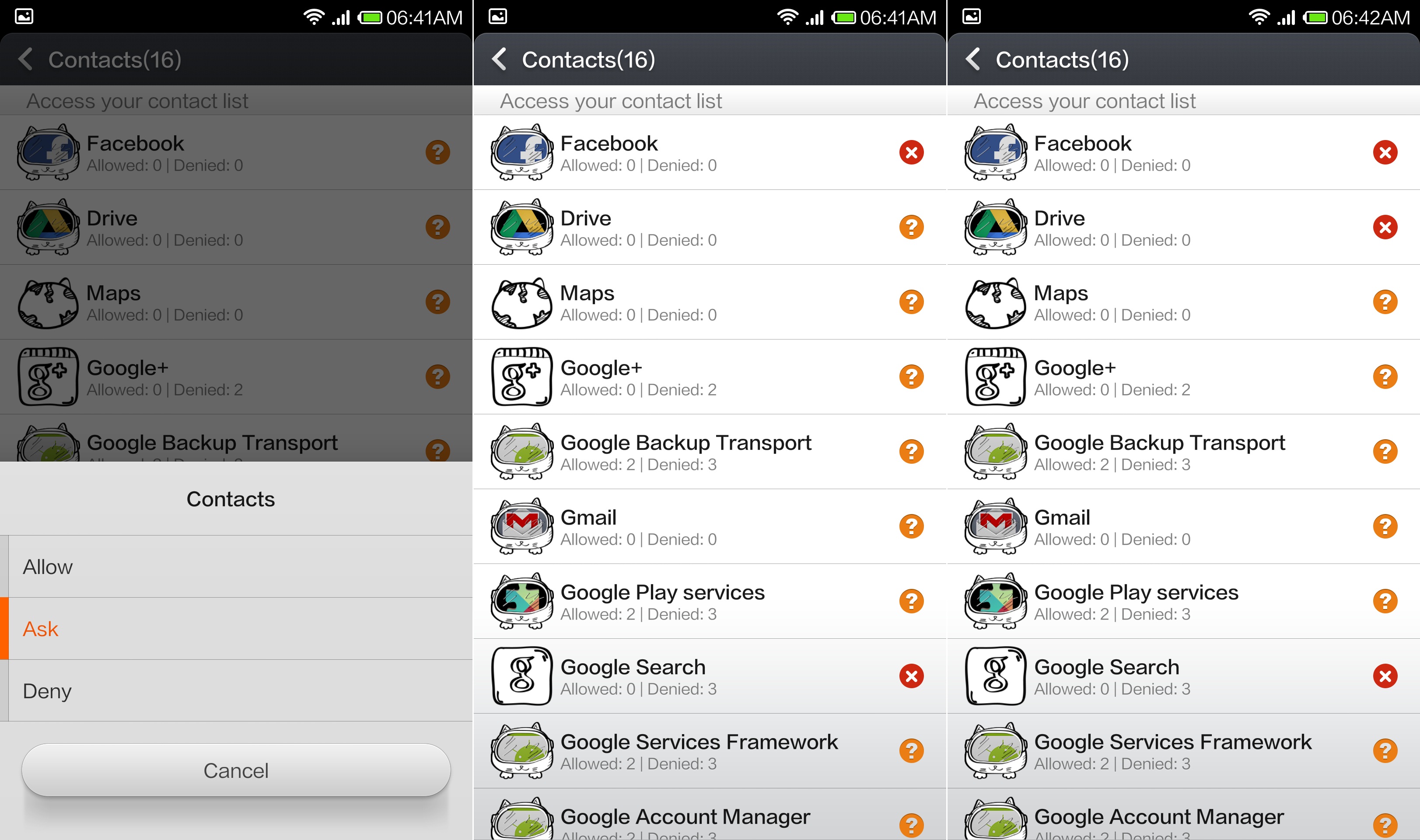 (Just denied Google Drive the permission to view my contacts! Notice the [X] in front of it?)
You can actually allow, ask or deny an app permission to access your contacts, call logs, messages, photos, videos and other stuff.
You will be further be surprised to know that even if you deny the persmissions to any app to stuff which is not directly concerned with it, it does not affect its functionality in any way. You atleast can protect your content in a better way.
Do Not Disturb feature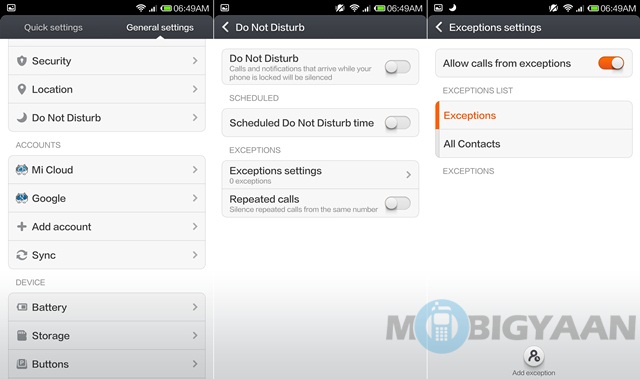 You can actually use this Motorola-esque feature to avoid getting disturbed during meetings and other important stuff. You can also set exceptions to the rule.
Mi Talk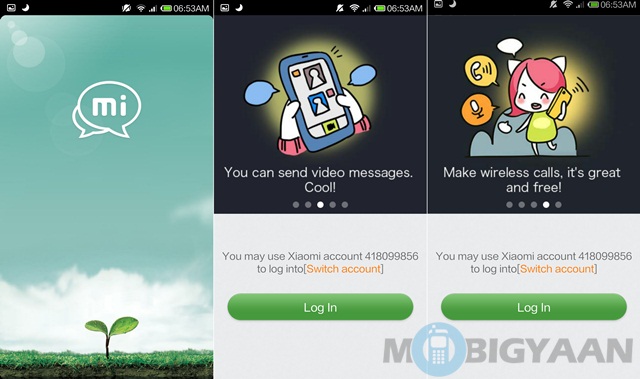 This is a chat app that lets you send out video messages and make wireless calls to other users of the same app.
Hidden Messaging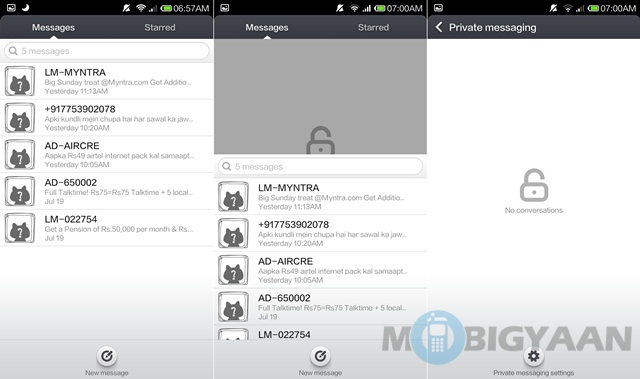 This is something completely new. You can actually have a messaging record apart from your usual messages.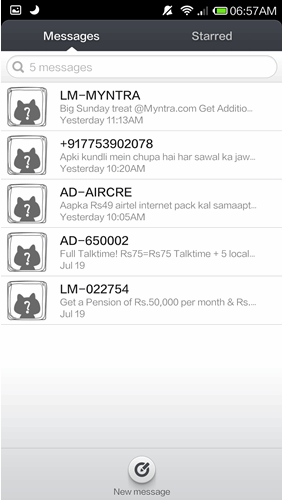 These private messages will only be visible once you scroll upwards on the messaging screen and can also be password protected. Not only that, you can also save numbers as private i.e. the messages from these marked senders will be shown as 'unknown' in the notifications bar and will not be visible on the main messaging screen.
Make notes / Record while on a call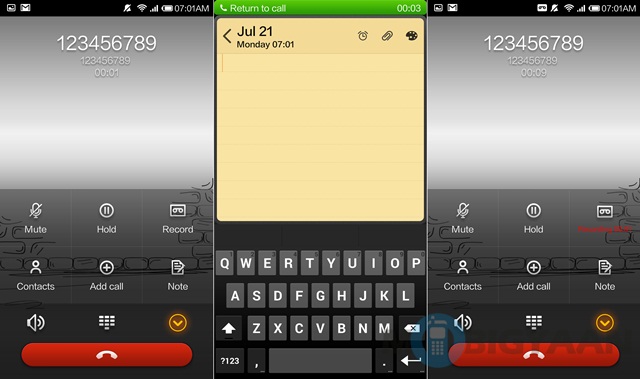 You can actually take down notes while being on a call or even record the call during the conversation.
Guest Mode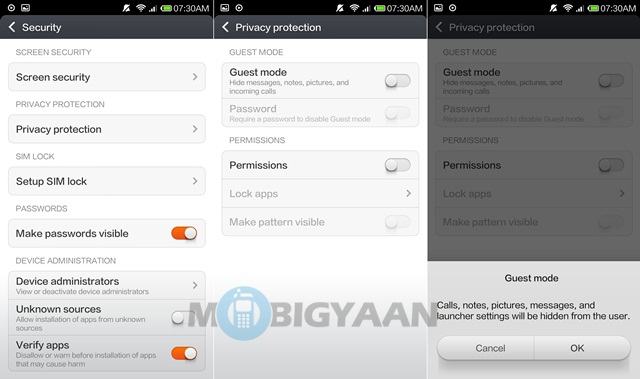 There is also a guest mode that lets you hide messages, notes pictures and incoming calls when you lend someone your phone.
MiCloud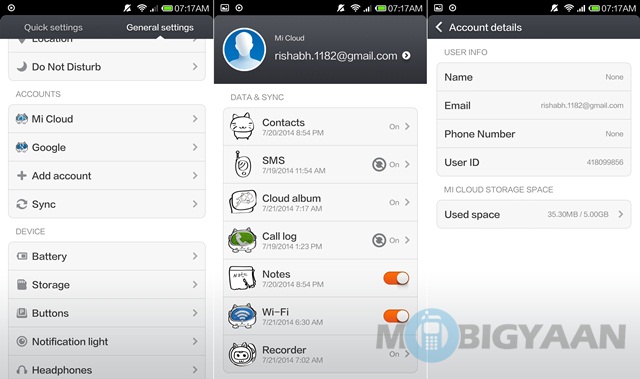 You also get 5 GB MiCloud storage free.
Security monitoring feature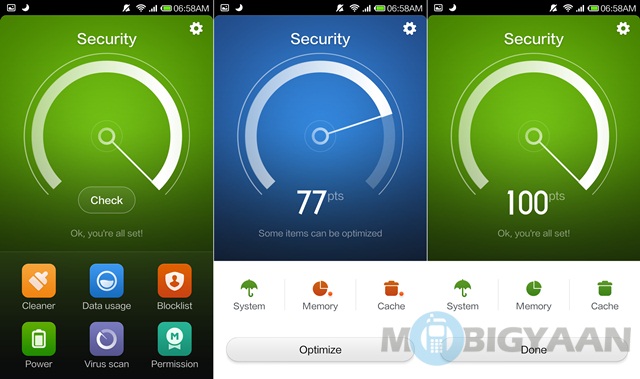 It lets you monitor how secure your phone is and basically easily fix threats with one click without the need for external antivirus.
There is actually a virus scan onboard that scans every file including those on MiCloud.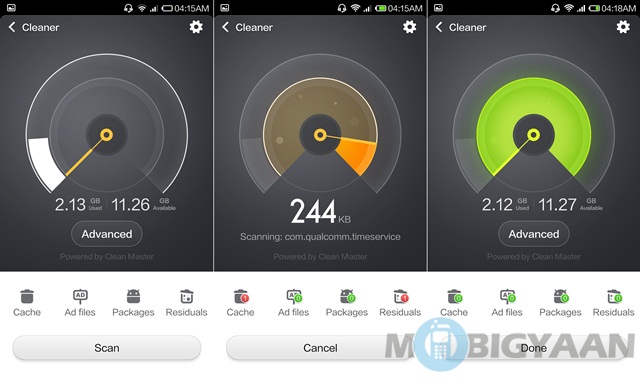 Not only that, there is also a 'cleaner' that lets you synchronize the performance of your phone. The best part is that, it lets you actually get rid of cache files left by uninstalled apps on your phone. You can also set mobile data limits to save money or even view how much data is being used by an app on Wi-Fi, which I find pretty cool. You can also block calls and messages from people using this app.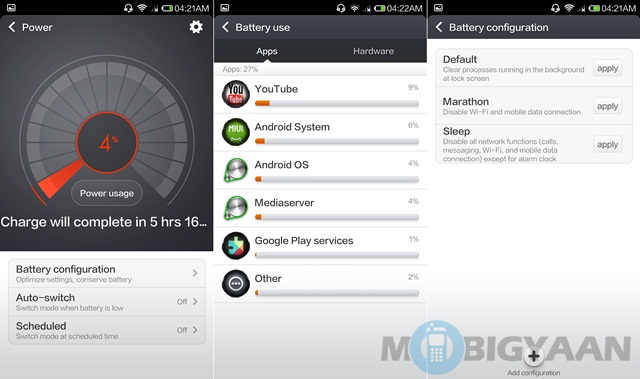 Another thing this app does it that it provides you three different power modes – Default, Marathon and Sleep, for varying battery levels. As if the 3050 mAh battery isn't enough, this is also a welcome addition.
Music Playback (currently being improved)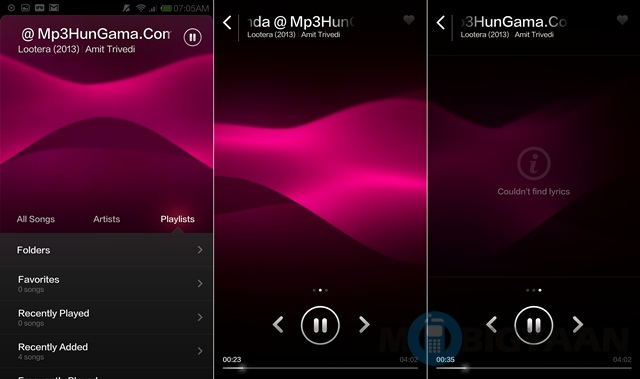 Xiaomi's music app is highly evolved. The Chinese version of the app lets you see song lyrics and also download it in various audio file formats including RAW support. You have to shell out for a song only if you want the highest quality audio from those available. Xiaomi is currentlly working on acquiring licences to make this function well in India.
Gestures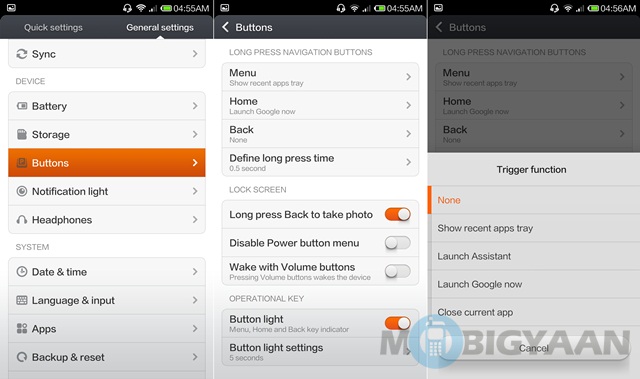 Xiaomi has a lot of gestures on board the Mi 3. The thing that will delight you is the Buttons functionality, which lets you assign different functions to any buttons for e.g. Long pressing the back button will let you actually access the camera. You can also assign other functions to this button for example you can launch Google Now or the recent apps tray just by assigning the Menu, Home or back buttons to that functionality.
You can also change the color of the LED notification light. Not only that, Xiaomi offers you different kinds of audio options for different headsets.
Multi-Language support
Xiaomi is working on multi language support for the MiUi ROM. This is a first for any Custom ROM and will encourage more users to come on board. Last we heard, the Hindi support is 95 percent complete.
Xiaomi actually updates the ROM regularly, because more than software engineers, it gets its updates from MiUi community of developers. It also lets you post your suggestions, requirements and hopes from ROM and tries to incorporate the ones its moderators decide on. This makes it a living and organic ROM that can offer way more than just plain Google updates or bug fixes.
The best thing about the MiUi ROM is that despite so many innovative features, it lets you completely personalize and optimize your phone.
Camera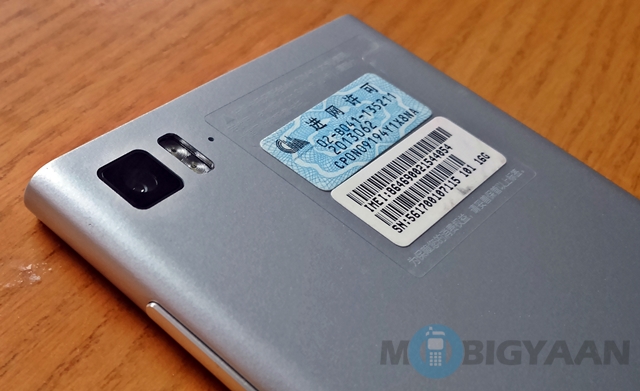 The Xiaomi Mi 3 has a 13-megapixel rear cam on board. This is something not unusual with mid-range phones, but yet again there is a twist.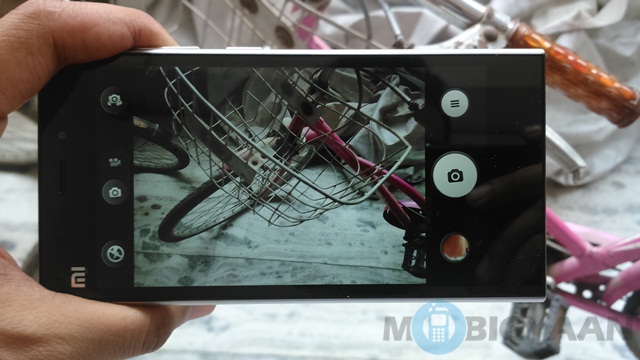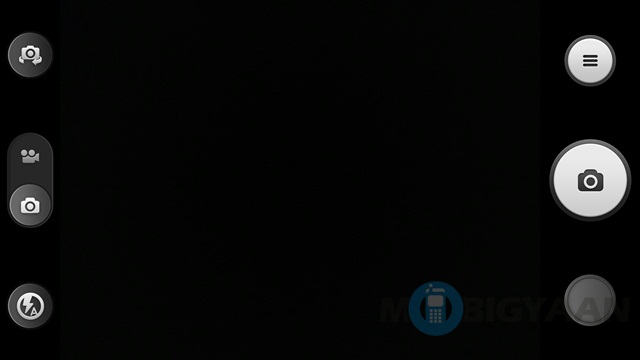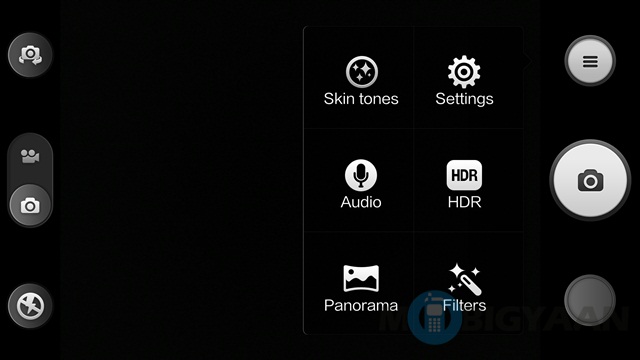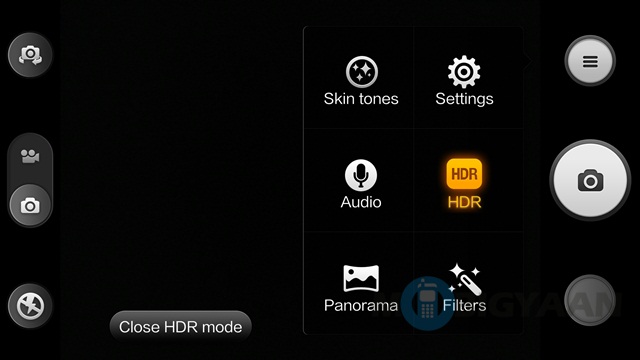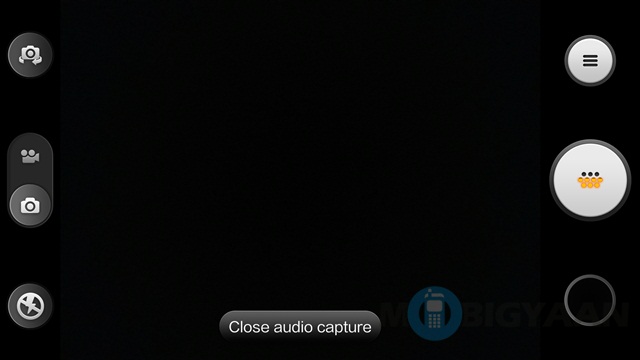 Firstly, the camera app is pretty simple with Panorama, HDR and standard modes and just a few filters. There are no excessive editing options or extravant modes that an average user might not use at all.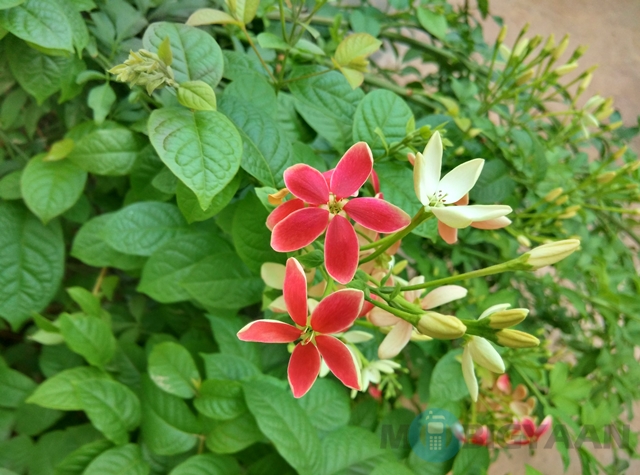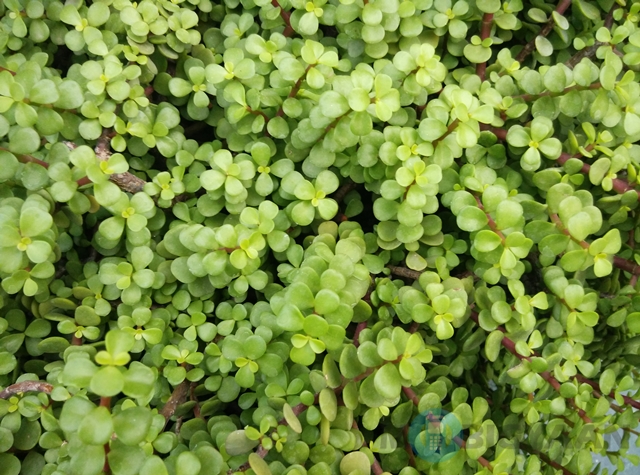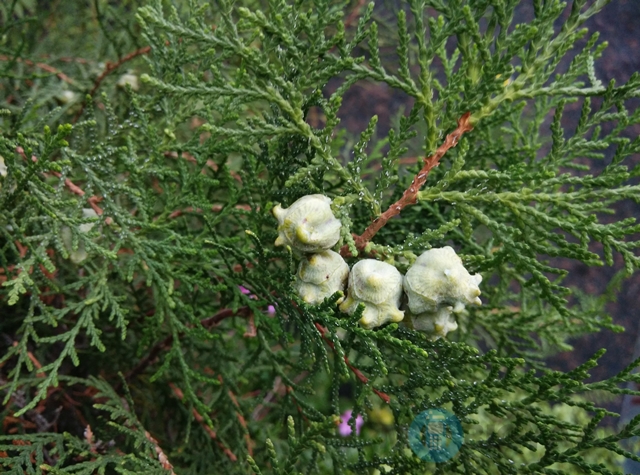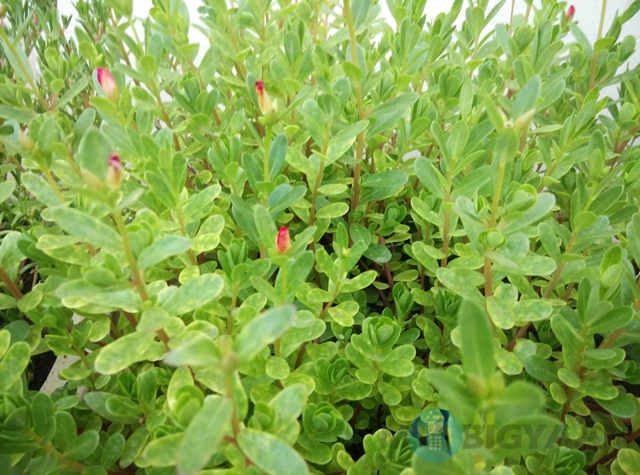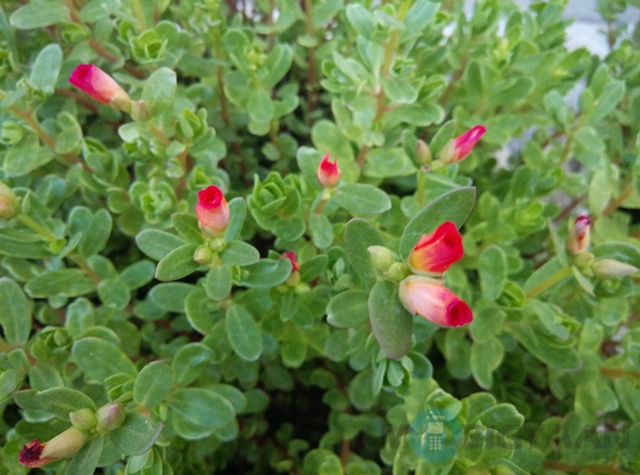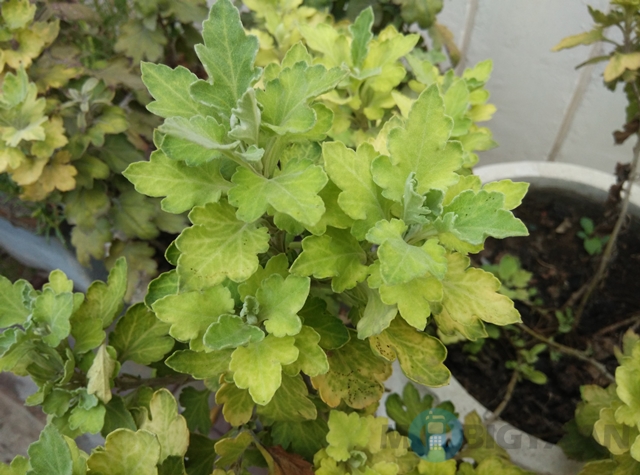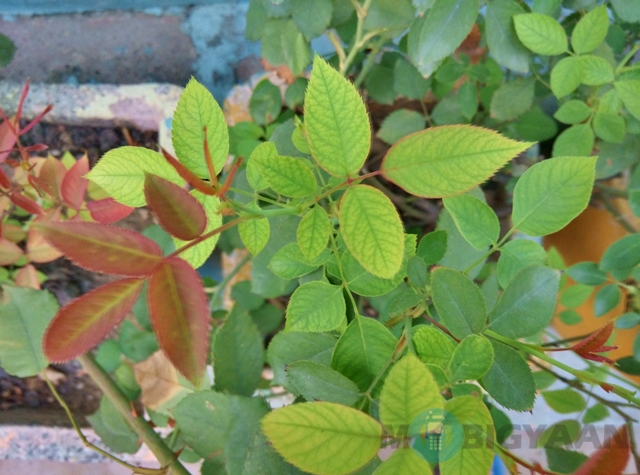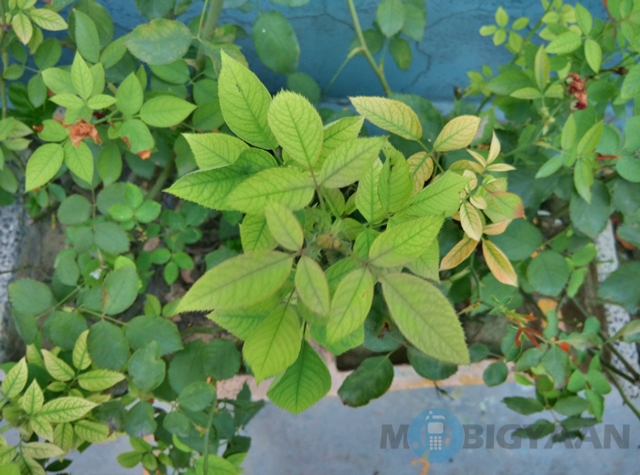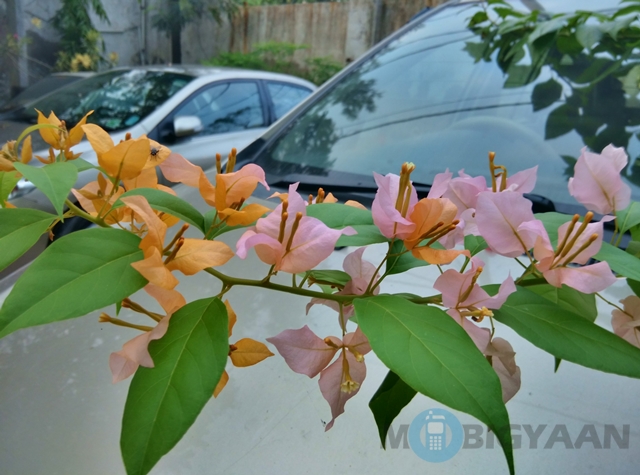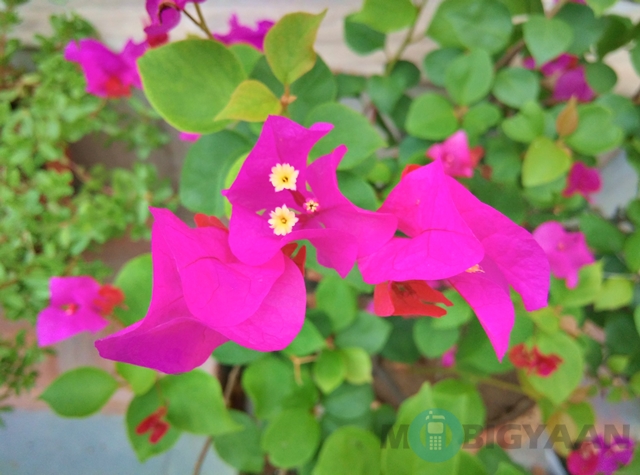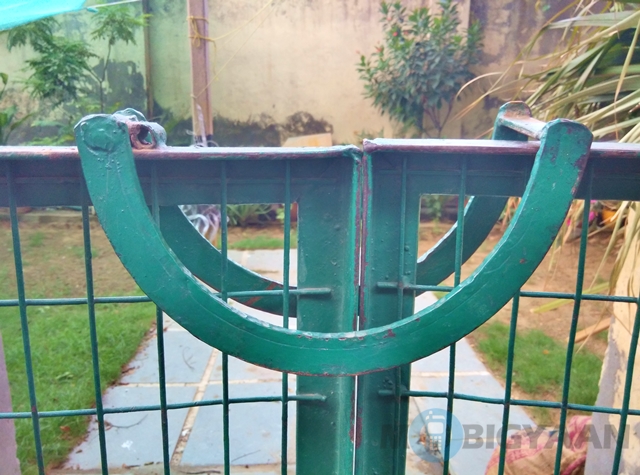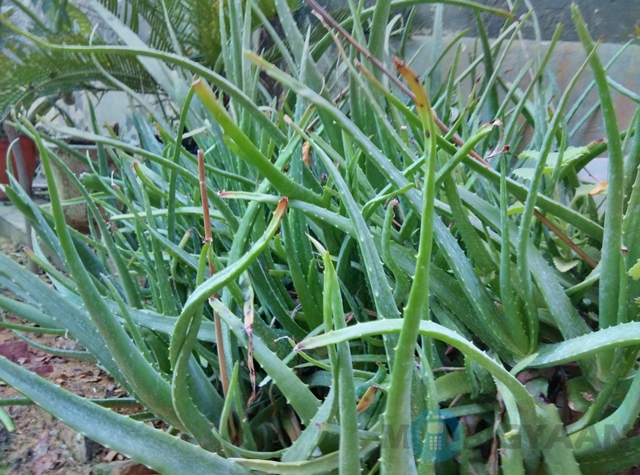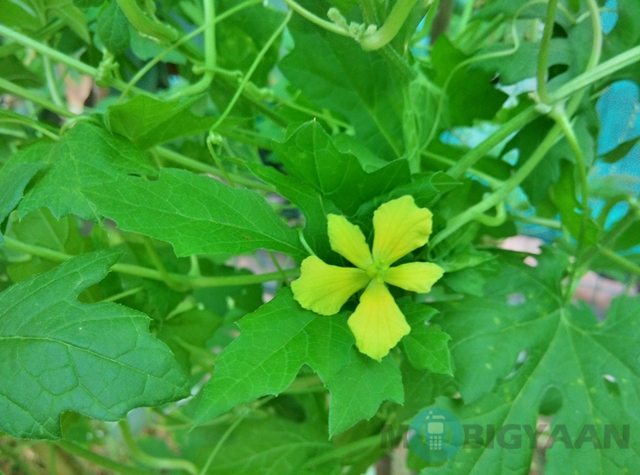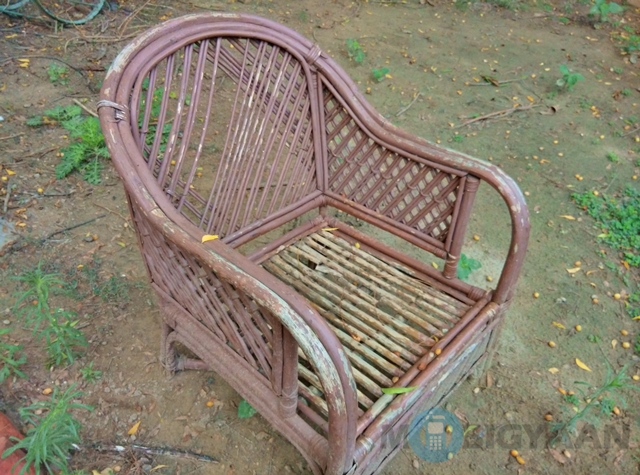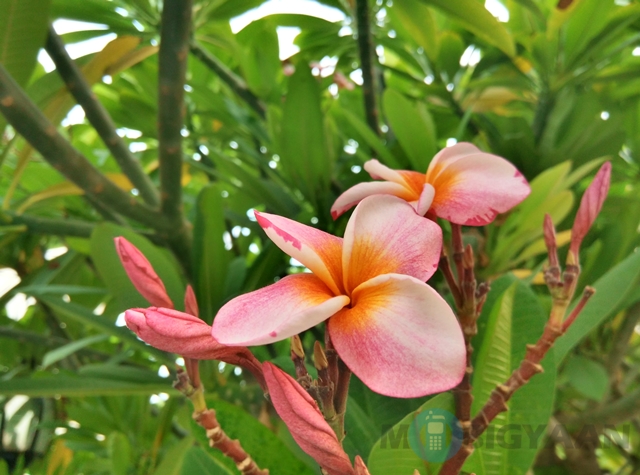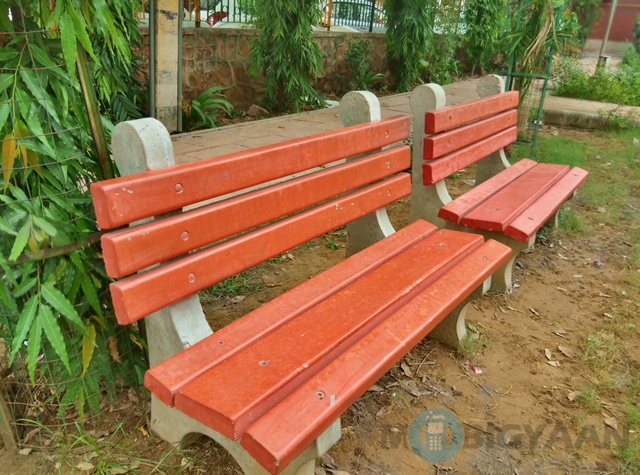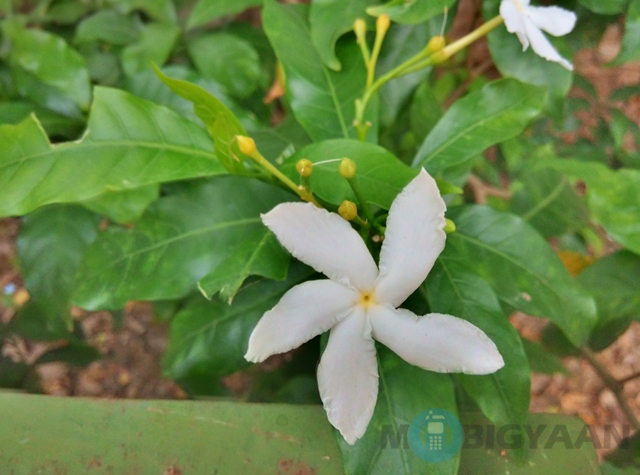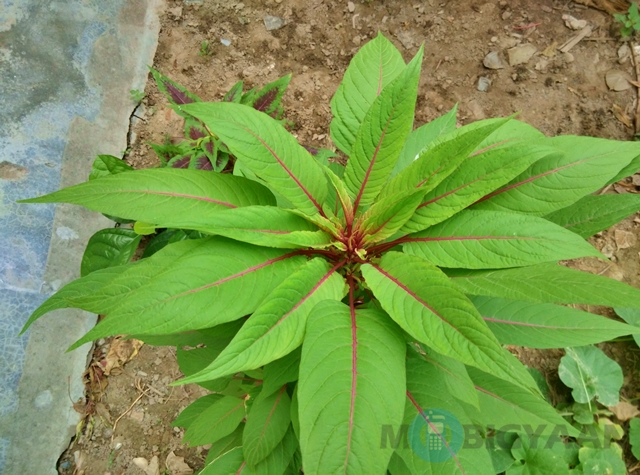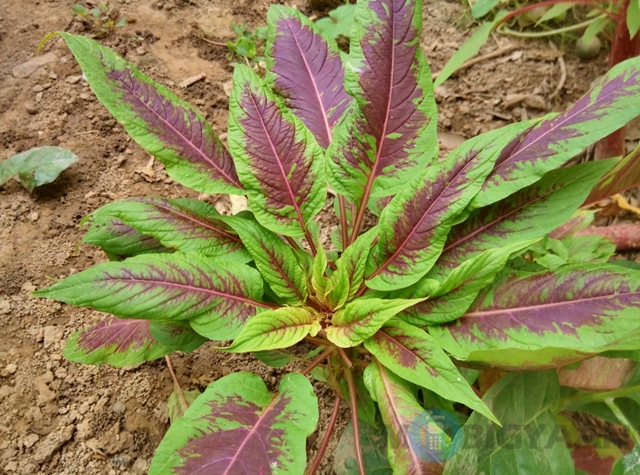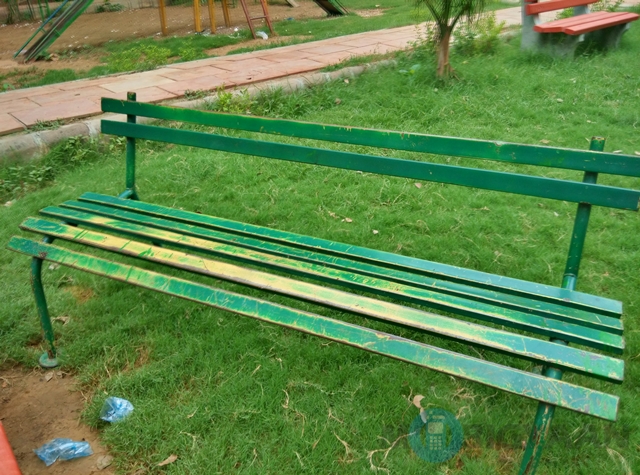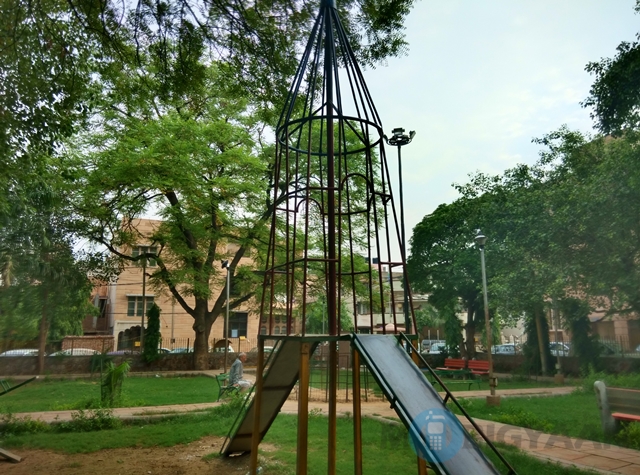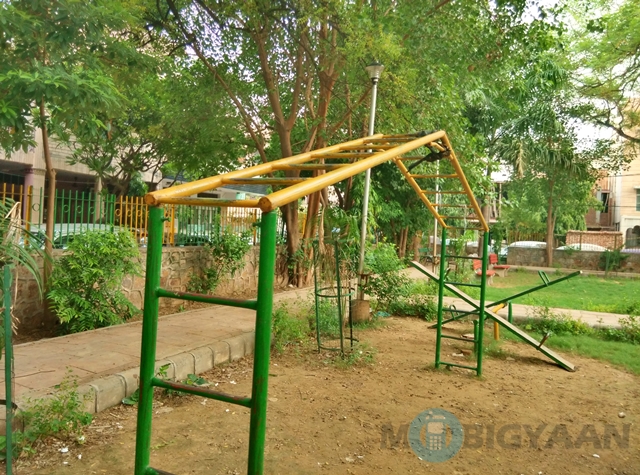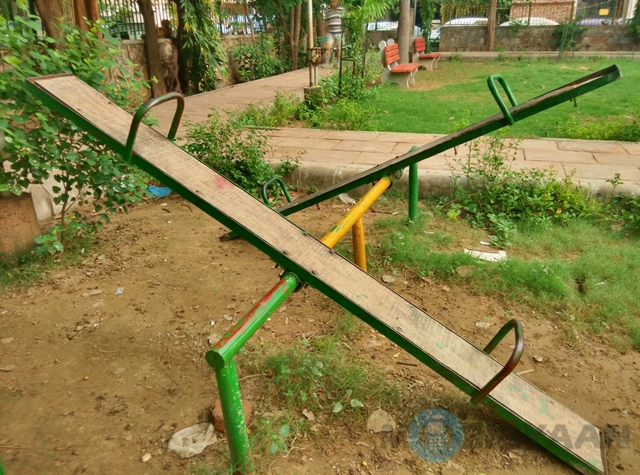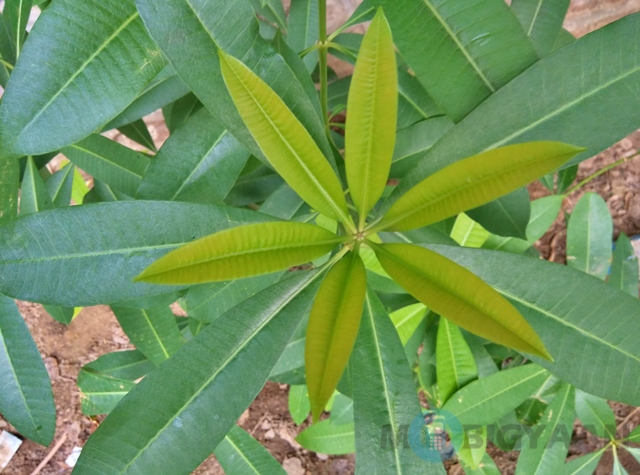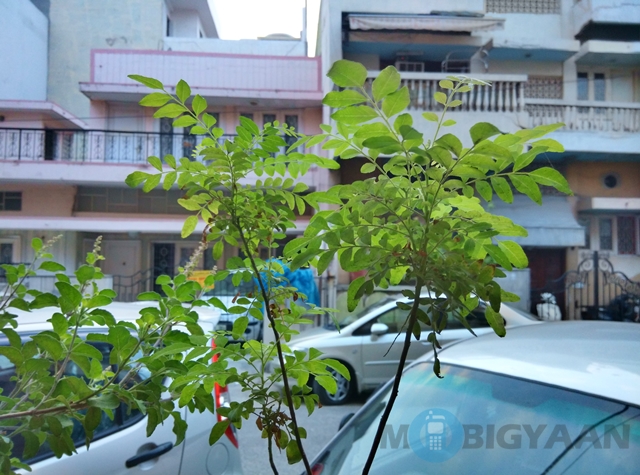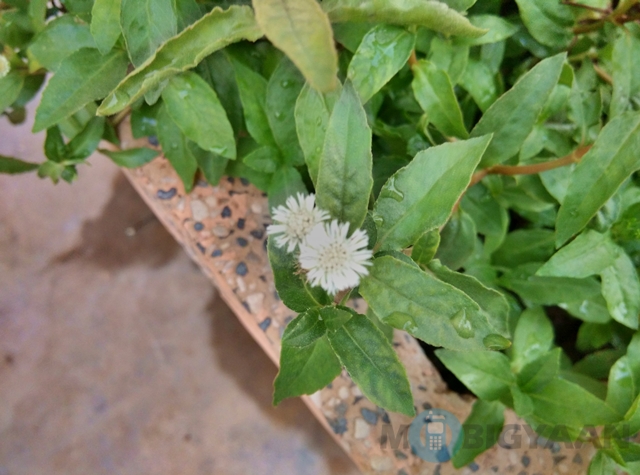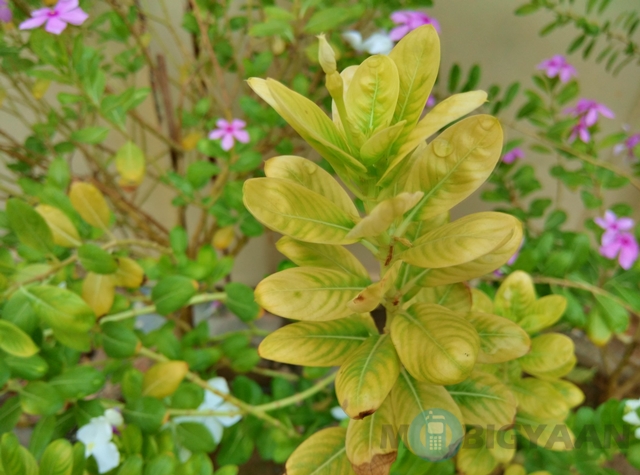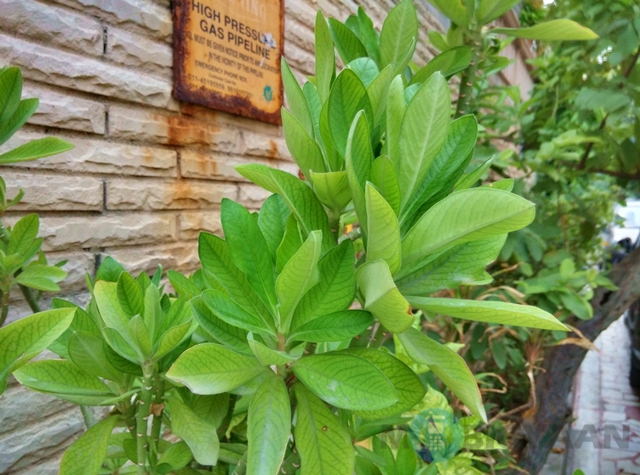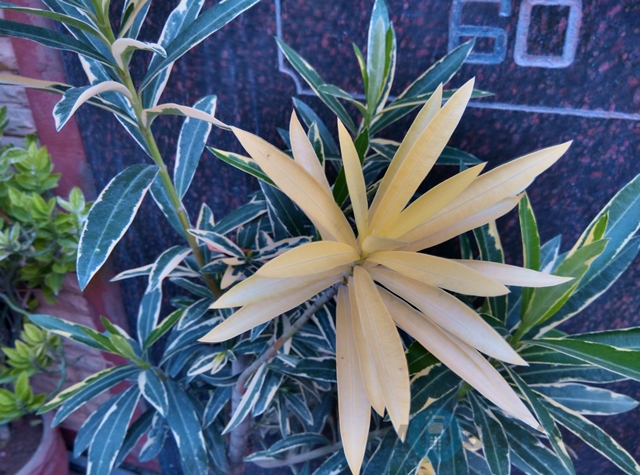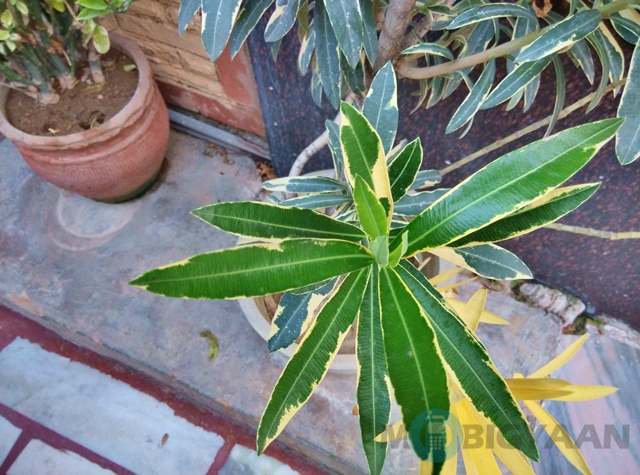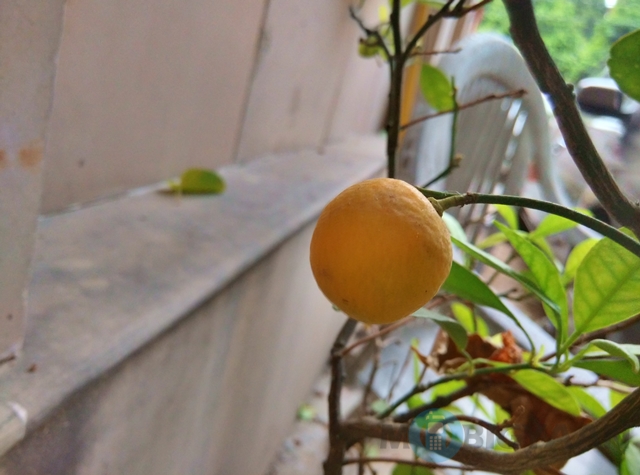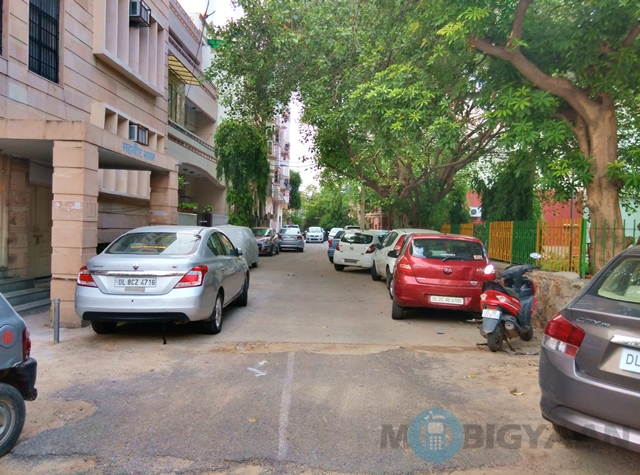 The pictures taken from the camera though are amazingly crisp, detailed and sharp. The camera is in fact, despite sounding average in pixel count, a revelation in itself. The most amazing shots I took with it were outdoor ones. But, I have to say that it could have been a tad better in terms of light capture. Rare images do kind of give a problem regarding that. Another thing that I was desirous of was an anto-blur feature.
Even the indoor shots are great, if you focus clearly.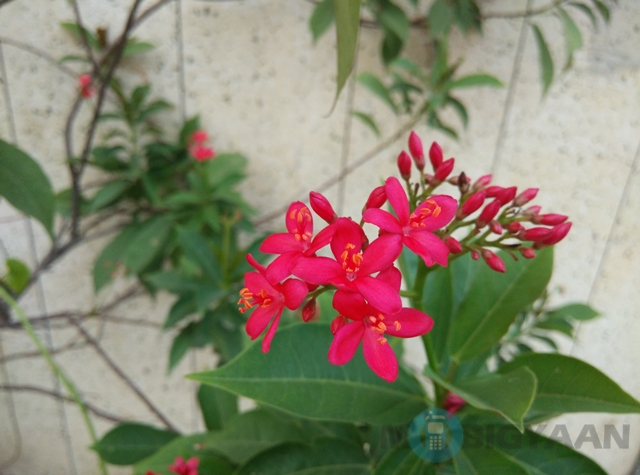 HDR shot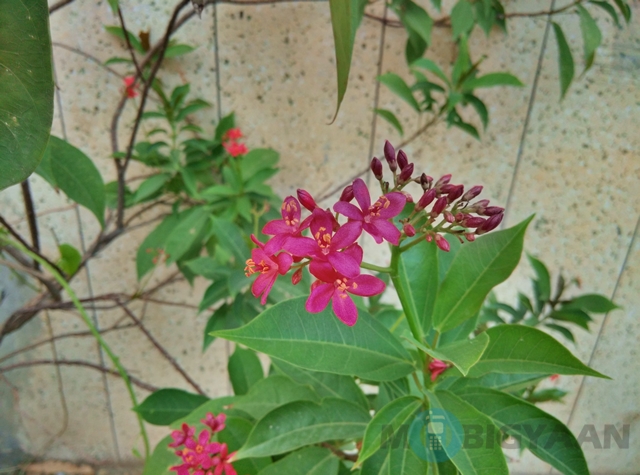 Without HDR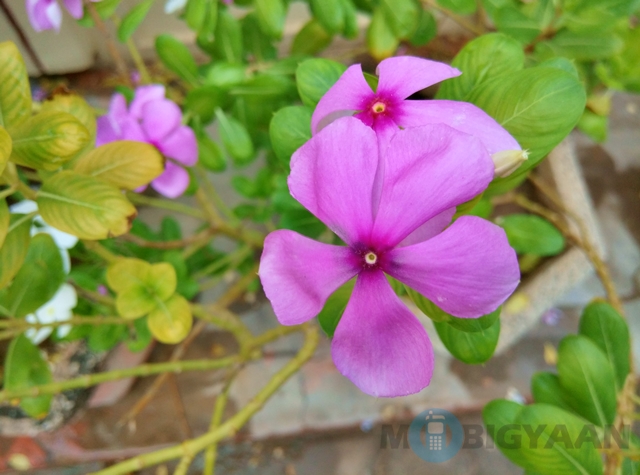 HDR shot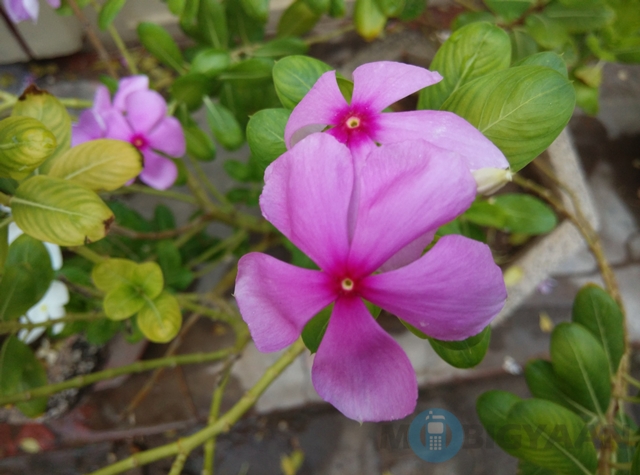 Without HDR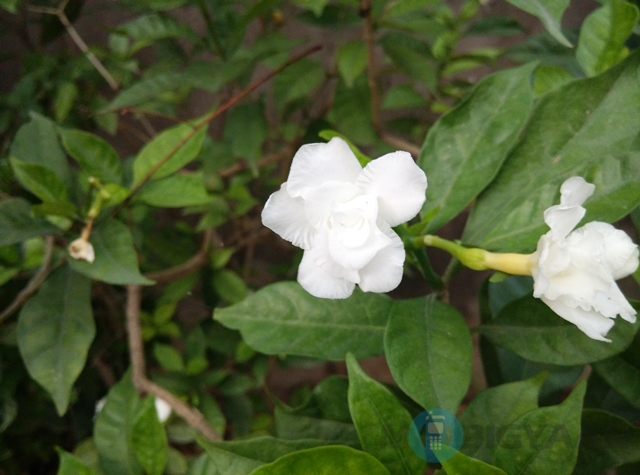 HDR Shot
Without HDR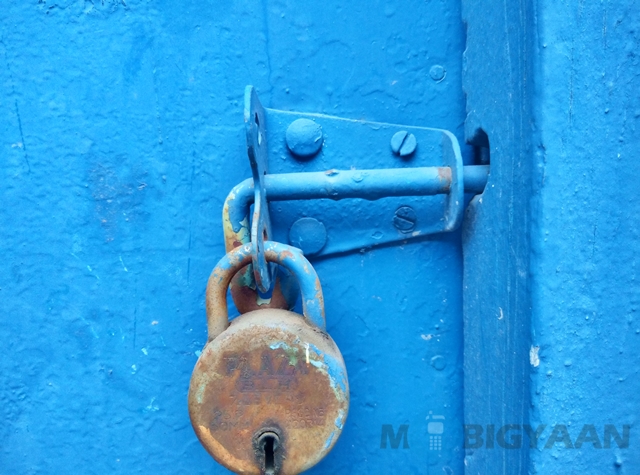 HDR Shot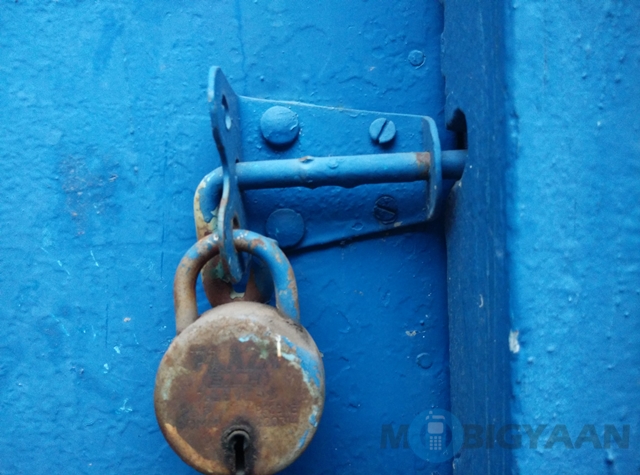 Without HDR
HDR Shot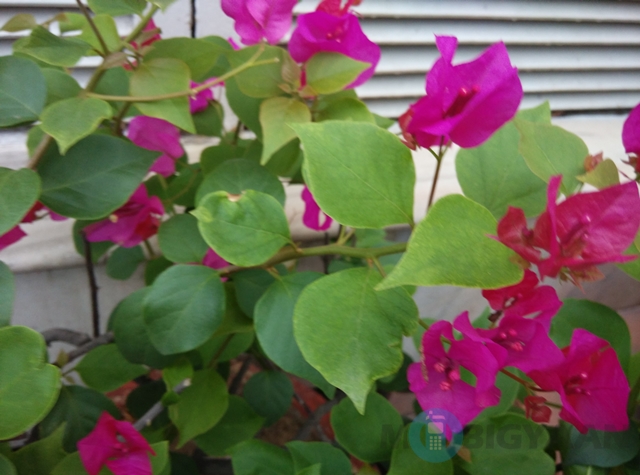 Without HDR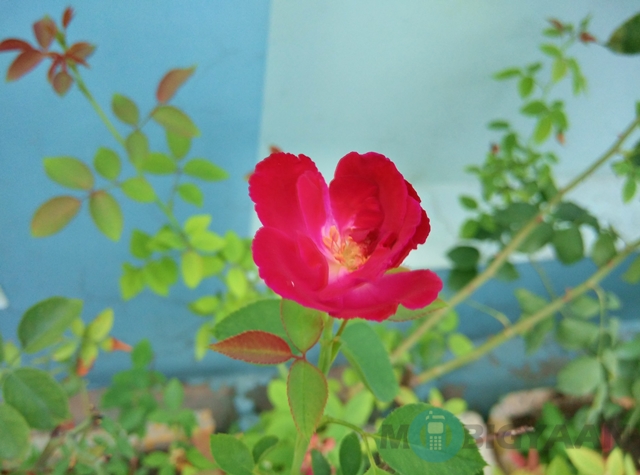 HDR Shot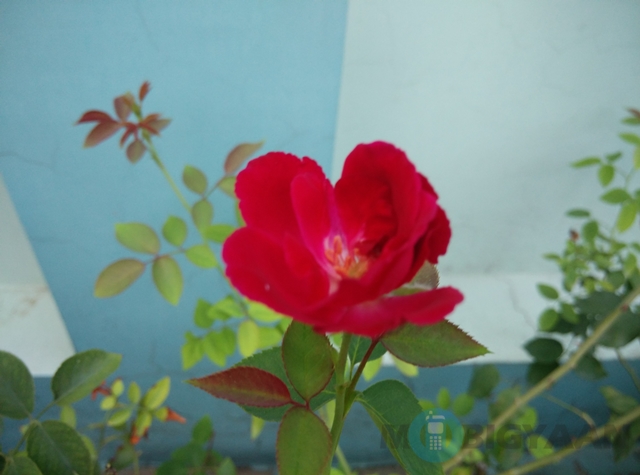 Without HDR
The HDR feature is something differnt on this camera. It actually tweaks the colors a bit to give you different photos.
But there is an innovative mode hidden in the camera, it can actually detect your age and gender, before you click the photos. The accuracy of this is debatable, but still I found it pretty damn cool.
Both the front and rear cams can capture 1080p videos.
Overall, the Xiaomi Mi 3 matches up to the rest of the phone.
Performance and Battery Life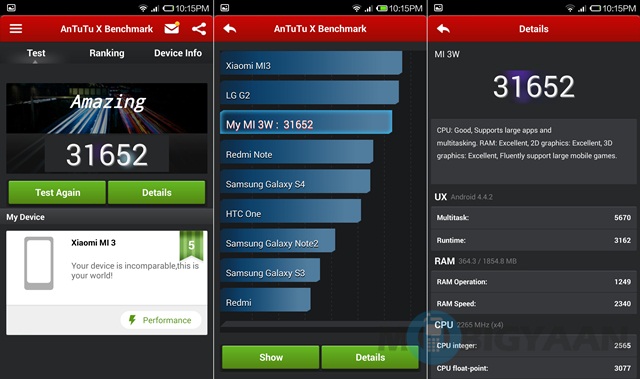 The Xiaomi Mi 3's Snapdragon 800 processor annd 3050 mAh battery are actually the talking points of this handset. Well, they don't disappoint. The handset also comes with an Adreno 330 GPU and 2 GB RAM. The whole combination works amazingly well. One weird thing, though is that my device scores lower in benchmarks than the global Mi 3 device.
The one thing that acctually worries me is the lack of MicroSD card support. Xiaomi has only debuted 16 GB Mi 3 out of China. 4G LTE support isn't there, NFC is (which  is again a rarity for mid-range handsets).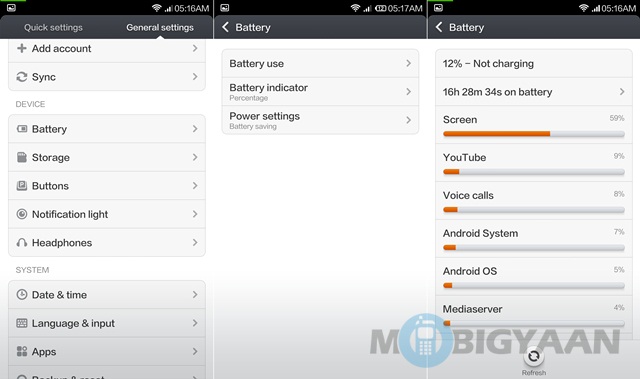 The Xiaomi Mi 3 lasts a full day of charge and performs well, even when playing 3D high-intensity games.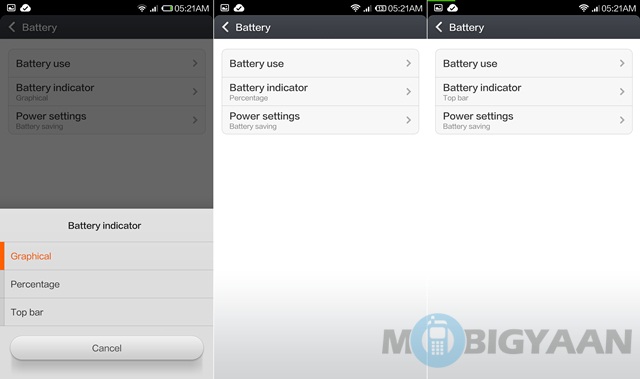 There are also options for Battery indicator, while you can view the battery in a graph and percentage form, my favorite was the Top Bar indicator which frees up space in the notification bar.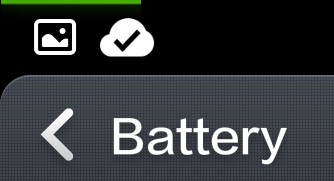 You will have to actually look very closely at the last screenshot to find the top bar indicator.
Most people will be impresssed by its performance.
Also, as I have explained previously, the MiUi ROM lets you optimize performance and save power which becomes a cherry atop the cake.
Verdict
Well, let me sum up my verdict in one sentence – Samsung, HTC, Micromax and others should all beware, Xiaomi is on the prowl to eat up their market share.
Now for the detailed version.
Xiaomi Mi 3 is definitely a revelation in itself. It makes you pose a question – have most of these companies been denying you quality hardware at great price or are they just incompetent? It's debatable, but I would say that it is a mix of both.
Xiaomi has actually seen this void developing in the market and decided to fill in. It has done so wonderfully. That can be reinstated by the fact that this phone comes to us 6 months after its Chinese release and there is literally no phone in the market that match it in terms of value-for-money.
The Mi 3 does more than impress, it actually enamors you to the phone. Whether it be the camera, the MiUi ROM, the battery life, the add-ons or anything else, they all perform wonderfully. This phone goes further than your expectations and still keeps on doing so. There is simplicity, elegance and usability combined which ends up fulfilling what we have long desired for – a device that is truly worth its price tag.
There are though, some doubts about the Mi 3. The first one is about this relatively unknown company to the Indian consumer making its presence in India. You can find that out in our detailed article on Xiaomi's India venture.
Secondly, it is debuting at the same time as Mi 4 is debuting in China. Well, regardless of that, it is a value-for money device and that is what matters the most. A geek like me would wait for Mi 4 to come here to invest, but most others will go for the Xiaomi Mi 3 since, it is well, the most value for money device.
The third and final thing is the lack of MicroSD support, which is a valid concern. Well, you also have access to  5 GB MiCloud support and I guess 21 Gigs (16+5) is enough support for the price tag.
The Xiaomi Mi 3 is likely to set the charts on fire. It will have a small start but build upon that foundation.  What's more is that this is just a start. Once Xiaomi's device line up arrives in India, there will be no stopping it. Also, the one thing I think is going to happen in the near future is that the company will closely study and respond to the needs of the Indian market. But, needless to say, Xiaomi has a bright future in India.
ALSO READ:
The Xiaomi India saga begins: What it holds for you