If you are one of those who just loves E-ink displays than this one is for you. The YotaPhone gives you all the e-ink screen you can handle. Plus you won't miss on your regular screen and Android.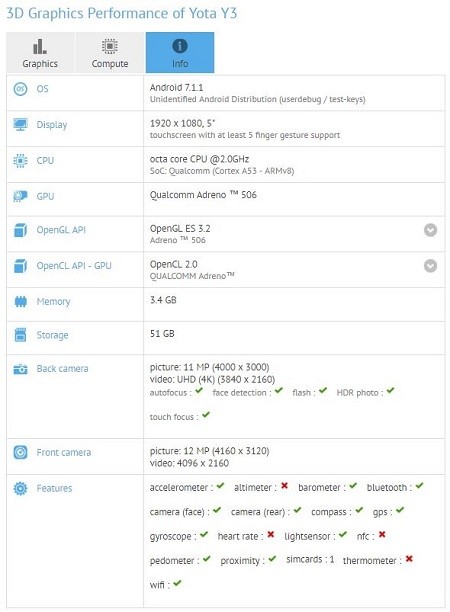 Precisely, the YotaPhone is now 2 generations old. And we are talking about the third generation, YotaPhone 3. The device has now visited GFXBench as model number "Yota Y3". What we know from the encounter, is that the device has a 5-inch display and rocks a Qualcomm processor. Also on board are 4 GB of RAM and 64 GB of storage. Yota Devices, the Russian company behind the device, has also revealed the pricing fo the device. Or shall we say 'devices'? There will be two variants: 64 GB costing $350 & 128 GB costing $450.
GFXBench has scanned the device to reveal a SoC with eight ARM Cortex-A53 CPU cores with frequency up to 2.0GHz and the Adreno 506 GPU. That makes it the mid-range Snapdragon 625 SoC. The camera is also now revealed to be a 12-megapixel sensor at the back with 4K video support and HDR. This is shaping up to be a good device considering the specs.
Furthermore, the E-ink HD display is rumored to be of 5.2-inches in size placed as usual on the back. The front will be home to a fingerprint sensor along with a 5-inch display. The device will be juiced up via a 3,200 mAh battery. Moreover, the device will have the regular connectivity options like Bluetooth, GPS, Wi-Fi but might not have NFC. While, no exact dates are available as of now but it should be on pre-order this summer as per official info.