It's needless to say that anyone who owns a smartphone has watched videos on the YouTube app at least once. In fact, it's difficult to find people who have never ever watched videos on their smartphone using the YouTube app. Different smartphones come with different hardware, which means users can expect a slightly difference experience on different smartphones – especially when we are talking about Android – because fragmentation. Well, if you are someone who watches a lot of videos on YouTube and want the best video-watching experience, YouTube has got you covered.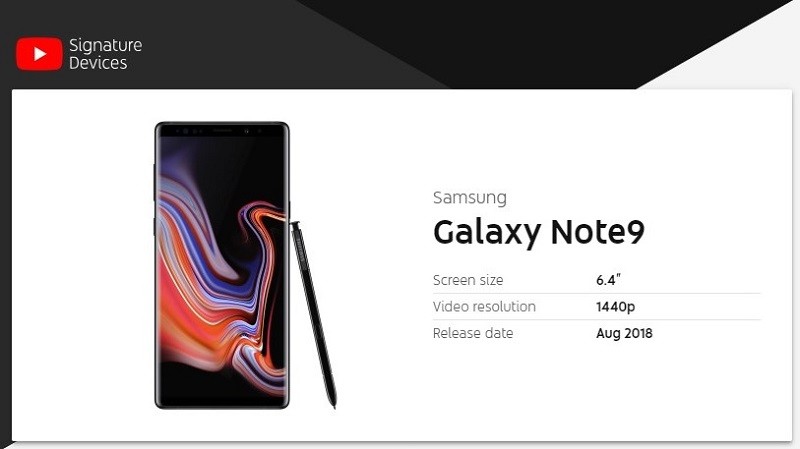 YouTube has shared its very first 'YouTube Device Report' which includes a list of "Signature Devices" that offer best-in-class video watching experience on YouTube by using next-gen technologies, video performance and reliability. This list includes a total of 19 Android smartphones like the recently unveiled Galaxy Note9 as well as OnePlus 6, Xiaomi Mi 8, Nokia 8 Sirocco, and more.
List of Signature Devices that offer best video watching experience on YouTube:
Samsung Galaxy Note9
Sony Xperia XZ2 Premium
HTC U12+
OnePlus 6
LG G7 ThinQ
Xiaomi Mi 8
Sony Xperia XZ2 Compact
Sony Xperia XZ2
Nokia 8 Sirocco
Xiaomi Mi MIX 2S
Samsung Galaxy S9
Samsung Galaxy S9+
Google Pixel 2
Google Pixel 2 XL
Huawei Mate 10 Pro
Samsung Galaxy Note8
LG V30
Samsung Galaxy S8
Samsung Galaxy S8+
"These smartphones can deliver the best-in-class YouTube experience by combining next generation technologies, video performance, and reliability. With a Signature Device, you can enjoy vivid HDR videos, immersive 360° video, and fast video load times – all while using less bandwidth." said YouTube.
You must be wondering on what basis did YouTube select these devices as Signature Devices. Well, to qualify as a Signature Device, a smartphone is required to support different features like HDR (high dynamic range), high frame rate, 4K decoding, and more.
Here's what a smartphone should support to qualify as a Signature Device:
High Dynamic Range (HDR)
360° Video
4K Decoding
High Frame Rate (>60 FPS)
Next-generation codecs (hardware VP9 profile 2 decoding)
Reliable DRM (Digital Rights Management) Performance
Having said that, as you can see, not a single iOS device made it to this list. Well, that's not because YouTube (or Google) has any problem with Apple and iOS, but because iOS devices don't support VP9 decoding that prevent them from playing 4K videos on YouTube. Hence, if you want the best video-watching experience on YouTube, you better off buying any of the aforementioned Android smartphones instead of getting an iOS device.
With that being said, you must have noticed that all the Android smartphones that made it to this list are high-end smartphones, hence, in the future, you can expect to see more high-end Android devices joining this list. If you are interested in knowing more, you can click here.