Google at its recently concluded I/O 2018 annual developer conference announced some new features for its products like Gmail, Assistant, Maps and more. However, Google also announced its 'Digital Wellbeing' initiative for Android P, as a part of which it also announced a feature called 'take a break' for YouTube. Well, that feature has just started rolling out to YouTube's Android app.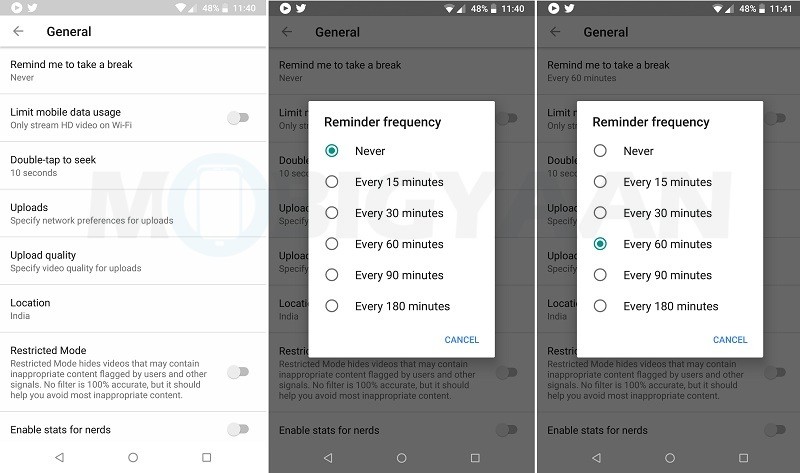 This 'take a break' feature does exactly what it sounds like. With this feature, users can set YouTube to remind them to take a break from watching videos. The reminder frequency can be set for every 15 minutes, 30 minutes, 60 minutes, 90 minutes or 180 minutes.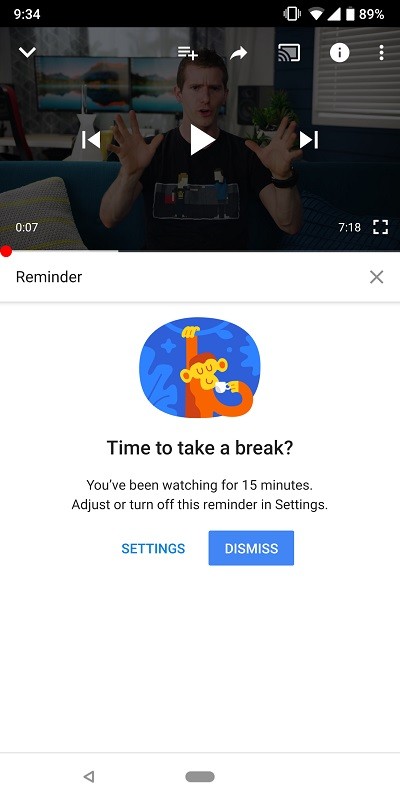 If you have set a reminder for every 15 minutes, you will see a monkey popping up after every 15 minutes of continuous video watching asking you whether it's "Time to take a break?". You can choose to either take a break and go see how the outside world looks, or decide to hit the blue-colored 'Dismiss' button and continue with your binge-watching sessions.
How to set up YouTube to remind you to take a break?
Open YouTube (now that's common sense, ain't it?)
Go to 'Settings'
Go to 'General'
Tap on 'Remind me to take a break'
Select the reminder frequency
Like we already said, this feature is currently only rolling out to Android users, but it should be rolled out for iOS users soon. If you are an Android user and don't see this feature yet, make sure you are using the latest version of YouTube by updating it from the Play Store.
Having said that, YouTube is also rolling out the 'Scheduled Digest' and 'Disable sounds & vibrations' features. Both of these can be found under the Settings > Notifications menu, but we haven't got it yet, hence, it looks like a server-side roll-out.