Launching smartphones at a mobile just isn't enough for some companies. We aren't talking about Nokia or Samsung here. Its ZTE fro China who's showing off multiple products at the Mobile World Congress this year.

ZTE, it seems is going all out. The PF 100 is a 10.1-inch tablet while the T98 measures just 7 inches. One more thing is that offers Quad-band GSM while the T98 offers dual-band GSM and CDMA functionality. Its first two tablets are equipped with a Tegra 3 quad-core processor! That is something that even the next generation of Samsung Galaxy Tab cant boast of. The PF 100 and T 98 tablets come with a 1.5 GHz processor along wit 1 GB of RAM. They also boast of HSPA+ connectivity. In a surprising and sad twist, both of them have just 16 GB inbuilt memory and lack any MicroSD support. They have 5-megapixel autofocus primary cameras and 2-megapixel secondary cameras though.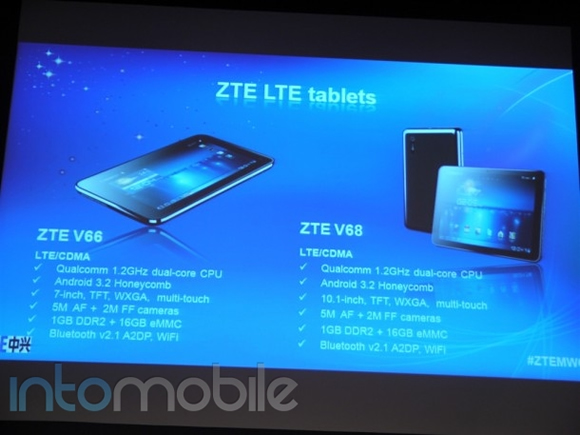 The V66 and V68, on the other hand are dual-core tablets. Both of them measure a sexy 10.1-inches. The difference though lies in the processor the V9S comes with Qualcomm's MSM8260 1.2 GHz processor, while the V96 comes with a more powerful 1.7-GHz Qualcomm MSM8960.

While all the tabs lack external MicroSD support, each of them comes with Ice Cream Sandwich OS except the V9S, which we expect to be a budget offering.