Facebook acquired WhatsApp back in 2014, and since then, WhatsApp has been doing really good. If you use WhatsApp, you will agree with the fact that the app is pretty simple and straightforward. WhatsApp rolled out the voice call feature in April last year, and now, after more than a year, users are making more than 100 million voice calls through WhatsApp every day.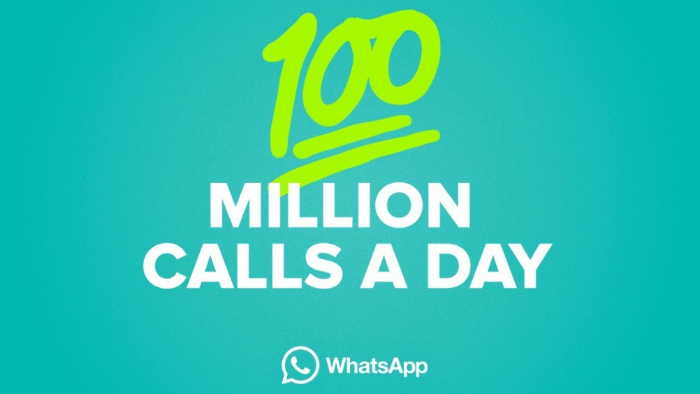 WhatsApp users are making more than 100 million voice calls every day, which is more than 1100 calls per second. That's literally a feat. "For more than a year, people have used WhatsApp Calling to talk with friends and family around the world. It's a great way to stay in touch, especially when connecting with people in other countries, or when messages alone won't do." wrote WhatsApp in a blog post.
It's worth noting that WhatsApp has 1 billion monthly active users who send 42 billion messages per day. WhatsApp was already under the radar of telecom operators because not many people sent SMS after the advent of WhatsApp. You can send as many messages you want through WhatsApp, all you need is an Internet connection.
Introduction of WhatsApp voice calls also made it worse for the telecoms because now people can talk to a person sitting in any part of the world without having to worry about paying for hefty international call rates.
"When I first moved to the USA, making a phone call to friends and family that I left in Ukraine was a frustrating process. You had to pick up a phone that was connected to a wall and hope that the person you were calling was near their phone on the other end. Years later, mobile phones began to make this a bit easier, but switching SIM cards and worrying about your mobile plan still made it challenging to call home. Since the early days of WhatsApp, we've worked to tear down the boundaries that stand between people staying. in touch with their friends and family. A little over a year ago, we made it possible to make calls using WhatsApp – for those times when it's important to hear a voice on the other end of your phone. Today, we're proud that people are making 100 million calls a day on WhatsApp!" wrote Jan Koum, WhatsApp CEO and Co-Founder in a post on Facebook.
So yes, WhatsApp has made it easier and simple for us to communicate with people. Maybe the next feature we might see getting rolled out would be video calling which went live in beta for sometime last month.
What do you expect next from WhatsApp? Do share your views with us in the comments section below.