It is a matter of fact that a smartphone can do so many things and you don't realize what's in your pocket that's actually packed with a number of features. In the case of the Honor 8 Pro, it's one of the most powerful smartphone Honor has ever made. We have gathered what Honor 8 Pro is capable of, so here are the 7 cool things Honor 8 Pro can do.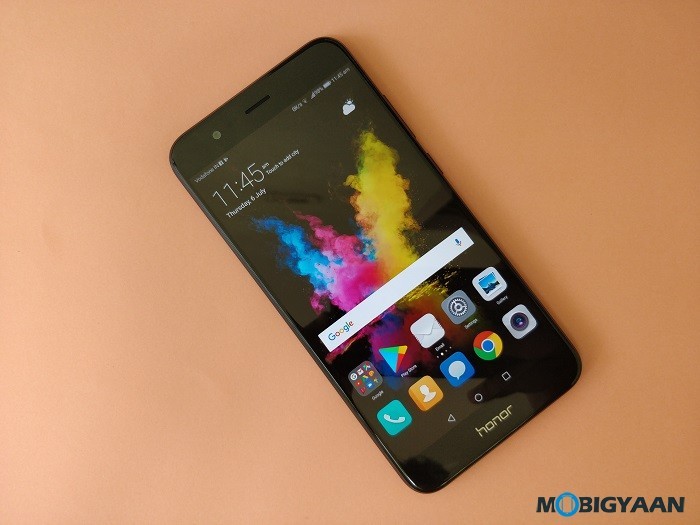 1) Capture DSLR-like Pictures, Monochrome Shots, Apply Splash Effect
The Honor 8 Pro features a dual 12 MP camera which consists one Monochrome sensor and one RGB sensor, hence it captures top-notch quality images and Monochrome shots too due to its dedicated Monochrome sensor. With two cameras, Honor 8 Pro can achieve bokeh effect that you see on professional DSLR-grade cameras.
To take Monochrome pictures, swipe from the left to the right and select Monochrome.
To capture Depth of Field images, tap the lens-like icon on the top when using the camera app.
And with a great camera comes great software, HUAWEI's EMUI has tons of features to offer in the camera, with the two main features – Monochrome and Depth of Field, there's also a unique Splash effect mode that highlights a specific color in the image you choose by using color saturation. Once you select the Splash, the image will go colorless allowing you to touch the area to be colored. Learn more about the Splash Effect.
Learn more about the Splash Effect and how to apply it to your pictures.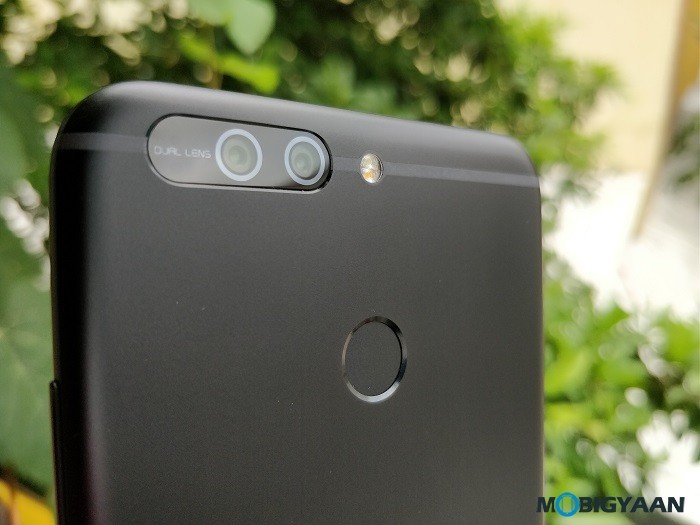 2) Control Infrared-enabled Devices
A cool thing you can do on Honor 8 Pro is to control infrared-enabled devices. Why not keep just one remote for all your electronic devices? Honor 8 Pro has an IR Blaster on the top side that controls your infrared-enabled devices like TV, Air Conditioner, Music System, and more.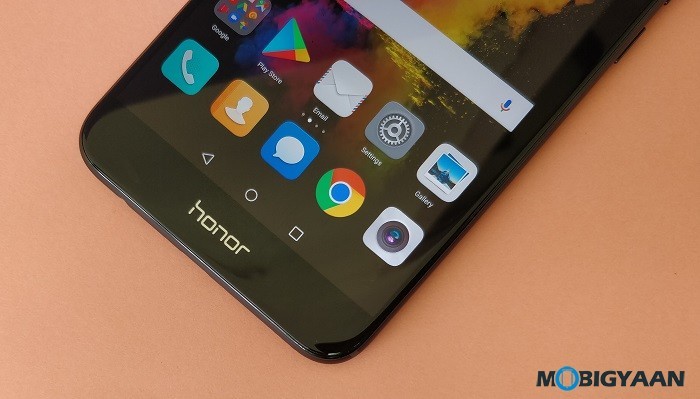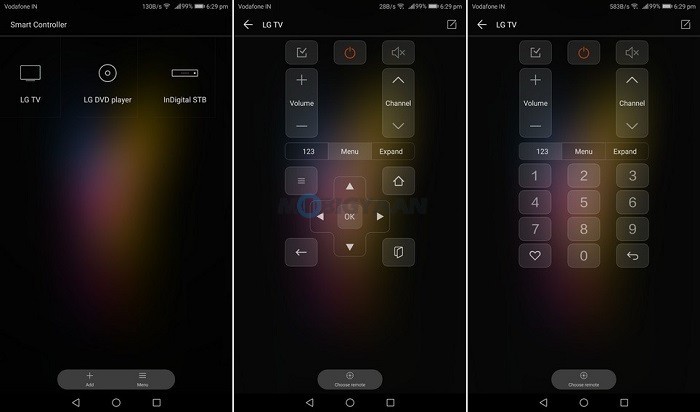 3) Take Screenshots Smartly
Use your knuckles to take a normal or scrolling screenshot, capture a part of the screen or record a video clip of your onscreen actions.
Normal Screenshot: Knock firmly with your knuckle twice
Scrolling Screenshot: Draw S
Custom Screenshot: Draw a region with your knuckle
Record Screen: Knock firmly with your two knuckles twice
To enable this feature, visit Settings -> Smart assistance -> Motion control -> Smart screenshot and tap the slider to turn on.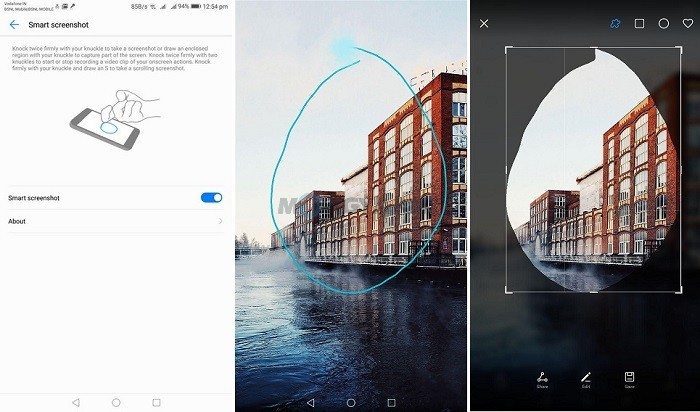 4) Do More With Fingerprint Gestures
Now do more with the fingerprint scanner rather than just unlocking the phone. Fingerprint scanners on the Honor devices are one of the fastest and accurate as well. Aside from the fast scanning technology Honor 8 Pro comes with, its fingerprint scanner is blessed with multiple gestures that you'll love to play with.
From unlocking the phone to locking the apps with the scanner, Honor 8 Pro can do much more with the stagnant fingerprint scanner. It can take selfies, pick up the calls, open and close the notification bar, swipe the images in the Gallery, and stop the alarms from ringing.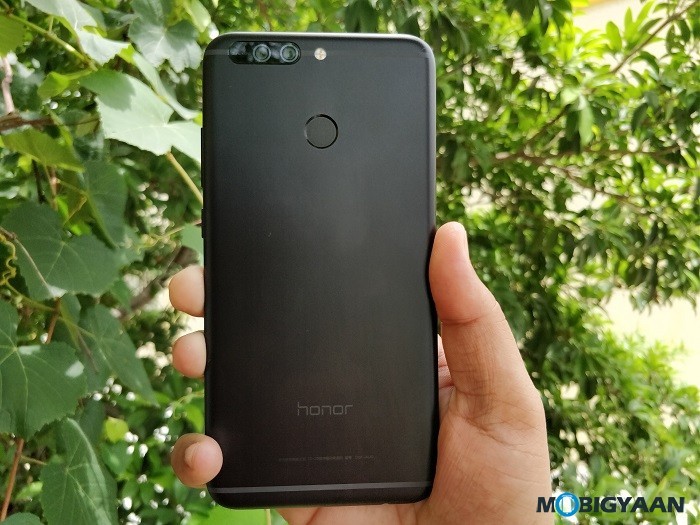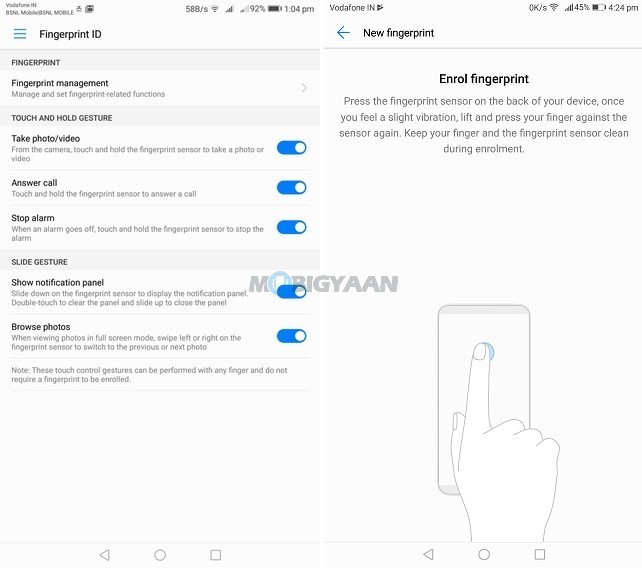 5) Split Screen Gesture – Draw A Line To Split
Draw a line across your screen to enter slip screen mode. You need to use your knuckles to draw the line.
To turn on this feature, go to Settings -> Smart assistance -> Motion control -> Split-screen gesture and tap the slider to turn on. The slider will turn blue.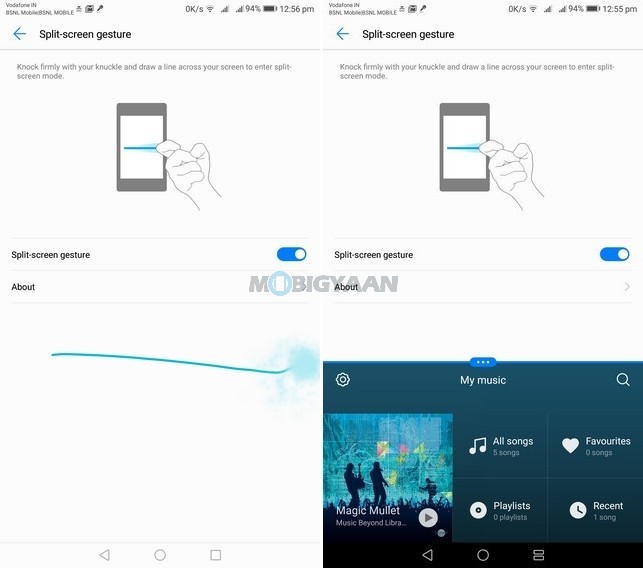 6) Easy One-handed UI Mode
This one is easy, all you need is to swipe your finger on the navigation buttons from the left side to the right side and the screen turns short. With the mini screen view, you can access all the corners of the screen with your thumb.
Go to Settings -> Smart assistance -> One-handed UI -> Mini Screen view and turn it on.
You will also find a Shifting keyboard under the One-handed UI mode. It makes the keyboard and phone dialer small to access with one hand. Once you enable it, you will see an arrow to the left or the right side of the keyboard and dialer.
Touch the arrow on the side to move the keyboard, dialer, in-call menu, and screen lock menu to the left or the right.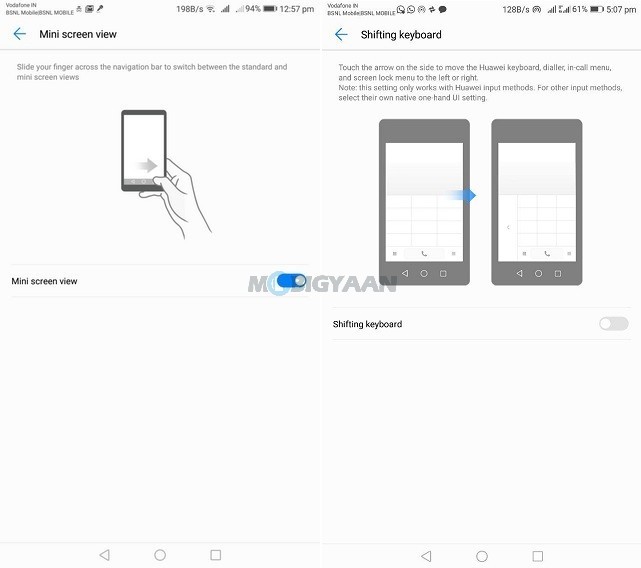 7) Draw A Letter To Open Apps
Knock firmly with your knuckle and draw a letter to open a specific app. For an instance, draw M to open music app, the same way C for Camera and W for weather. You can change the apps you want for a particular gesture.
You can enable this feature under Settings -> Smart assistance -> Motion control -> Draw.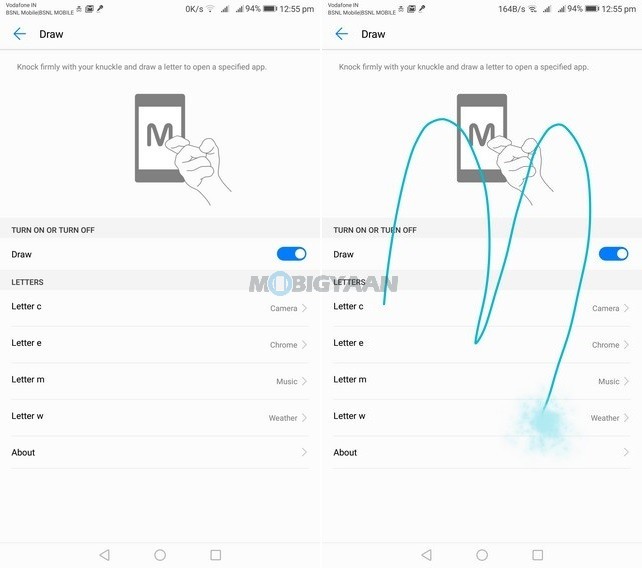 If you think we missed something in the Honor 8 Pro, share those things with us in the comments to let people know about it.