Yesterday, we saw Lenovo taking the wraps off their latest ultra-slim laptops. Well today, we saw Acer unveiling their new laptops. Acer unveiled their new Nitro 5 Gaming Laptops. As the word Gaming Laptop suggests, they aren't made for ultra-slim profiles, but specifically for great hardware.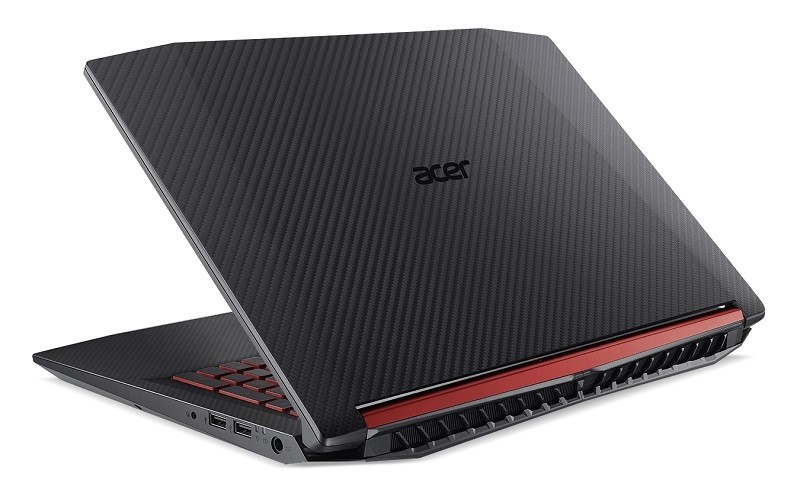 Acer Nitro 5 comes with variants of high performance 8th Gen Intel Core i5, i7, i5+, i7+ processors or AMD Ryzen 5 processors. The Intel processors can be coupled with Nvidia GTX 1050 or 1050Ti graphics card, while the Ryzen 5 can be coupled with Radeon RX560 graphics. These specs can help in faster rendering, improved lighting and texture details so that users can get an immersive experience. Even the system memory is now clocked at 2666MHz which is about 10% faster than current standards. Also, there is Intel Optane memory which gives fast read and write speeds, quick loading and restarting in mere seconds.
The design of the laptop is quite good as well. The chassis of the laptop has received a new refreshed look. It now features a top cover with elegant laser texturing that brings bold refinement to the gaming laptop. There is a gorgeous matte, crimson red hinge which goes well with the red and black theme of the laptop.
The display is sized at 15.6 inches and it's a Full HD IPS LCD display. To enhance the Gaming experience, Acer Nitro 5 also features high quality speakers with Dolby Audio Premium and Acer TrueHarmony Technology. It's also equipped with a fast and reliable dual-stream 802 Wi-Fi. It also has updated wireless which gives a speed of 1.73 GBPs. The Acer Nitro 5 is also packed with a plethora of ports, including hyper-fast USB Type-C, HDMI 2.0, and Gigabit Ethernet.
Pricing and Availability
This new package from Acer would be available in India at Acer Exclusive stores, major retailers and E-commerce sites. While the pricing for AMD based model starts at ₹65,999, the 8th Gen Intel processor based models would start at a slightly higher price of ₹72,999.