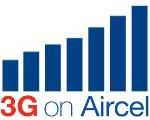 Namaskara Bengaluru! Following the launch of it 3G services in Chennai, Aircel today launched its hi-speed mobile internet service in Bangalore. After BSNL, Tata Docomo and Airtel, Aircel is now the fourth service provider in the city to provide 3G services.
Earlier today, launching the service in Bangalore, Sandip Das, the group CEO of Maxis said "This has been an important year for us in the Indian market, where we finally established our pan India presence, while keeping a date with India's future by successfully gaining a foothold on 3G and BWA  licenses at the auctions. The Aircel team has shown strong execution skills staying much focused on our strategic intent in a crowded market, where we were given little chance to succeed"
Envisioning the future of Aircel, he said "We see ourselves as a leading player in the next phase of India's telecom, internet and broadband play. We see mobile terminal devices giving Internet a new lease of life in a data starved environment as wide band data networks, starting with 3G, shrink distances."
As far as the tariffs are concerned, the base rate of Aircel 3G PocketInternet will be 3 paise per 10kb. But users can also go for 3G packages. At an all inclusive price of Rs.132, Rs 92 Rs. 252, Rs. 502 & Rs.802 the consumers can enjoy 75MB, 100 MB, 150MB, 350MB & 1024MB data respectively for a month with inbuilt voice & SMS. Aircel also offers 3G dongles for high speed internet access. Aircel has set up special 3G data call center to cater to customer needs.