Even as the rival telecom operators heaved a sigh of relief after TRAI stopped the Jio Summer Surprise offer, Airtel has accused the new-comer of violating the regulators orders.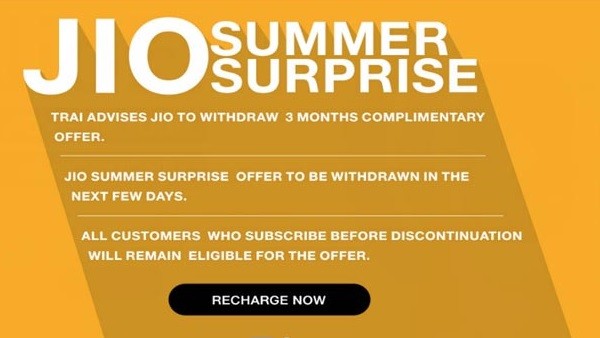 Bharti Airtel has accused Reliance Jio of violating the Telecom Regulatory Authority of India (TRAI) orders. The operator claimed that the new-comer continued its controversial Jio Summer Surprise offer despite the regulators directives to discontinue the offer. The leading operator also urged TRAI to take suitable action against Reliance Jio for violating the orders.
Reliance Jio however said that it has complied to the regulators directive and is in the process of withdrawing the Summer Surprise offer as soon as it is operationally feasible. However, it seems that Reliance Jio is using this an excuse to aggressively push customers to avail the offer.
Airtel maintains that given the orders from TRAI, Reliance Jio should have stopped the Jio Summer Surprise offer with immediate effect. The leading operator claimed that Reliance Jio openly continuing the offer despite the directive from TRAI is a severe violation and should be dealt with.