We have been seeing a lot of changes and developments in India's telecom sector since last year, with the major one happening this year like the Vodafone-Idea merger. Both these telecom operators announced their merger back in March this year, and after the transaction is complete, this merger will create the single largest telecom operator in India. Well, that was the first merger in Indian telecom sector, and now today, we are hearing about the second merger in the country, it's between Tata Teleservices and Bharti Airtel (often referred as Airtel).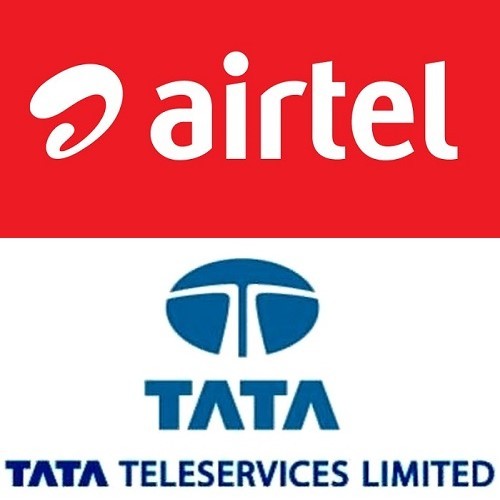 Tata Teleservices Limited (TTSL) and Tata Teleservices Maharashtra Limited (TTML) that are together referred to as Tata have announced that they are merging their Consumer Mobile Business (Tata CMB) with Airtel. Well, this isn't surprising as we already came across reports of a merger between both these telcos back in June this year.
As a part of this transaction, Airtel will take over Tata's operations in 19 circles across the country, two of which are under TTML and the rest are under TTSL. As a result, over 40 Million Tata customers will join Airtel's network.
Furthermore, this transaction also includes transfer of all the assets of Tata CMB to Airtel which would enable the latter to strengthen its footprint in the 850, 1800 and 2100 MHz bands. Apart from that, this agreement also gives Airtel the right to use Tata's existing fibre network.
This merger, which is subject to regulatory approvals, is being done on "debt-free cash-free basis", with all past dues and liabilities to be settled by Tata. Moreover, as a part of this transaction, Airtel will also be assuming a small portion of the unpaid spectrum liability of Tata towards the Department of Telecom. Having said that, Tata will retain its stake in Viom while taking care of all the liabilities associated with it.
"This is a significant development towards further consolidation in the Indian mobile industry and reinforces our commitment to lead India's digital revolution by offering world-class and affordable telecom services through a robust technology and solid spectrum portfolio. On completion, the proposed acquisition will undergo seamless integration, both on the customer as well as the network side, and further strengthen our market position in several key circles. The customers of Tata will be able to enjoy India's widest and fastest voice & data network, and bouquet of Airtel's best-in-class products and services." said Mr. Sunil Bharti Mittal, Chairman of Bharti Airtel.
"The acquisition of additional spectrum made an attractive business proposition. It will further strengthen our already solid portfolio and create substantial long term value for our shareholders given the significant synergies." Mr. Mittal further added.
Commenting on this merger, N Chandrasekaran, Chairman of Tata Sons, said, "We believe today's agreement is the best and most optimal solution for the Tata Group and its stakeholders. Finding the right home for our longstanding customers and our employees has been the priority for us. We have evaluated multiple options and are pleased to have this agreement with Bharti".
Post the completion of this transaction, the employees of Tata will be separated on the basis of two businesses – CMB and EFL (Enterprise and Fixed Line and Broadband) – and will be moved to either of these businesses later on.
In its statement, Tata also said that it is in initial stages of exploring the opportunity of merging its Enterprise Business with Tata Communications, and, its Retail Fixed Line and Broadband business with Tata Sky.