There have been various leaks around the upcoming next gen iPhone(s) and today, we have another one. This time we have an alleged leaked advertisement pamphlet showing off the 4.7-inch iPhone 6 and the 5.5-inch iPhone as well. The leak also gives us the pricing and launch details on the devices.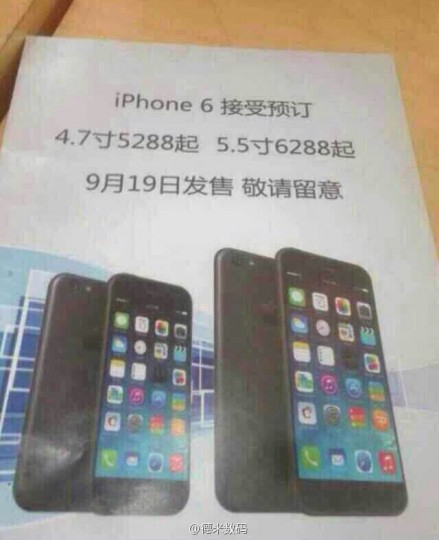 The leaked flyer has come out of China and if it is indeed legit, then we might see the new iPhones hit the Chinese market at around September 19. The flyer also gives out the pricing details around the new Apple devices. The 4.7-inch iPhone 6 is said to be priced at 5,288 yuan (approx. $850), and the 5.5-inch model, 6,288 yuan (approx. $1,000).
A $150 difference in the price of these devices suggests that there will be more difference between them than just the screen size. The September 19 date also makes us think that Apple might reveal the new devices in China early next month, so as to hit the global market by around the 19th date.
Until and unless Apple makes everything official, we will ask you to deal all these with a slight pinch of salt. While the 4.7-inch iPhone 6 is pretty much a surety, the iPhone Air aka the 5.5-inch iPhone 6 might not hit the market due to some Sapphire display issues. Well, we hope to see both the devices next month, what about you?