Android 7.0 Nougat update for ASUS ZenFone 3 on hold
Around a week ago, we told you that ASUS has started rolling out the Android 7.0 Nougat update for the ZenFone 3. Well, now the company has said the update has been kept on hold.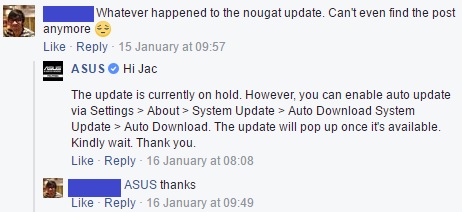 The Nougat update was being rolled out for ZenFone 3 carrying model number ZE520KL and ZE552KL. The update was first being rolled out in Philippines and was slated to be rolled out in other countries after getting feedback from the users in Philippines.
However, as mentioned by ASUS Philippines on Facebook, the update has been kept on hold. The company hasn't shared the exact reasons for halting the update, but, we reckon that they found some bugs which need to be fixed before rolling out the update to a larger number of users.
As of now, neither is there any detailed information about keeping the update on hold, nor do we know when the update will be rolled out again. What we can say is that this delay in the roll out of the update in Philippines is definitely going to affect the roll out in other countries. If you are a ZenFone 3 user, your wait is further extended.