Google releases Android distribution numbers every month that reveal the share of different versions of Android in the market. However, the company didn't release the distribution numbers for the month of June, and, July's numbers were released towards the end of the month. Well now, it looks like things are back to normal at Google as the company has released Android distribution numbers for the month of August.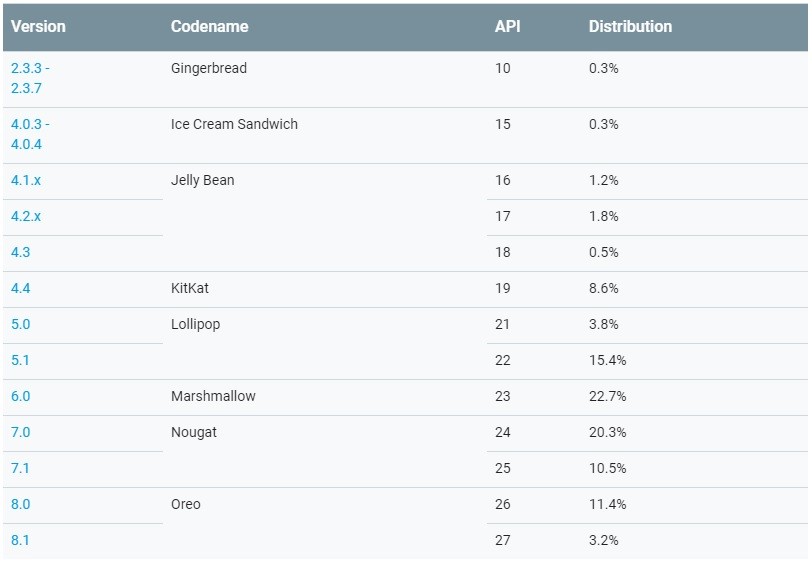 Back in July, Android Nougat topped the charts with a cumulative share of 30.8%. Well, Nougat continues to top the chart in August as well, but, its share hasn't increased. It remains stable at 30.8%. That said, Android Lollipop's share has dipped from 20.4% in July to 19.2% in August. Well, it's actually not just Lollipop, except Oreo and Gingerbread, shares of all other versions of Android have decreased in August.
That said, the latest distribution chart includes seven versions of Android, and, those that have less than 0.1% of distribution are excluded. Google released Android Pie in August, however, it hasn't made its way to the distribution charts yet, which makes it clear that Pie is running on less than 0.1% of devices. But again, that's not surprising at all considering it's only running on Google Pixel, Pixel XL, Pixel 2, Pixel 2 XL, and, the Essential Phone (devices running Android Pie beta are not counted).
Well, to sum it up, according to August's distribution numbers, Android Nougat has the lead with a cumulative share of 30.8%, which is followed by Marshmallow with 22.7%, Lollipop with 19.2%, Oreo with 14.6%, KitKat with 8.6%, JellyBean with 3.5%, and, Ice Cream Sandwich and Gingerbread with 0.3%.
Let's see how much time does it take Android Pie to make it to the Android distribution chart.