Every month, Google shares details regarding the distribution of different versions of Android. Just like it rolls out security patch for Android every month. However, this time, Google has been a bit late in sharing these details. But, now that the distribution numbers are out, we do know which Android versions have gained more share in the chart and which ones have dropped.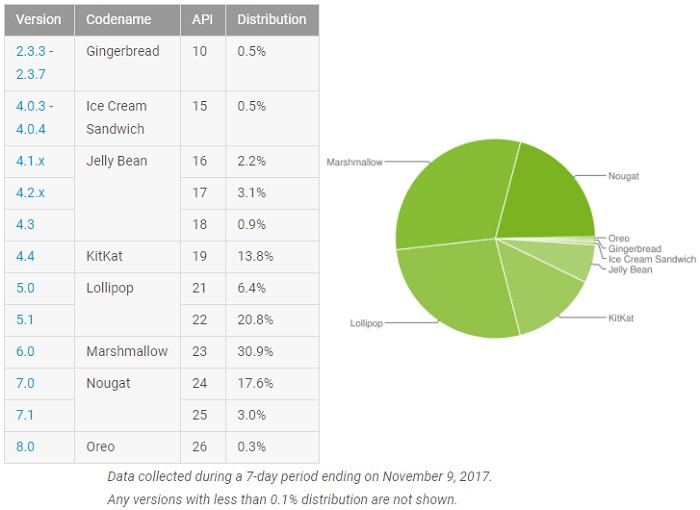 Last month, Android Marshmallow, which was released in 2015, was at the top spot with its share of 32%, however, this month, its share has dropped to 30.9%, but, it still retains its number one spot in the chart.
Android Nougat, that had a share of 17.8% last month, now has a share of 20.6%. Android Oreo released in August this year has seen an increase from last month as well, but, it's just 0.1%. Well, what else do you expect when the latest version of Android is only running on a couple of smartphones like last-gen Nexus, first and second-gen Pixel, and, some Sony smartphones?
Having said, Android Marshmallow, which has the most share in this chart, is followed by Lollipop with 27.2%, Nougat with 20.6%, Kitkat with 13.8%, JellyBean with 6.2%, Ice Cream Sandwich and Gingerbread with 0.5%, and, like we already said, Oreo with 0.3%.
Those Android versions that have a share of less than 1% are not shown in this distribution chart.
Which version of Android do you have on your smartphone?