Google announced Android O back in March this year, and since then, there have been speculations about what could be the actual name of Android O. Until now, Oreo was the strong contender, however, we are hearing a new name today, and, it's Oatmeal Cookie.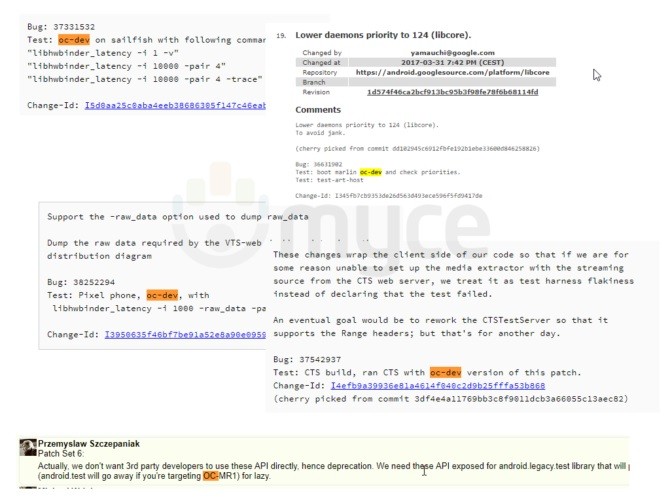 Some references have been found in the source code which hint at the possibility of Android O being called Android Oatmeal Cookie. Well of course, these references don't directly mention Oatmeal Cookie, but are written as "oc-dev". The source code also reveals that this build is being tested on Google Pixel which is very obvious.
Oatmeal Cookie appears at I/O as (presumably) the internal codename for O, so I'm still hopeful for a release name of Android Oreo :) pic.twitter.com/LRHihJvtNs

— WhiteTiger (@WhiteTigerAE) May 19, 2017
Besides, some of you might say that "oc" doesn't necessarily mean Oatmeal Cookie, it could mean something else as well. We totally agree with you, however, there have been mentions of Oatmeal Cookie in the code which was presented during this year's Google I/O conference last month. So, we are assuming that Oatmeal Cookie is what Android O will be called if Google is unable to use the name Oreo for some reasons.
Having said that, if Google is able to use Oreo as the name for Android O, we can expect specialized packaging of Oreo cookies in the stores, similar to what happened with KitKat in 2013.
On another note, if Hiroshi Lockeimer's recent tweet is anything to go by, then Android Orangina is also on the table. However, that's very less likely to happen, because Orangina isn't a dessert.
Anyways though, what do you think will be the name of Android O which is confirmed to be Android 8.0? Will it be Oreo? Will it be Oatmeal Cookie? Or will it be something else?