Receive an exclusive invite to attend the iPhone 5S and iPhone 5C launch in India
With the new generation iPhone devices all set to debut on the Indian shores on November 1, Apple has made extravagant arrangements to give everyone an opportunity to witness the launch of the device in the country.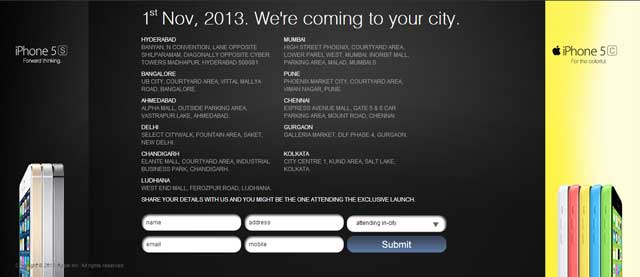 The Apple iPhone 5S and the iPhone 5C, which would be launched in India on November 1, would be unveiled at events held across 11 cities simultaneously. This would provide an opportunity for people spread across the length and breadth of the country to witness the grand unveiling. The launch events would be held in the cities of Delhi NCR, Mumbai, Bangalore, Chennai, Hyderabad, Kolkata, Pune, Ahmedabad, Chandigarh and Ludhiana.
However, the invitees for the events at the various locations would be pre-selected by the company and only those people would get a chance lay their hands on the new iPhone 5S and the iPhone 5C. The Apple iPhone 5S would be priced at Rs. 53500 whereas the iPhone 5C would cost Rs. 41900 according to company. The company also plans on launching leather cases in 6 colours. If you wish to be part of the Apple launch event in your city, register on this link and if you are shortlisted you could be the first one to get your hands on the new devices.