Cricket is a religion in India and if you are a follower, you can't miss the Asia cup. The tournament has already kicked off and if you are too busy at work to watch the matches, we have exactly what you need to keep up with its pace. We will show you how to get updates of every ball even if you don't have a GPRS connection on your smartphone. It will help you carry on with your busy life while keeping track of the sport you love  – @cri is a simple SMS based way that will help you do so.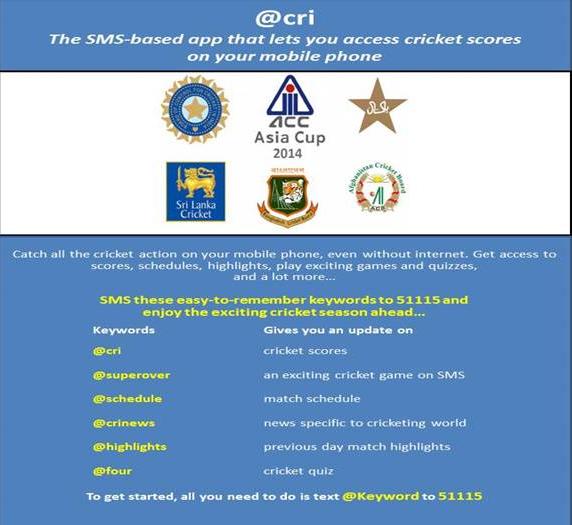 What does it do?
@cri provides you quick updates on the scores, highlights and details of the Asia Cup. It will send you updates via SMS, and gives you some easy keywords that will let you access cricket news, quizzes,  stats, schedules and more.
How does it work?
All you need to do to start getting Asia cup updates via SMS is to text @Keyword to 92665-92665 from your Airtel, Idea or Tata phone. You can use these keywords for different stuff –
@cri – cricket scores
@superover – a cricket game vua SMS
@schedule – match scedule
@crinews – cricket news
@highlights – previous match highlights
@four – cricket quiz
Our opinions about this app? Well, if you can access the internet on your phone, its useless. If you can't, it is a little expensive. In case, you want something of that sort check out our top 5 cricket apps for iOS and Android.
But, if you can't afford to connect to the internet on your phone or are still more comfortable with SMS rather than apps, this might be a good thing for you – assuming that you are cricket crazy.