We know that Research In Motion (RIM) is readying its BlackBerry 10 running L-series (full-touchscreen) and N-series smartphone (with physical QWERTY keyboard) for an early 2013 launch.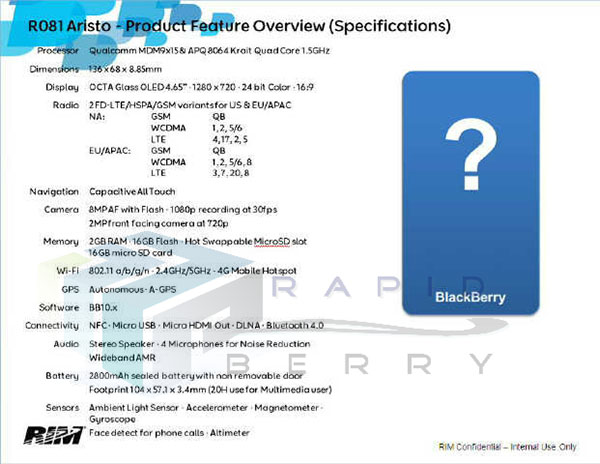 But according to a report and leak, the Canadian giant also seems to be preparing an A-series smartphones of which Aristo is said to be arriving with some impressive specs.
According to a leaked internal document that the source has got its hands on, the BlackBerry Aristo is to arrive with a 4.65 inch screen with OLED display and 720p resolution, powered by a powerful 1.5 GHz quad-core Qualcomm Snapdragon S4 processor coupled with 2 GB of RAM, 16 GB of internal memory which will be expandable to 16 GB via microSD slot.
 
If that was not enough to impress you, the Aristo is rumoured to pack in an 8 MP camera with Flash, 2 MP front facing camera, and high speed LTE radio, NFC, Bluetooth 4.0 and more. The battery on the Aristo is said to be of whooping 2800 mAh but will be sealed with non-removable cover.
 
The specifications of the Aristo sound as if we are discussing some high-end Android smartphone but will actually run on BlackBerry 10 OS.
 
We are now even more excited to see how the device turns out to be when RIM announces it but we doubt that the device will be made available along with the L-Series and N-Series in January next year.
 
So are you impressed by the specs of the Aristo? Let us know your views below.