BlackBerry 10 N-Series to ditch optical trackpad and combine touchscreen with keyboard
The most striking features that millions of BlackBerry users love on their BB smartphones are the full QWERTY physical keyboard and the optical trackpad.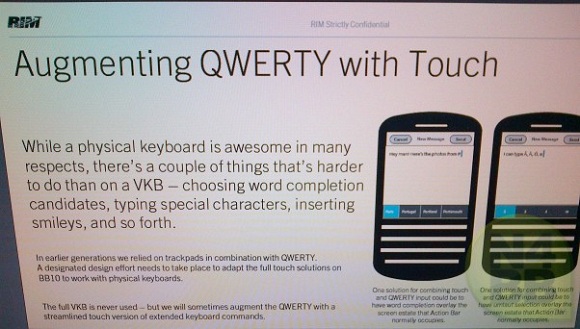 But as the BlackBerry 10 OS nears the launch with a full touch interface initially on the BlackBerry L-series, the BlackBerry N-series would arrive with the physical keyboard minus the optical trackpad.

In an internal slide that has leaked from inside RIM, BlackBerry is finally ditching the trackpad with onscreen touch functionality that is the base of BlackBerry 10 OS and explains this as "augment the QWERTY keyboard with a streamlined touch version of extended keyboard commands."

The touch and type interface should be like the one on the Nokia E6 which is a business phone running on Nokia Belle OS and the functionality and compatibility with the physical keyboard is just awesome.

Also packing the BlackBerry 10 OS, which has definitely wooed us long back and bringing the keyboard with a square 720 x 720 square OLED touch screen would just blow away all the BlackBerry critics.

For now we just have to wait for the N-Series to arrive which is not going to happen anytime before Q1 2013, but we do hope that RIM brings the smartphones well in time for the holiday season. Also note that the L-Series is said to be arriving as early as in August this year.