BlackBerry Tour 9630 will soon be available on TATA Indicom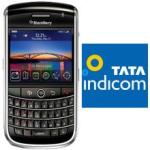 TATA Indicom BlackBerry users now have one more BlackBerry device to choose from. TATA Indicom will soon launch BlackBerry Tour on its network. (BlackBerry Tour is already present for Reliance subscribers). The BlackBerry Tour smartphone is a 3G-enabled smartphone. It features international roaming support to help users stay in touch whether they travel around the corner or around the world. The BlackBerry Tour is a feature packed and high refined smartphone, and it will be available for Rs 27990.
We are expecting that BlackBerry Tour 9630 will be available for purchase from TATA Indicom True Value shops within next week.