Cloud computing for phones/tablets: What you need to know
You must have heard about the term 'cloud computing'. It is quite commonplace nowadays. Cloud is a concept that has been embraced by students, businesses, professionals and all people alike. Apple, Android, third-party apps and even companies like Microsoft have hopped on to the cloud bandwagon.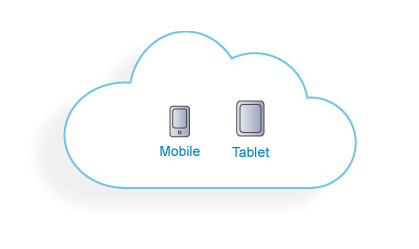 Cloud unlike, what it sounds like, doesn't store your content in the sky. It is basically provides you a service to store your content in the same ways you access apps. Basically, what happens with cloud storage is you can access your content over the net. It is kind of the same thing as storing your content in a hard drive just that now, your drive is replaced by a cloud server, which can be accessed via the internet.

Cloud gives you more space on your phone/tablet. It is a viable option for storing your content if you have regular access to the internet. It saves money that you would spend on MicroSD cards or even on the iterations of the same device that would cost more for extra storage for example – you could actualy depend on a cloud service and go for a 16 GB iPad instead of a 64 GB one. You would save a lot of precious money on the same features.
One more advantage with cloud computing is you can actually sign up for different cloud services and increase the storage you want.
The only worry with cloud storage is what happens in case someone hacks the cloud server. Well, it seems there are proper security measures in place since we haven't heard a single instance of them being hacked or violated.
Here are some of the best cloud services out there:
Dropbox: Dropbox is an ace cloud service. As you don't need a proprietary device to access it, it is getting increasingly popular. Still, it does have a special tie-up of HTC. Like most cloud services, it offers some free storage after which you have to sign for paid storage. The free limit is 2 GB and after that you pay $9.99 for the first 50 GB and then $19.99 for every 100 GB. They have even given people an incentive for referring other people by giving upto 16 GB free @ 500 MB per referral.
iCloud: Apple has its own cloud service, which is quite unlike the others. What happens with iCloud is that you get 5 GB storage space free, but beware! it can only be used to save your purchases in the iTunes store rather than all your content. Although, you still can save your emails, documents and contacts but you can access it only via a proprietary Apple device.
Google Apps: Yes, Google does have its own cloud service, but it is aimed more at businesses rather than the regular Android user. Still, you can sign up and check it out. Google also has a Cloudprint service which lets you print your docs without even downloading them.   
Windows Skydrive: You can access Windows Skydrive using a Windows Live I.D. – It provides 25 GB free space. You can use it for a variety of content and it seems quite user-friendly.
Box.net: Box is also a quite popular cloud servce offering 5 GB free storage.
Huawei's cloud service: Huawei is one company which has gone gaga over the cloud. In fact it has even released a 'cloud-phone – Sonic and Ideos X3'. The company offers soultions for both business and personal uses. It offers 16 GB of free storage with these devices.
Amazon's web service: Amazon too offers a cloud service with 5 GB free usage and then starts charging starting at $20/ a year for 20 additional GBs.
Even Blackberry devices are expecting a cloud service soon since the company has acquired NewBay software for $100 Million.