Picture this: You are walking on a road or are riding a two-wheeler while also using a smartphone, and suddenly, for some reason, your smartphone falls down on the floor, stopping your heartbeat for a moment as the the phone's screen shatters to pieces. The next thing you do is either get it replaced, which can be a costly affair if it's a premium smartphone, or just go buy a new phone. However, with more and more smartphones coming with Corning's Gorilla Glass, chances of your phone's screen cracking have reduced. Well, to further reduce the chances of cracked screens, Corning has now announced Gorilla Glass 6 – successor to Gorilla Glass 5 that was announced around two years ago.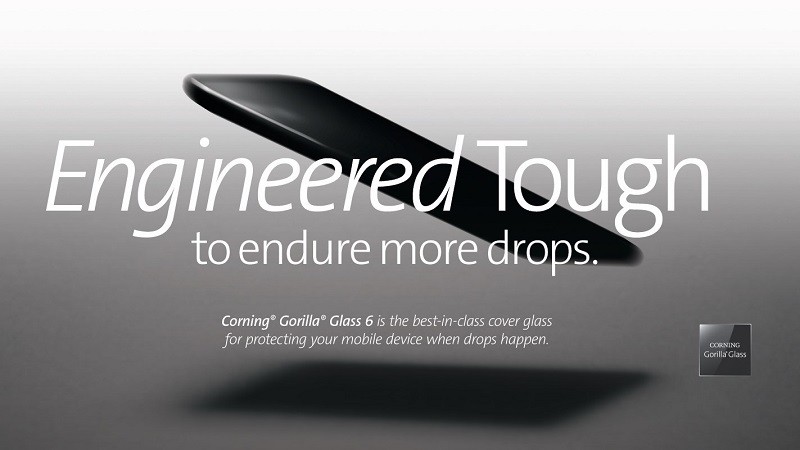 Corning says the Gorilla Glass 6 is up to two times better than its predecessor – the Gorilla Glass 5. Furthermore, Corning also says that Gorilla Glass 6 is durable and strong enough to survive 15 drops from a height of 1 meter. Well, that sounds pretty impressive.
https://youtu.be/HShYmocheBY
Corning has used "an entirely new material" for Gorilla Glass 6 that helps it survive multiple drops from this height. While Gorilla Glass 6 survived 15 drops from a height of 1 meter, Corning says that other glasses made out of soda lime and aluminosilicate shattered in the first drop itself when dropped from the same height under the same testing conditions.
"Gorilla Glass 6 is an entirely new glass composition that can be chemically strengthened to give it significantly higher levels of compression than is possible with Gorilla Glass 5. This enables Gorilla Glass 6 to be more resistant to damage. Moreover, with breaks during drops being a probabilistic event, the added compression helps increase, on average, the likelihood of survival through multiple drop events." said Dr. Jaymin Amin, Vice President of Technology and Product development, Corning Gorilla Glass and Corning Specialty Materials.
With more and more smartphone manufacturers opting for glass back design instead of metal – either to make the smartphone look more premium or to add wireless charging – we are not only looking at the risk of cracked screens when the phones are dropped, but also looking at cracked glasses on the back of the smartphones. But, with Gorilla Glass 6 able to survive multiple drops, the chances of cracked glasses on smartphone – both on front and back – will hopefully reduce.
"In addition to addressing drop height and drop frequency, Gorilla Glass 6 was also developed to meet the requirements of modern designs that use glass for more than 85 percent of the enclosure. With both its aesthetic and performance advantages, glass is on the right side of the technology curve and will continue to be the material of choice for mobile consumer electronics" said Scott Forester, Division Vice President, Marketing and Innovation Products, Corning Gorilla Glass.
There's no word on which smartphone will first come with Gorilla Glass 6, but, Corning has said that multiple customers are evaluating it, hence, we can expect to see it in the coming months.