Facebook has been making headlines since the past few days for all the wrong reasons, and, users around the world are protesting against this social media giant using the hashtag #DeleteFacebook. Even WhatsApp Co-Founder Brian Acton has joined the protest by saying "It is time" to delete Facebook. However, all this doesn't seem to stop the Menlo Park-based social media giant from rolling out new features for its app, as the company has now rolled out some new features for group chats in its standalone Messenger app.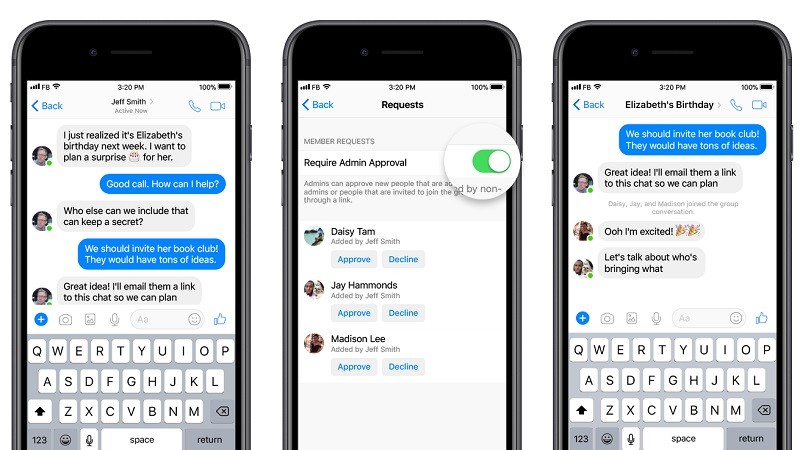 Facebook has announced new admin privileges for group chats in Facebook Messenger. This will now allow the group admins to promote a group member as an admin, or, demote an existing admin to a normal group member. The admins can also kick out a member from the group if they want.
https://www.facebook.com/messenger/videos/1858489384270733/
Moreover, admins can now also decide whether new members to a group are added automatically or only after he approves the inclusion of those persons in the group. This setting is disabled by default, which will allow new members to be added automatically to a group without admin approval, however, you can always turn it on to require approval for the addition of each new person in the group.
"Admin privileges allow you to approve new members before they join your group chat. This is especially helpful in large group chats with people you may not yet be connected to, like when you're planning a friend's surprise birthday party with different groups of friends." said Drew Moxon, Product Manager, Messenger, Facebook.
Apart from this, Facebook has also introduced joinable links for group chats in Messenger. This is exactly what it sounds like. It allows any member of the group to create a custom invite link that can be shared with someone else to add him to the group chat. Once that person clicks on this invite link, he will either be added automatically to the group, or, will be added after the group admin has approved the join request.
Well, these kind of features certainly come in handy when a Messenger group can have up to 250 people in it at the same time. That said, in related news, Facebook rolled out an update a month ago that allows users to turn one-on-one voice or video call into a group call easily.
Download Link: Facebook Messenger for Android | Facebook Messenger for iOS