Popular photo and video sharing app Instagram has rolled out quite a lot of features last year, one of them being the ability to follow hashtags. Yes, Instagram lets users follow the hashtags they are interested in just like they follow accounts of other persons or brands. And, to make the app more interesting, Instagram has announced that users can now link to hashtags and other users in their Instagram Bio.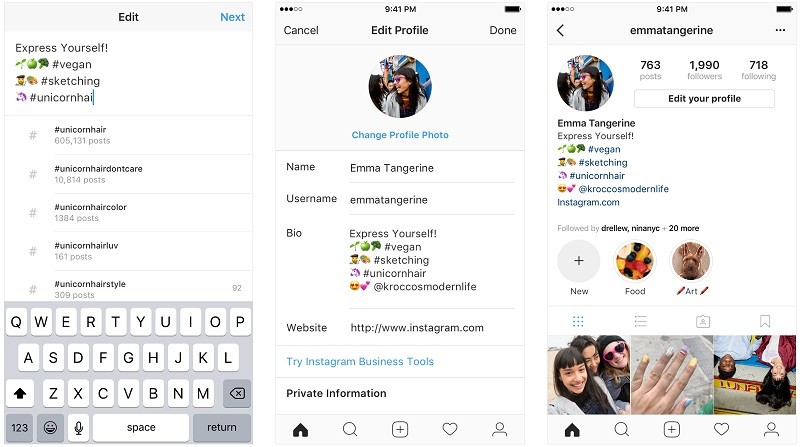 Until now, you were already able to add hashtags and other profiles in your Instagram Bio, however, they were not clickable. But, with the latest update, you can link hashtags and other profiles in your Bio which when clicked upon will be taken to that hashtag page or profile.
How to add hashtag or profile links in your Instagram Bio?
Adding a hashtag or a profile link in your Instagram Bio is pretty simple. All you have to do is tap on 'Edit Profile' and go to the 'Bio' section. To add a hashtag, just type # in the Bio section and you will see a list of recommended hashtags. And to link profiles, you have to type @ followed by the username. Once you have added hashtag or profile links, just save the changes and you are all set.
However, it's worth noting that when you add a link to someone's profile in your Bio, that person will be notified, and, he/she can choose to remove their profile link from your Bio. While their profile will still remain in your Bio, it won't actually be a live link (meaning someone clicking on their username won't be redirected to their profile).
That said, we would like to draw your attention to the fact that the profile links that were added in your Instagram Bio before this update were clickable, but only when the profile was visited from a desktop browser.
Also Read: How to follow Instagram hashtags like regular accounts [Beginner's Guide]
"In December, we introduced the ability to follow hashtags, giving you new ways to stay connected with the interests, hobbies, passions and communities you care about. With hashtag and profile links in your bio, you can express yourself and your interests right in your profile." said Instagram in a blog post.
Also Read: How to secretly watch Instagram Stories of others without letting them know [Guide]
These new changes are already live in Instagram's Android and iOS app. So go on, add your favorite hashtags and people in your Bio and express yourself.
Download Link: Instagram for Android | Instagram for iOS