Instagram has rolled out quite a lot of features this year, with the recent one being the Stories Archive feature which automatically archives the Stories so that users can watch them again later. Well now, Instagram has announced that its users can follow hashtags as well, something that we talked about just over a month ago.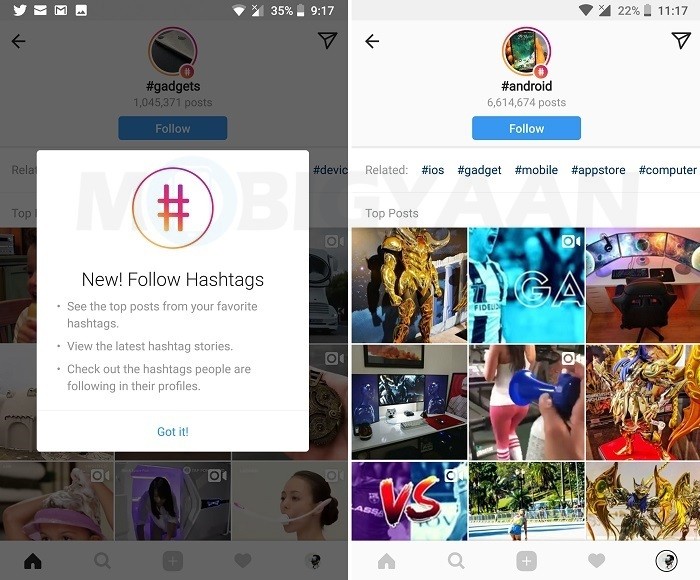 Until now, Instagram users could only follow accounts of people and brands, however, they can now follow hashtags as well. This is useful if you don't want to follow a specific brand or an influencer but do want to follow specific topics they are related to. For example, if you are a gadget enthusiast, you can follow the hashtag #gadgets.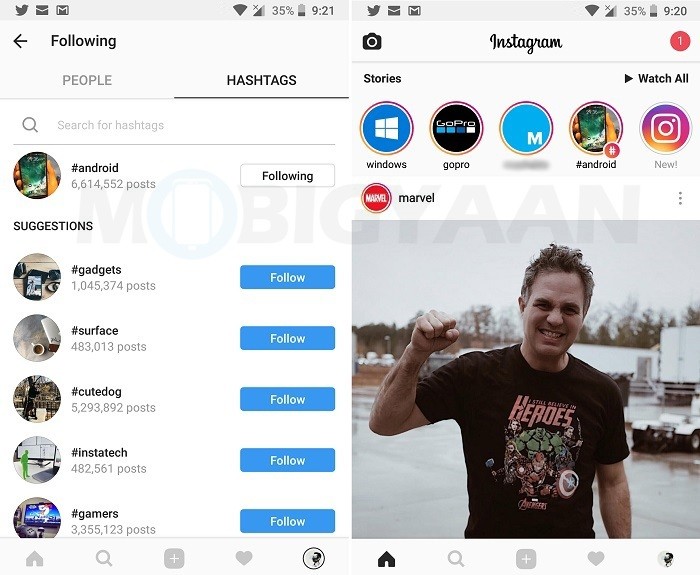 Following a hashtag on Instagram is as easy as following a person. You just have to search for the hashtag you are looking for in the Search & Explore tab, and then, you simply tap on the hashtag in the search result and then tap on the 'Follow' button.
You can also tap on a hashtag in a post which will open the hashtag's page and then follow it.
Once you follow a hashtag, you will start seeing top posts from that hashtag in your feed. Moreover, you will also see the latest stories associated with that hashtag in your Stories bar. Once you follow a hashtag, the 'Following' section in your profile is divided into two tabs – People and Hashtags – the hashtags section shows the hashtags you are following.
Instagram says that you can check out the hashtags other people are following in their profiles. However, in our test, we were unable to see the hashtag that were followed by other people. That said, if your account is private, then no one except your followers will be able to see the hashtags you follow.
"Everyday, millions of people share photos and videos and tag them with relevant hashtags. #onthetable, #slime and #floralnails are just a few examples of hashtags that represent the many interests and passions of our community. To make these posts even more discoverable, we're introducing hashtags you can follow." wrote Instagram in a blog post.
Also Read: How to hide Instagram posts from your profile [Android Guide]
Well, now that users can follow hashtags on Instagram, it will be more easier for them to follow their interests, hobbies, passions and even communities without having to follow any account.
Also Read: How to upload Instagram Story from mobile browser [Android Guide]
This feature is introduced by Instagram through a server-side change, hence, you are not required to update your Instagram app to the latest version to be able to follow hashtags.
What are your thoughts on following a hashtag on Instagram? Do share them with us in the comments down below.
Download Link: Instagram for Android | Instagram for iOS