Facebook Referral Program: Bring new users to Facebook and get Rs.50 talktime
There are many websites which offer you credit points, gift voucher,

talktime

and more when you invite or refer your friends to join their site.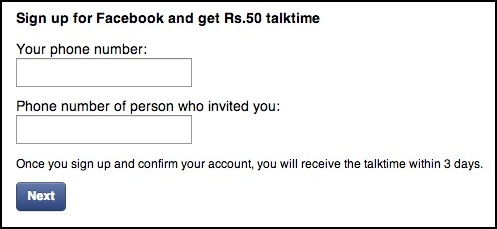 And it seems that Facebook has also adopted the same method in India and is
offering Rs.50 of free

talktime
for every new user that a current Facebook user brings to the social network.
It is not just that the current Facebook users will get the

talktime

, it seems that the new user would also get Rs.50 as free

talktime

. The sign up process is simple and just need the new users to enter their mobile number and also the mobile number of your friend who referred you to join Facebook.

We tried registering by the given method and the process is too simple! All you need is two mobile numbers, one which is new and the other which is already registered with Facebook. There is no need for an Email id which registration.

Facebook says that once you signup and confirm your new profile account (they will send you a confirmation code on the mobile number you are using to register the new profile with) they will give the talktime of Rs.50 within 3 days.

As we have just tried the feature, we will have to wait until we get the

talktime

of Rs.100 (50+50) in the next few days and see if this feature works or not.
The
feature
is indeed a nice one but then, this will surely result in loads of fake profiles being created and Facebook might not love it much.
Anyways, if you wish to try the new feature, invite a few new friends and would love some free talktime, then just visit http://m.facebook.com/tt. Please note that the URL should be the same as the registration works in the mobile format only.
Oh and if you try the feature, do let us know about your experience with this new referral feature.
Source