Last month, we learnt about Instagram testing a feature called 'Usage Insights' that would show you how much time you have spent in the Instagram app. And a week ago, we got more details about this feature. Well now, it seems Instagram-parent Facebook too is planning to roll-out a similar feature soon as the social media giant is found testing this feature on its Android app.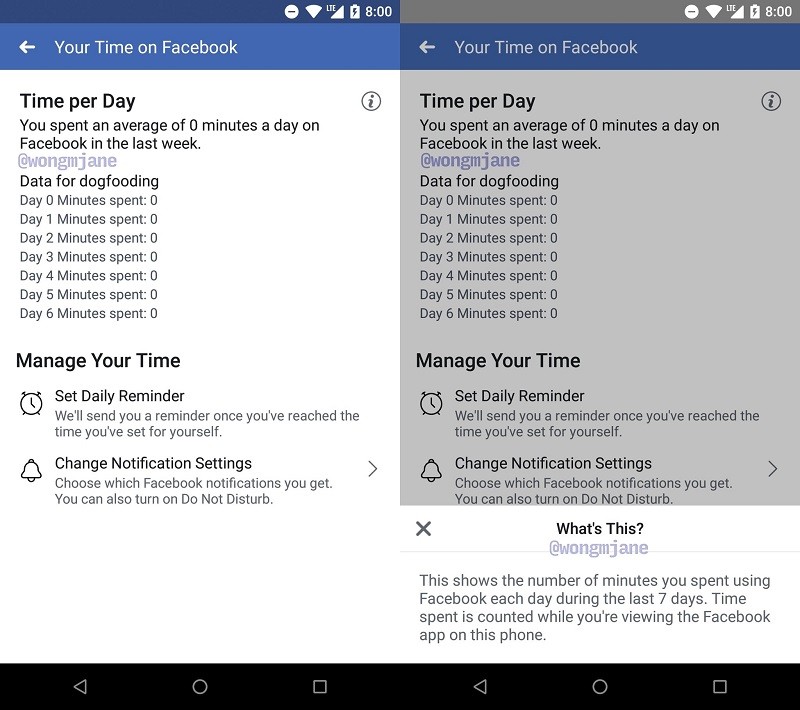 Facebook has been found testing a feature called 'Your Time on Facebook' that shows you how much time you have spent viewing the Facebook app. This feature shows the number of minutes you have used the Facebook app each day for the last seven days.
That said, just like Instagram, Facebook also has a 'Manage Your Time' section that has two options – 'Set Daily Reminder' and 'Change Notification Settings'. The 'Set Daily Reminder' option will alert users when they have reached their self-imposed daily usage time limit, and, the 'Change Notification Settings' option will let you choose which notifications you want to get from Facebook. Users also have the option to turn on the DND mode.
This feature was discovered by Jane Manchun Wong by going through the source code of Facebook app for Android. For those unaware, Wong's also the one who discovered the 'Usage Insights' feature that's being developed by Instagram.
Instagram's 'Usage Insights' feature has already been confirmed by its CEO Kevin Systrom, and, Facebook in a statement to TechCrunch too confirmed the development of this feature by saying "We're always working on new ways to help make sure people's time on Facebook is time well spent."
Well, it's good to see tech companies developing features that help their users identify how much time they are spending using their products. Google at its I/O 2018 annual developer conference last month announced its 'Digital Wellbeing' initiative as a part of which it announced a feature that would let users know how much time they spend on their device using different apps. Apple too introduced a similar feature called 'Screen Time' with iOS 12. However, it's good to see Facebook and Instagram developing features that would show their users how much time they are spending (wasting?) inside their app, endlessly scrolling through cat videos and memes.
There's no word on when Facebook and Instagram will roll-out this feature, but whenever they do, we are pretty sure that users will be surprised to see the amount of time they spend on social network.