Last year in June, Cupertino-based tech giant Apple announced iOS 11. As usual, iOS 11 brought in some improvements over its predecessor – iOS 10 – but, it was also the biggest release for iPad as it came with some features that took multi-tasking on iPad to a whole new level. Well now, a year later, Apple has announced iOS 12 at its ongoing WWDC annual developer conference in San Jose, California.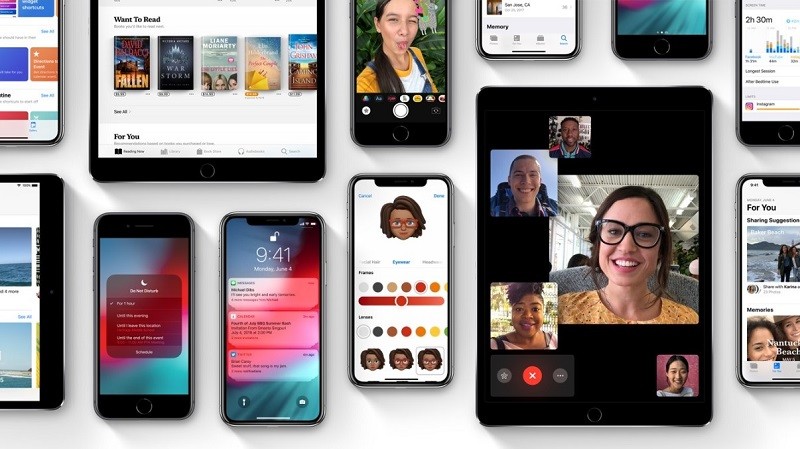 With iOS 12, Apple is not only improving the performance of iPhones and iPads, but, it is also introducing some fun new features while also making sure that users are able to take care of their health by introducing features that help them track their usage on their iPhones and iPads. Similar to what Google is doing with its 'Digital Wellbeing' initiative.
"In iOS 12, we're offering our users detailed information and tools to help them better understand and control the time they spend with apps and websites, how often they pick up their iPhone or iPad during the day and how they receive notifications. We first introduced parental controls for iPhone in 2008, and our team has worked thoughtfully over the years to add features to help parents manage their children's content. With Screen Time, these new tools are empowering users who want help managing their device time, and balancing the many things that are important to them." said Craig Federighi, Apple's senior vice president of Software Engineering.
Top features of iOS 12
1) Better performance for iPhones and iPads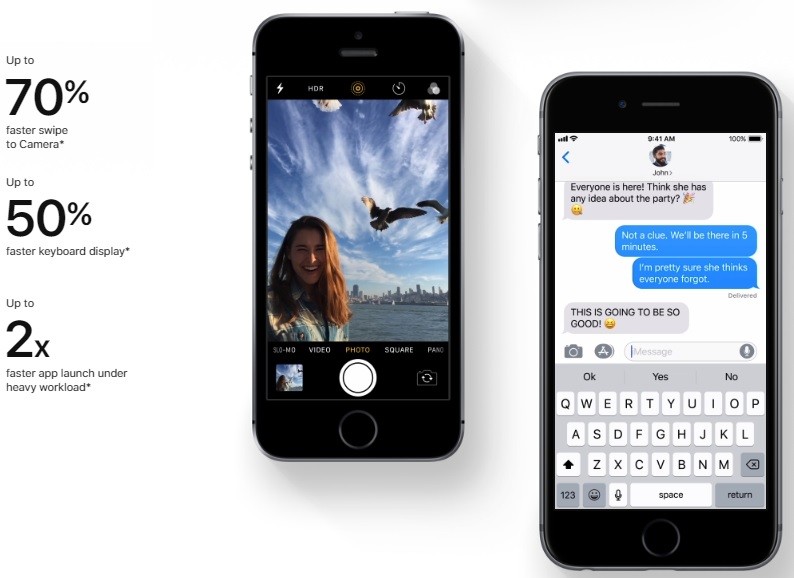 With iOS 12, Apple lets you do things that you commonly do much faster. With iOS 12, Apple says that the Camera now launches up to 70% faster whereas the keyboard pops-up up to 50% faster. But that's not it. With iOS 12, Apple says that apps now launch up to 2x faster even under heavy usage.
2) FaceTime with more than two dozen people at once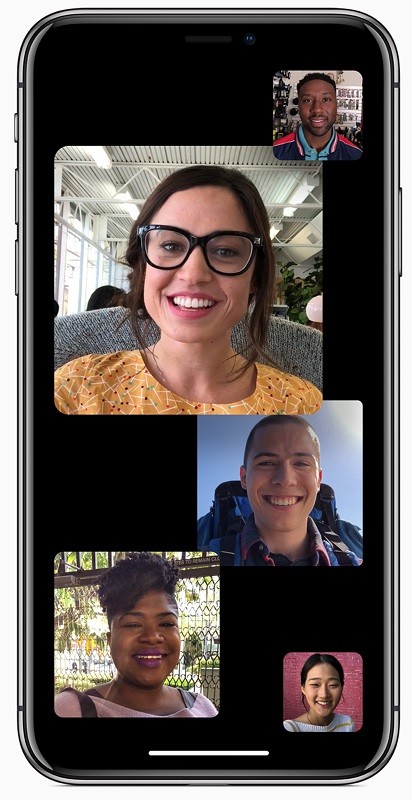 iOS 12 brings in some improvements to FaceTime as well. With FaceTime, you can now talk to up to 32 people at once – both through audio and video. Moreover, whenever a person speaks, the tile of that person becomes larger so that you are well aware of who's talking.
Having said that, users can also participate in a FaceTime audio call straight from their Apple Watch.
3) See how much time you spend on your device with Screen Time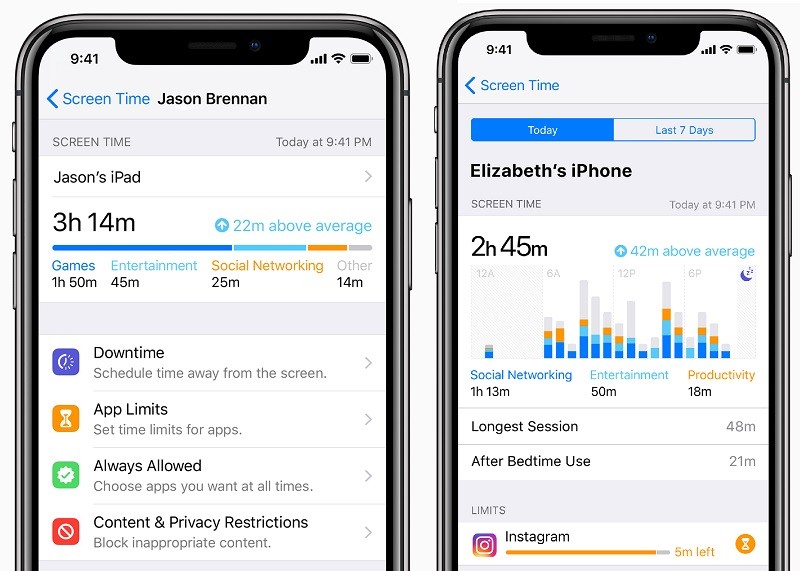 Google at its I/O developer conference last month announced its 'Digital Wellbeing' initiative, and, as a part of it, Google announced a feature that would let users know how much time they spend on their device using different apps. Well, Apple too has done the same with iOS 12 by introducing a feature called Screen Time.
With Screen Time, users can see how much time they spend using different apps on their iPhones and iPads. This feature also shows the app usage across different categories like Social Networking, Entertainment, Productivity and so on.
This usage is presented to the users in the form of detailed daily and weekly activity reports. That said, the Screen Time feature not only shows you your usage of apps and website, but also shows how many notifications you receive on your devices and how often you pick them up.
This feature is useful for parents as it helps them track their kid's activity easily. Parents can check the activity report of their kid's device using Family Sharing in iCloud, and, they can also specify when and how much their kids can use a specific app.
4) Set up a 'Downtime' to block apps and notifications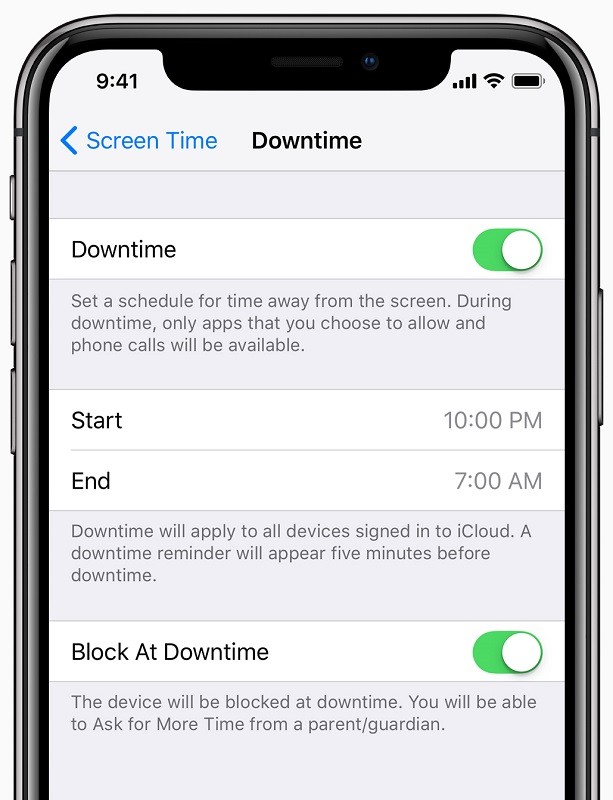 Apple has also introduced a feature called Downtime with iOS 12. This feature allows parents to block apps and notifications during a specific time on their kid's devices. However, they can allow exceptions for apps like Phone or Books to be available during the downtime.
5) Improvements to DND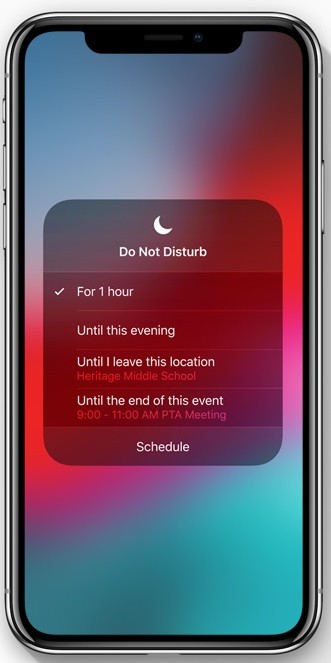 Apple has made some improvements to the Do Not Disturb (DND) feature as well with iOS 12. Users can now choose to disable DND automatically after an hour, based on a specified time, based on a certain location, or, based on a certain action or event.
That said, there's also a feature called 'Do Not Disturb during Bedtime' that dims the display and hides all the notifications from the lock screen until prompted in the morning.
6) iOS finally gets 'Grouped Notifications'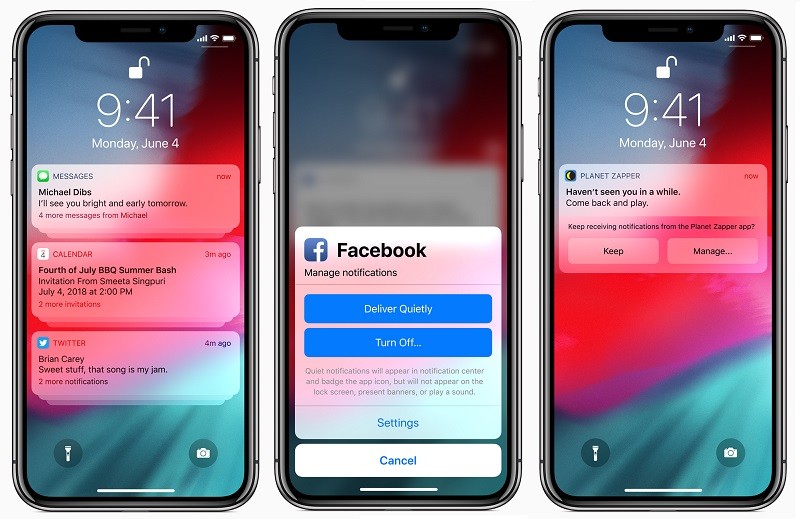 With iOS 12, Apple finally brings grouped notifications. If you have used an Android device running 7.0 Nougat or later, you must have heard of bundled notifications. Well, grouped notifications are just the same. Multiple notifications from the same app are now grouped into one which makes it easier to view and manage them.
Having said that, users can now also decide whether they want the notifications quietly or want them turned off altogether. Furthermore, Siri also can also make suggestions for notification settings based on how you interact with them.
7) Memoji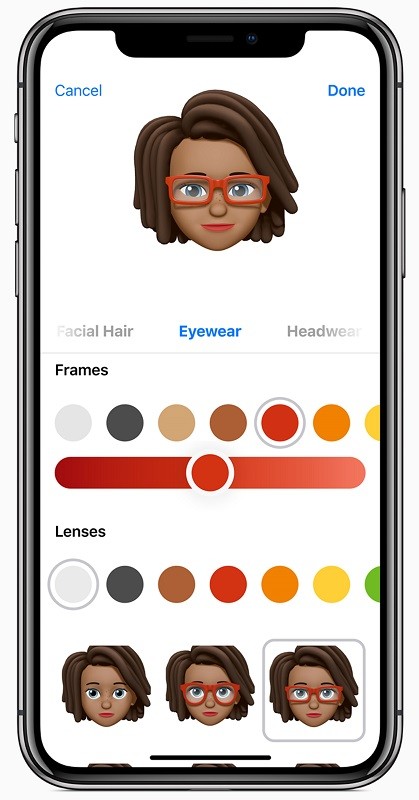 Last year, with iPhone X, Apple introduced Animoji – meaning animated emoji. Well now, with iOS 12, Apple has introduced Memoji. Now Memoji not only sounds like Animoji, but it also works in a similar fashion. However, the difference between the two is that while Animoji lets you create animated emoji based on different characters, Memoji lets you create animated emoji that looks more like you.
Users can create Memoji by customizing available personality characteristics using the Memoji Maker. Once a Memoji is created, it can be shared with friends. Having said that, iOS 12 also adds ghost, koala, tiger and T. rex to Anoimoji, and, also brings in wink and tongue detection for both Animoji and Memoji.
That said, do keep in mind that Memoji, just like Animoji, will only be available to iPhone X users.
8) Share AR experience with friends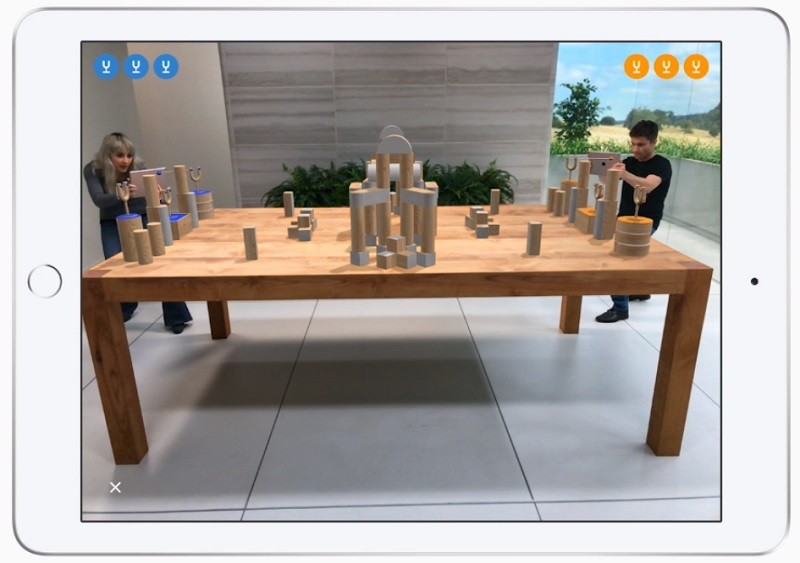 iOS 12 comes with ARKit 2, and with that, Apple introduces shared and persistent AR experiences. What that means is app developers can now create apps by integrating shared and persistent AR experiences that can be tied to a specific location, object detection and image tracking. This allows users to "leave virtual objects in the real world and return to them, as is, at a later time".
This also makes it possible for users to play games in AR with their friends, thus sharing AR experience with each other. And not to forget that Apple has now made it easier to experience AR in apps like Messages, Safari, Mail, Files and News.
9) Photos get better at sharing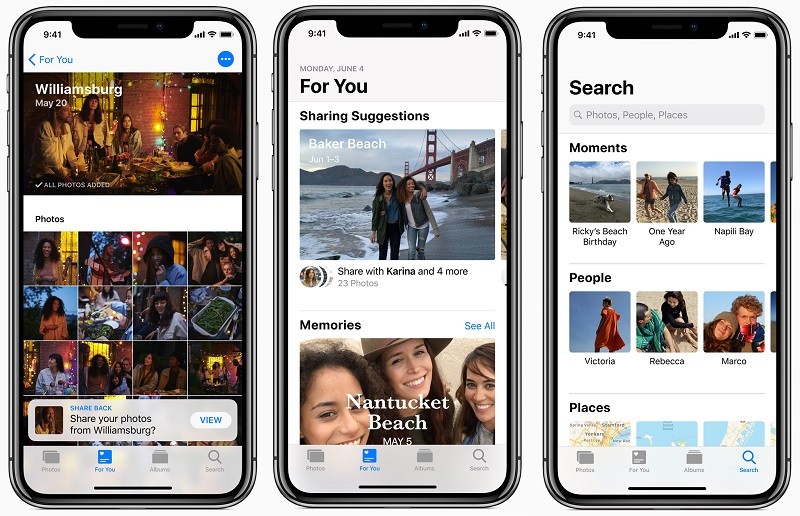 With iOS 12, Apple has made the Photos app better at… well… sharing photos. The Photos app now has a 'For You' tab that shows you your favorite moments, including Memories and iCloud Shared Albums, and also suggests editing effects to make them look better.
Moreover, the Photos app now also understands when you are back from a vacation or an event, and suggests sharing photos with the people that are in those photos. Moreover, if you receive photos from someone else, your device will also look for the photos from the same event to suggest sharing the photos that you have.
iOS 12 also brings in 'Search Suggestions' to Photos that helps you find the photos from different events, places, dates and more even before you start typing in the search bar. You can also use multiple keywords for better search results.
10) Siri Shortcuts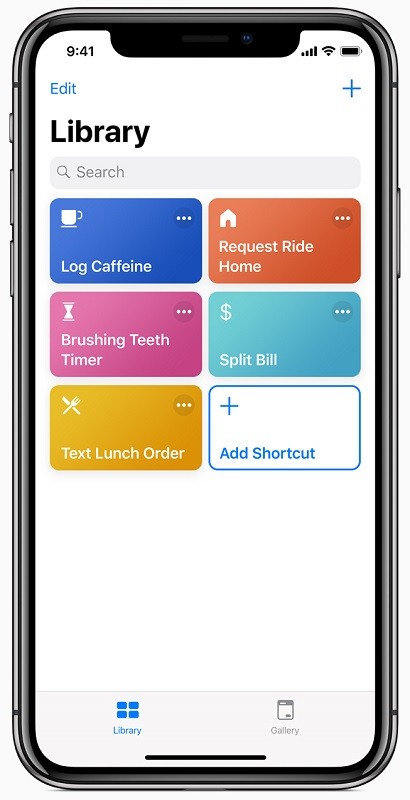 An iOS version update is incomplete if it doesn't bring along any features to the Siri. With iOS 12, Apple has introduced Siri Shortcuts. Siri Shortcuts lets users perform different tasks on any app by creating simple voice commands. Moreover, by downloading the Shortcuts app, users can create a series of actions to perform different tasks on different apps with a single tap or a voice command.
That said, Siri can now also suggest shortcuts for different tasks by learning your routine. For example, if you pick up coffee while on your way to the office in the morning, Siri will suggest you to place an order for coffee in the morning by placing a shortcut on the lock screen.
11) Enhanced Privacy and Security
With iOS 12, Apple has enhanced the privacy and security features. With iOS 12, Apple has improved the Intelligent Tracking Prevention in Safari that blocks the 'Like' and 'Share' buttons on social media as well as the comment widgets from tracking the users without their consent.
Furthermore, Safari now also prevents advertisers from collecting your device's configuration so that they can't show you targeted ads or identify your device. In addition to this, Safari now also creates, auto-fills and stores strong passwords automatically when you create new accounts. Moreover, it also flags re-used passwords so that you can change them.
iOS 12 comes with a lot other features as well, but the ones we have mentioned above are the top iOS 12 features.
iOS 12 will be released later this fall for eligible devices, however, if you are a member of the Apple Developer Program, you can check it out right away by heading here. It will also be available through a public beta program later this month from here.
So, which of the aforementioned iOS 12 features did you like the most? Let us know in the comments down below.