Facebook, which came into existence 13 years ago, is not just a social media website anymore where people keep sharing their photos and videos. There are different ways people have started using Facebook. It has also become a place where daily news is served to most people. More importantly, it has also become a tool which is used the most during crisis situations.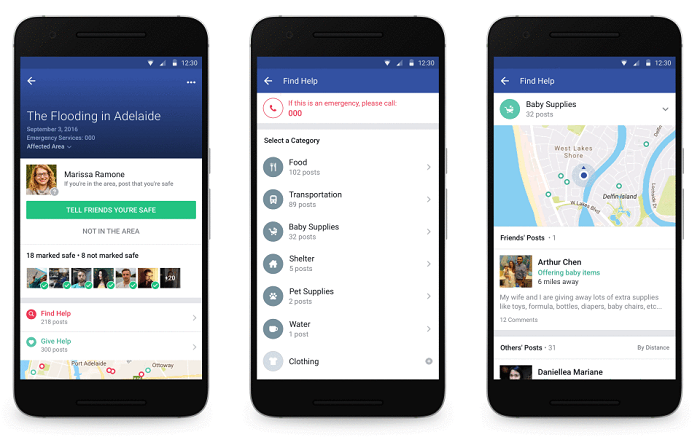 Facebook's Safety Check, which has been around for some years now, helps users know that their family and friends are safe during a crisis situation. If there's a crisis situation in an area, and you are in that area, Facebook will ask you to mark yourself safe, so that your family and friends know that you are safe. Similarly, if you have any of your family members or friends in an area which is under crisis, you can ask them to mark themselves safe.
Until now, this is what the Safety Check feature did. However, Facebook has now updated its Safety Check with a feature called Community Help with which you can not only find help in a crisis situation, but can also offer it to those in need. You can find or offer help like providing food, shelter, clothing, various supplies, transportation and more.
"With Community Help people can find and give help, and message others directly to connect after a crisis. Posts can be viewed by category and location, making it easier for people to find the help they need." said Naomi Gleit, VP of Social Good at Facebook.
"we saw the community do this on their own through Groups and posts, like in the aftermath of the flooding in Chennai, India, in December 2015, but we knew we could do more. We also talked with experts, humanitarian relief organizations and our own in-the-field researchers to learn how to make it easier for people to find and give help." Gleit further added.
For now, the Community Help will be available for natural and accidental incidents and will be first tested in US, Canada, Australia, New Zealand, India and Saudi Arabia for a couple of weeks. Also, in order to be able to use Community Help, the Safety Check feature will need to be activated first.
Safety Check is activated when Facebook is alerted about an incident by international crisis reporting agencies like NC4 and iJET International. Once that's done, Facebook starts monitoring posts in that area, and if a lot of users in that area are talking about the incident, they will be asked to mark themselves as safe while asking their friends as well to do the same.
Of course, there are chances of this feature being misused by some, hence, Facebook will not allow suspicious or newly created accounts to make use of Community Help. Well, let's see how much useful does this feature turns out to be.