Galaxy Note 4 features leak, thanks to leaked APKs
We have come across various leaks around the upcoming Samsung Galaxy Note 4 in the past and today, we have come across some of the features that might be part of the next Samsung flagship. @evleaks has posted a list of APKs, which reveal the potential features the Note 4 might come with.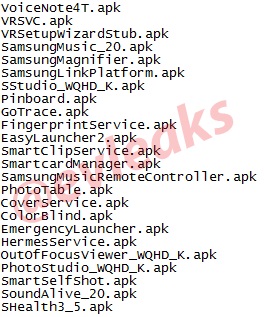 While some of the terms in the leaked APKs are self-explanatory like the "VoiceNote4t", "SamsungMusic_20", "Samsung Magnifier", "SamsungLinkPlatform" and more. The "FingerprintService" APK confirms the existance of a fingerprint scanner. The "SStudio_WQHD" APK apprently confirms the QHD display of the Note 4.
Then there are other interesting APKs in the form of "OutOfFocusViewer", "PhotoStudio", and "SmartSelfShot", which suggests more photo based apps to be coming from Samsung with the Note 4. "SHealth3_5" confirms Samsung's health suite to be present in the next flagship as well.
We recently saw a leaked picture of the Samsung Gear VR, the rumored Samsung virtual reality headset. Apparently, the Note 4 might come with support for it if the APKs like "VRSetupWizardStub" and "VRSVC" are any indication.
Apart from all the meaningful APKs we just talked about, there are plenty of mysterious ones as well like the "CoverService", "ColorBlind" and "HermesService".
The Galaxy Note 4 is rumored to be coming with a 5.7-inch QHD (2,560x1440p) Super AMOLED display, a Snapdragon 805 processor for LTE markets and the Octa-core 64-bit Exynos 5433 for the rest of the world. There's said to be a new UV sensor and a retina scanner as well. The Samsung Galaxy Note 4 is expected to go official at the annual IFA Conference in Berlin in September.