It seems that its buying season for smartphone companies and Google leads the turf with its infinitely deep pockets. Google has a  knack for buy outs and it has just brought out Bump – a file transfer app that was the first to make an impression when the Apple iOS app store was launched back in the day. Bump did something similar to what NFC does much before anyone had even thought of NFC. It transfers files, pics and other stuff if you hold two phones with the app closely. Google has lapped up this app for a fat wad of $30 million. Bump until now used to work across platforms, but now it seems it will enrich Google's coffers and Android OS. It had just purchased Waze for around $1 billion this June.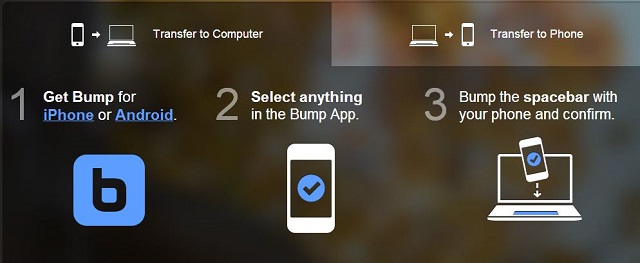 Bump is a good investment too, since it made $20 million just in the last five years. Even 30 million is what industry pundits are pegging it at, it could even be as much as $ 60 Million as per AllThingsD.
The company's CEO David Lieb is reassuring consumers that Bump will continue to work like it is doing now. Here's a link to his blog post on the subject.