At its yesterday's Google for India 2018 event in New Delhi, Mountain View-based Internet search giant Google made quite a lot of announcements that were all about new features for Indian users. This also included displaying news from both English and Hindi sources in Google Search feed. However, in addition to displaying news from English and Hindi sources, Google Search has also started showing dictionary definitions in English and Hindi languages in India.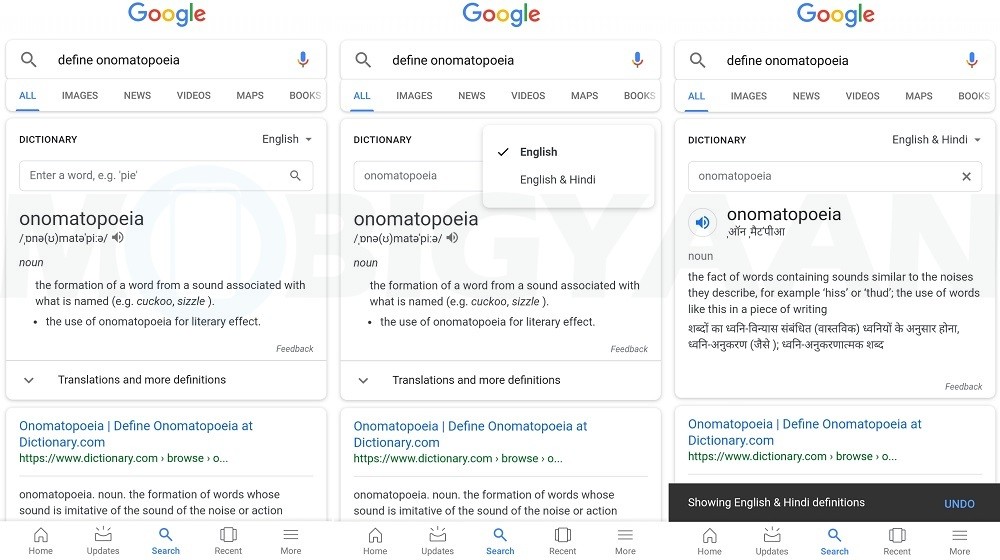 Until now, whenever we looked up for a definition of a word, the results were displayed in English language. However, users now have the option to view the results in English as well as Hindi language. Once you search for a definition of a word, you will now see a drop-down button on the right side of the dictionary card that has two options – 'English' and 'English & Hindi'. Selecting the 'English & Hindi' option shows the explanation of the word in English as well as Hindi language.
You are also shown the pronunciation of the word in Hindi language so that you can pronounce that particular word correctly. Having said that, the explanation of the word in English is a bit different when you select the 'English & Hindi language' option. But, it doesn't mean that the word's meaning changes altogether. It's just that the word is explained in a bit different way.
That said, the definition of certain words isn't available in Hindi language and the 'English & Hindi' option is also not clickable in those cases. Either way, Google certainly deserves a pat on its back for rolling out this feature as it will help users who have problem understanding the English language. It now remains to be seen whether Google adds support for more Indian languages or will it only show the definitions in Hindi language.
While Google hasn't announced this feature officially at press time, it is rolling out to a lot many users in India. We were able to check it out on multiple devices.
Have you received this new Google Search feature yet? What are your thoughts on it? Tell us in the comments down below.