So you seem to be using Instagram very often. It's a perfect place for photographers and social bees like you where you can share your photos and short videos to your friends and followers. But what if you need to delete your Instagram account for some reasons? So, how to delete Instagram account on your iPhone or Android? Here's our guide below: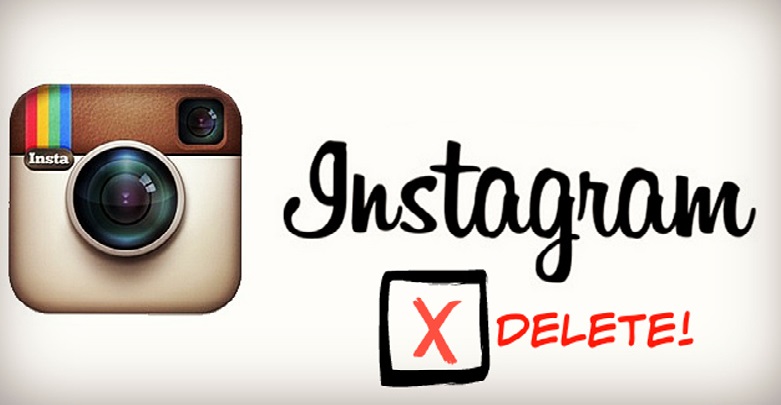 How to Delete Instagram Account on iPhone or Android
It's easy I guess since Instagram gives you wide features to play around and deleting is one of them. Every step you follow can be done in minutes if not seconds.
Note: Before proceeding, know that you can't get back your Instagram account once deleted. So, I do not recommend to delete Instagram account if you are willing to just disable it for a short period of time  and want to get back later.
If you want to check who is not following you back, see our post on who are not following you on Instagram.
Temporary Disable Your Instagram Account
When you temporarily disable your Instagram account, all your activity on Instagram such as photos, likes and comments will be hidden from your friends as well as the public, however, they won't be deleted but remain hidden unless you reactivate your Instagram account by signing back in.
Follow the simple steps to temporarily disable your Instagram account:
Step 1: Open a browser (I used Google Chrome) on your mobile and type the address www.instagram.com or click here because you cannot temporarily disable your account from within the Instagram app itself. If can also be done from a desktop computer by visiting Instagram on a desktop browser.
Step 2: Login to your Instagram account and tap on your username at the top right corner on the screen.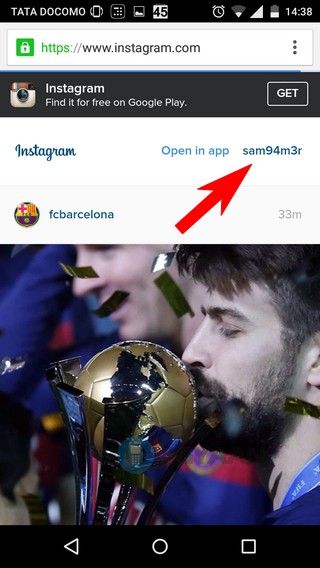 Step 3: Tap on Edit Profile to edit settings related to your account. You will be taken to your account's edit page in which you will find an option to temporary disable your Instagram account.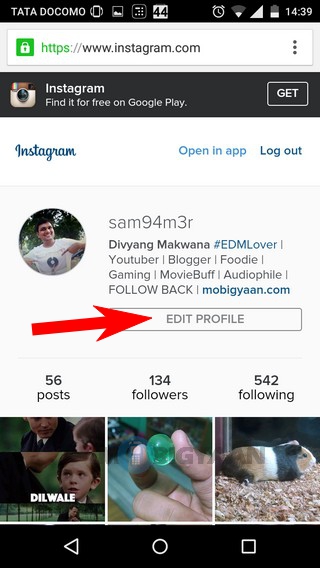 Step 4: Swipe up and find an option 'Temporary disable my account', tap on it and follow the on-screen instructions.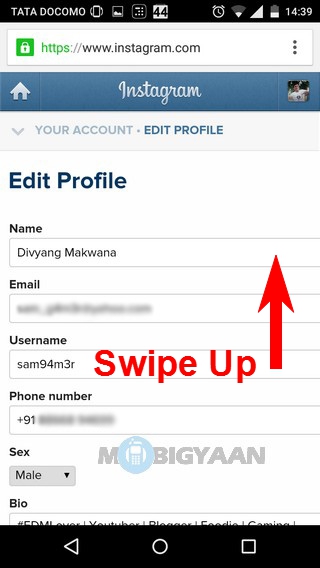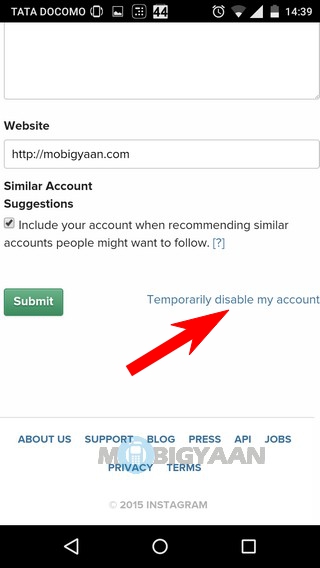 Step 5: Select a reason for 'Why are you disabling your account?'. As you can see, there are already most chosen answers, so if you have any reason listed under it, just select one and continue or else select 'Something else'.
Note: You can only disable your Instagram account once in a week.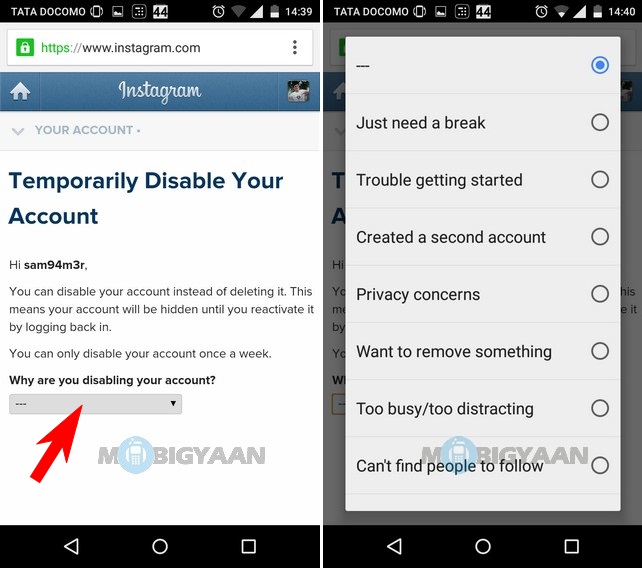 Step 6: Instagram will ask you to confirm that you want to temporary disable your account by asking your Instagram account's password. Press the button 'Temporary Disable Account' to temporary disable your account. Your browser may ask you to confirm again with a popup, hit OK. You will be logged out of your account. Viola! you just have disabled your Instagram account temporarily.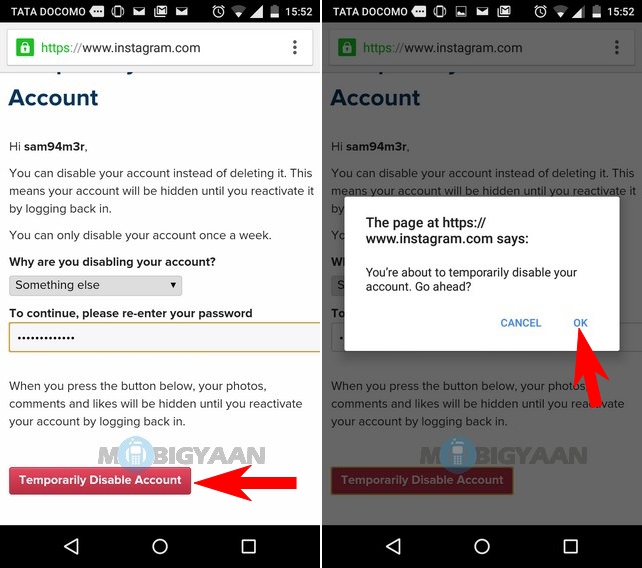 If you do not wish to disable your account but just want to change the privacy to who can see your photos and activity, set your posts to private or block people. It can be done under settings on your Instagram app.
If you really want to delete Instagram account permanently then follow these 2 steps below.
Delete Instagram Account from your iPhone or Android
Step 1: Open a browser (I again used Google Chrome) on your smartphone and type the address: https://instagram.com/accounts/remove/request/permanent/ or click here and login.
The above link is for permanently deleting your Instagram account. When you delete your account, all your profile, photos, followers, following, likes, comments, videos, and everything will be permanently deleted. After removing your Instagram account, you will not be able to get it back under any circumstances. You cannot login to your Instagram account and reactivate it.
Step 2: To permanently delete your account, select an option from the drop-down menu right next to 'Why are you deleting your account?' If you already have the reason listed under it, select it and continue or else pick 'Something else'.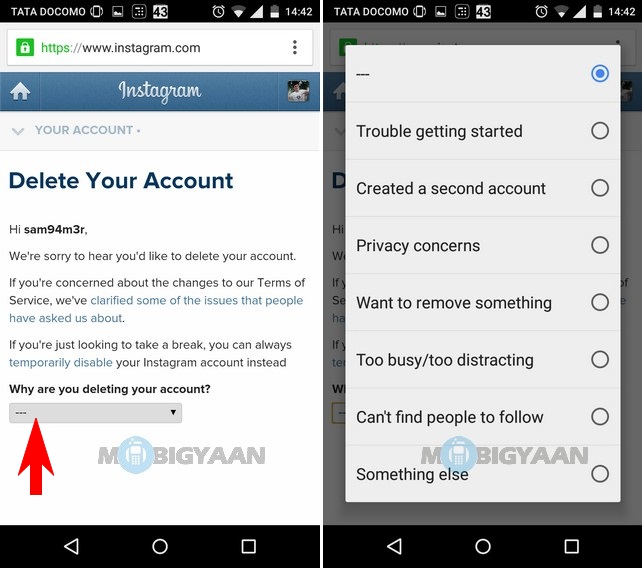 Tap on 'Permanently delete my account'. For security reasons, you will be asked to confirm your password to delete your account. A popup on your browser may ask you to confirm the action, choose OK. Your account will be permanently deleted and you will be logged out of your account.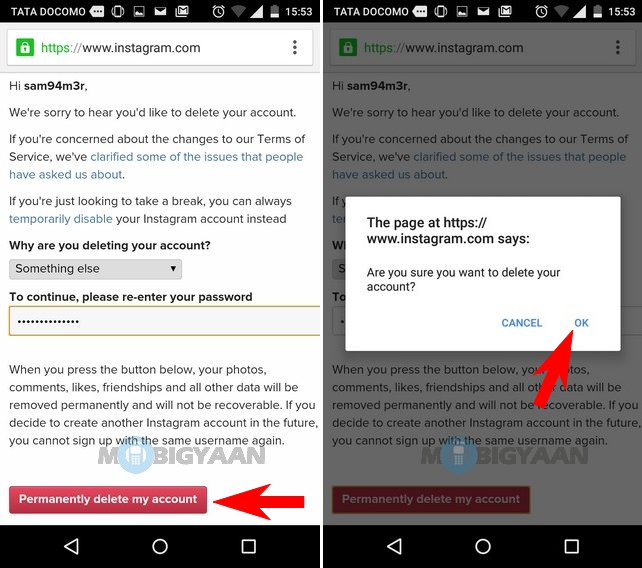 We have shown you two different ways to deal with your Instagram account. In case, you think you have a doubt about this guide, drop your queries under comments, we will make sure to catch your queries and solve them as fast as possible. Share this amazing guide on social media, if it helped your or can be further helpful to your friends. Find more tutorials on our How-To Guides.