Among this year's most powerful smartphones are the Samsung Galaxy S9 and Samsung Galaxy S9+ with a familiar design and an upgraded camera that takes 960fps slow-motion videos. Running Android Oreo out-of-the-box, the Samsung Galaxy S9+ takes on the new ways to take screenshots, we check them each and here they are.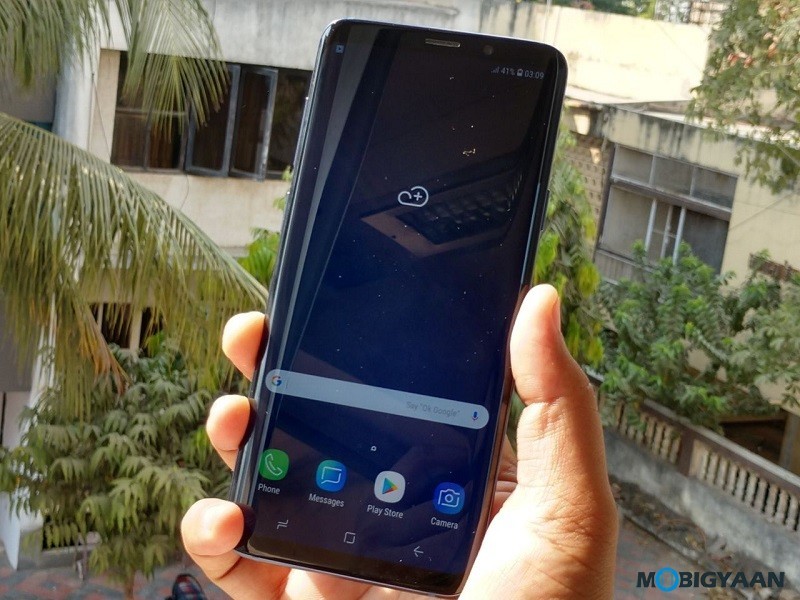 Ways to take a screenshot on Samsung Galaxy S9+
We know the most well-known key combination that works on almost all Android devices is to press and hold the power button and volume down key. Aside from this basic keys combination, Samsung offers gesture-based ways to take a screenshot on Galaxy S9+. It also works on Galaxy S9 as well. Here are the ways to take a screenshot on Samsung Galaxy S9+.
Method 1: Power Button + Volume Down Button
It's easy to take a screenshot on Samsung Galaxy S9+ with these two keys.
Press and hold the Power button and Volume Down button to capture the screen.
Once you successfully take a screenshot, a screenshot edit window will open with a few options like Bixby Vision, Draw, Crop, and Share. The Draw function will allow you to draw over screenshots while the Scroll capture takes scrolling screenshots. The Bixby Vision will scan the screenshot and provide you the information on the content available in it.
Method 2: Palm Swipe To Capture
Samsung also offers a gesture-based input for taking screenshots, you need to enable the feature 'Palm swipe to capture' on your Galaxy S9+.
To do that, head on to the Settings -> Advance features and turn On the Palm swipe to capture slider if it's not already On.
Now swipe your palm from the edge of the screen to capture a screenshot.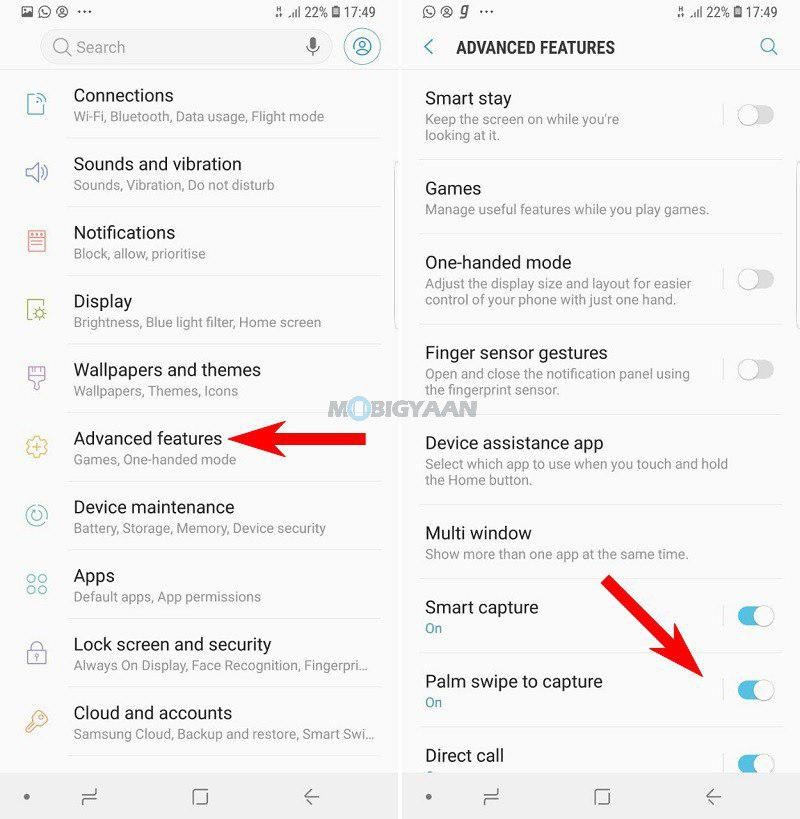 Method 3: Bixby Voice
The Bixby Voice can actually be handy if you can't use the above methods.
When on the screen you want to capture, hit and hold the Bixby key, and say "take a screenshot".
If you've configured it and don't want to press the Bixby key, say "Hi Bixby" and then "take a screenshot".
The screenshot will be saved to the Gallery automatically without providing the editing options as mentioned above.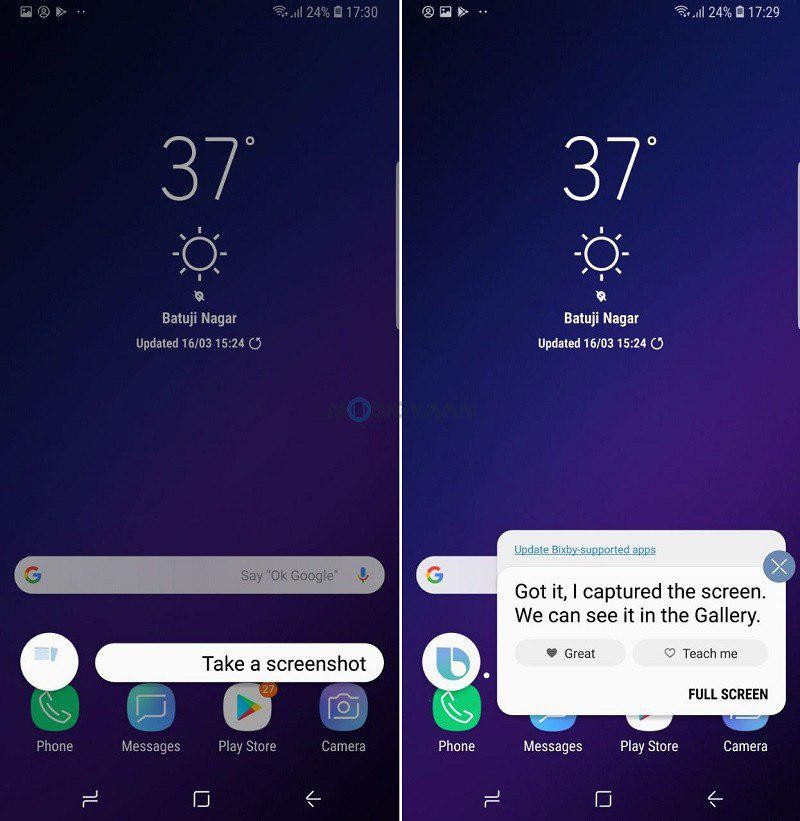 Method 4: Google Assistant
The last thing you can do is to take the screenshots using the Google Assistant. If you have configured Google Assistant, just say "Ok Google" and then say "take a screenshot". You will miss the instant editing capabilities though.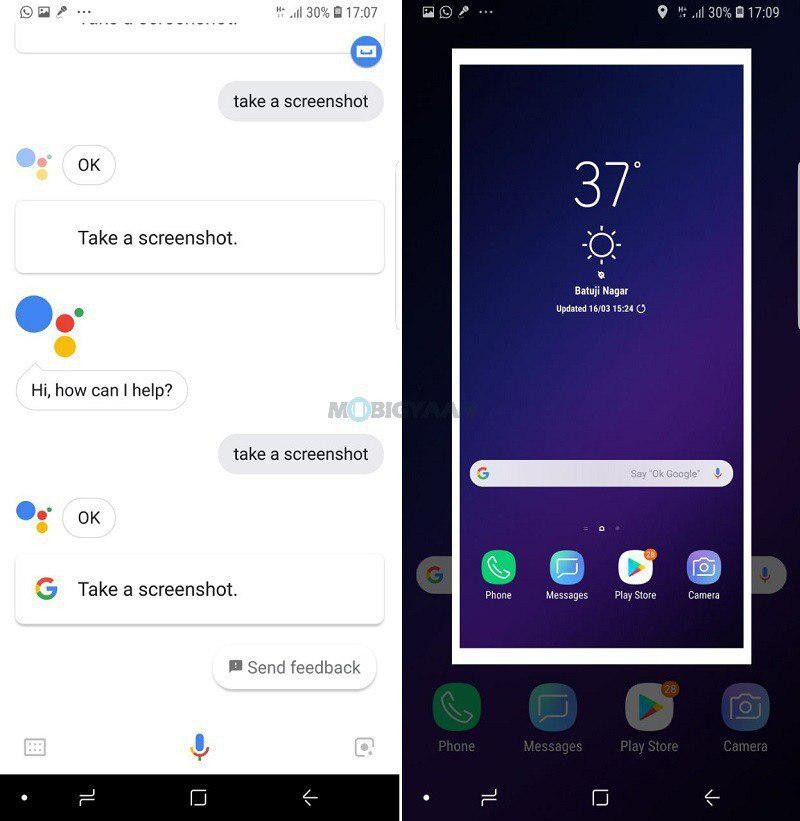 Also, check out our hands-on with Samsung Galaxy S9+.