We came across rumors around the next big thing from HTC dubbed One M8 Prime and today, we have more details around it. Thanks to an interesting conversation between @evleaks and HTC's Jeff Gordon, the prolific leakster revealed some interesting details on the One M8 Prime.
According to @evleaks, the One M8 Prime will be "made out of an exotic material, which is a composite of aluminum and liquid silicone." The mentioned composite is said to be lighter than aluminium but is more durable.
The One M8 Prime will also feature a rating for water resistance, bringing HTC on par with Sony and Samsung's flagships. Some specs were also revealed. The device is said to be coming with a 5.5-inch QHD (1440 x 2560p) display and it'll be powered by the Quad-core 2.5 GHz Snapdragon 805 with 3 GB RAM. Thanks to the Snapdragon 805, the device will be the first from HTC to support high speed 4G LTE with up to 300 Mbps speeds.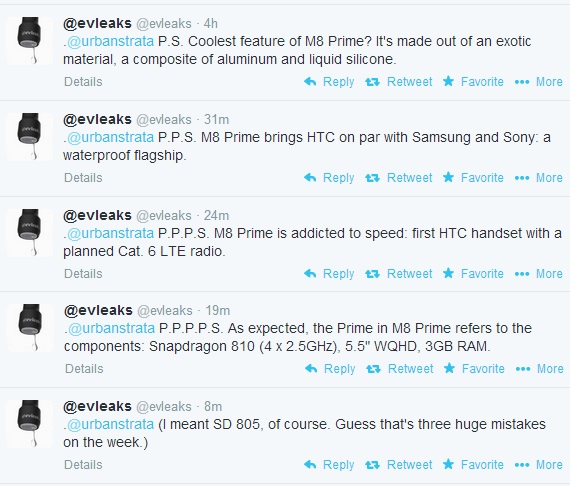 The design of the One M8 is surely beautiful and we can't wait to see what HTC has in store for us with the One M8 Prime. Sadly, we'll have to wait quite a bit as various rumors suggest the device will be launched in September. Tell us, what you think of the beastly One M8 Prime?