Huawei sub-brand Honor recently started rolling out the Android 8.0 Oreo update for Honor 7X in the US. And now, the parent company, Huawei, is rolling out the Oreo update for the Huawei Mate SE that was launched back in March this year.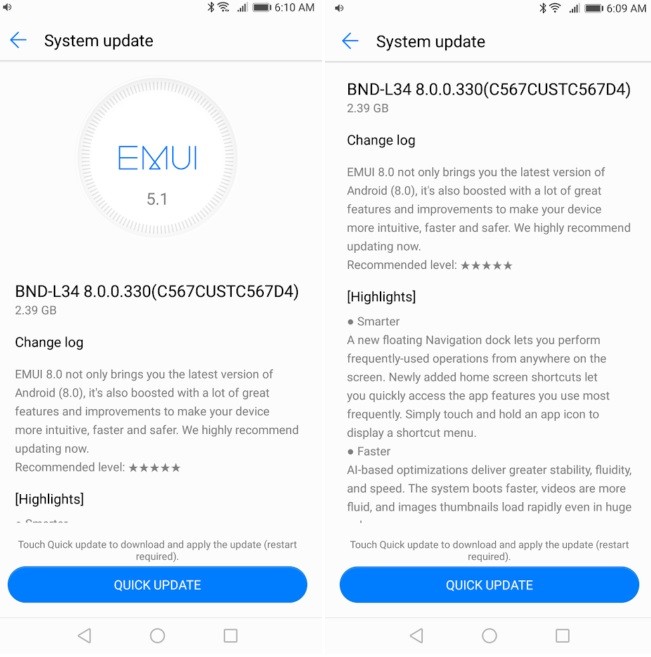 For those unaware, the Huawei Mate SE is actually a re-branded Honor 7X with 4 GB RAM and 64 GB internal storage. Other than that, the innards are actually the same on the 7X and Mate SE. Anyways though, now that Honor 7X has received the Oreo update in the US, the Mate SE too has started receiving this update, but only in Canada.
This update, apart from upgrading the Mate SE to Android Oreo, also bumps up EMUI to 8.0 from 5.1. As there aren't any major differences between the 7X and Mate SE, the changelog of the update is also mostly the same.
The Android 8.0 Oreo based EMUI 8.0 update brings in floating navigation dock, updated settings menu, and face unlock among other things to the Huawei Mate SE. Moreover, it also brings in Android Oreo-specific features like the Picture-in-Picture Mode, Autofill Framework, and more.
That said, this Android Oreo update for Huawei Mate SE weighs around 2.4 GB in size, hence, it's advisable to download it over a Wi-Fi connection. And, like we already said, the update is currently only rolling out in Canada, but, it should be rolled out in other regions soon.