Instagram has just announced Instagram Direct at an event today in New York today which is a messaging feature built in the Instagram app. The new Instagram Direct lets you message photos, videos and text privately to a friend or a group of friends, 15 to be more precise.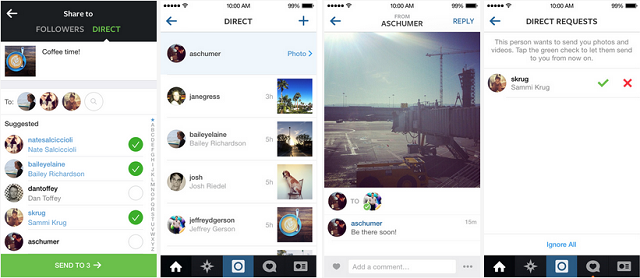 Instagram CEO Kevin Systrom said at the event today, "Communication is not about photography, necessarily. If we were about photography we're built into cameras, but we're not, we're built into phones."
Instagram has till now focused on photos and video sharing, they like to call it "moments" but now they have included messaging which brings it against the crop of messaging apps such as WhatsApp, Line, Kik, Viber and the new private image sharing feature pits it directly against Snapchat. Interestingly, Twitter also added the ability to DM photos recently. Systrom added "Sometimes you want to be able to share not with everyone, but just with a specific group".
Instagram has been having quite a busy year. It rolled out video sharing, photo tagging, its first ads and they even brought the much awaited Windows Phone app and now add to that Instagram Direct. It seems they have been hard at work.
Instagram Direct is available as update 5.0 to the Instagram app on iOS and Android. Sadly as always there's no word on Windows Phone as of yet.