Earlier last month, at its F8 annual developer conference, social media giant Facebook made quite a few announcements. This included announcing some new features for Instagram as well like app integration for Instagram Stories, group video chat, new Explore tab, and, custom AR filters. Well now, after almost two months from announcing those features, Instagram is finally rolling them out to all the users.
Group Video Chat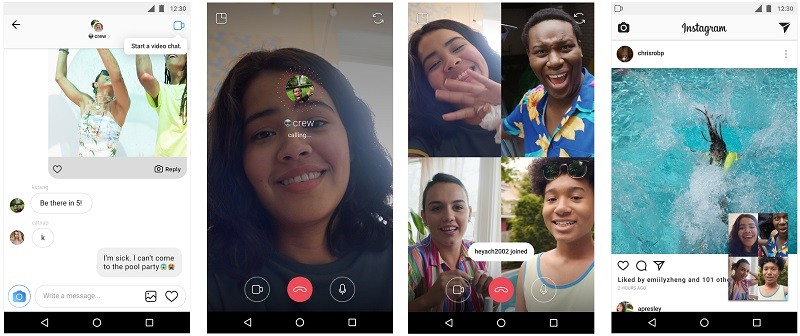 Let's talk about the group video chat feature first. As already evident from its name, this feature allows users to have video chat with each other – both in private and in groups. Group video chats on Instagram can have a maximum of four members.
To start a video chat, just head over to your Direct inbox by tapping on the paper plane icon at the top-right corner of the screen, open any message thread, and then tap on the camera icon located in the top-right corner. Once the video call is on, you can minimize the call window to multi-task on Instagram like sending messages and photos/videos in Direct, posting or viewing a Story, or simply scrolling through your Feed.
That said, in a group message thread, if there's an active video chat going on, the camera icon will turn blue in color. If you want to join the group video chat, you simply have to tap on that blue-colored camera icon and you are in.
Instagram users can have a video chat with anyone they have an active Direct thread with. However, if they have blocked someone, the blocked person will not be able to video chat with them.
New Explore Tab
We had been hearing about the new Explore tab right since the month of April, and finally, it was announced by Instagram earlier last month. This new Explore tab on Instagram now helps users discover content in a much better way.
The new Explore tab now has channels based on different topics like Art, Travel, Animals, and more. These are present at the top in a tray in tile shape. Tapping on them shows you posts that are related to those topics. Besides, Instagram also shows related hashtags below the tray that let you discover more posts and accounts.
There's also a 'For You' channel which shows you personalized posts based on your interests. That said, if you dislike any channel, you can hide it easily by long-pressing on it and tapping on the 'Mute' option. This will push that channel at the end of the tray. However, you can unmute it any time you want.
Custom AR Filters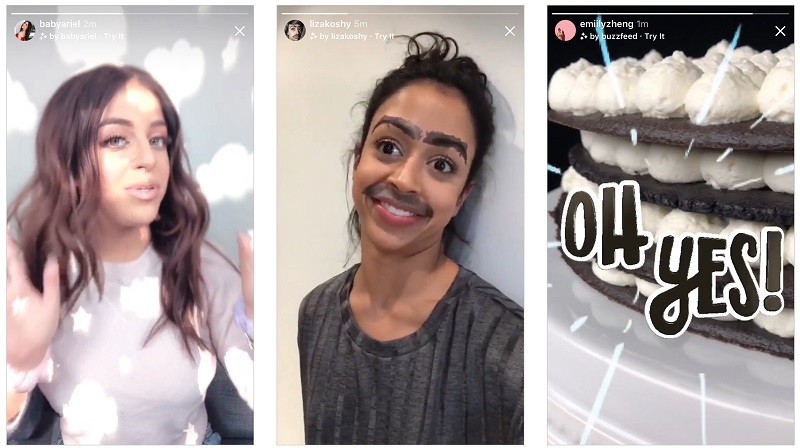 Last one are the custom AR filters. Instagram has partnered with well-known names like Ariana Grande, Buzzfeed, Liza Koshy, Baby Ariel and NBA to create new AR camera effects for the Instagram camera that can be used in Instagram Stories.
If you are following any of the aforementioned accounts and come across a new AR effect, you can try it out yourself by tapping on the face icon at the bottom-right corner of the screen. But, if you aren't following any of these accounts and see an effect, you can still try it out by tapping on the 'Try it on' button and adding it to your Instagram camera.
All of these new features are available for Android and iOS users starting today. These features are activated through a server-side switch, hence, you are not required to update the Instagram app. But, we do advice you to keep all the apps installed on your smartphone – including Instagram – updated to the latest version for the best experience.