Facebook-owned Instagram is constantly testing new features in its app – be it a clone of Snapchat's Snapcodes, or, the convenient Starred Chats and Chat Search Filter. But, it looks like Instagram doesn't have any new features to test for the time being, and hence, is working on a new design layout for the Explore tab in the app.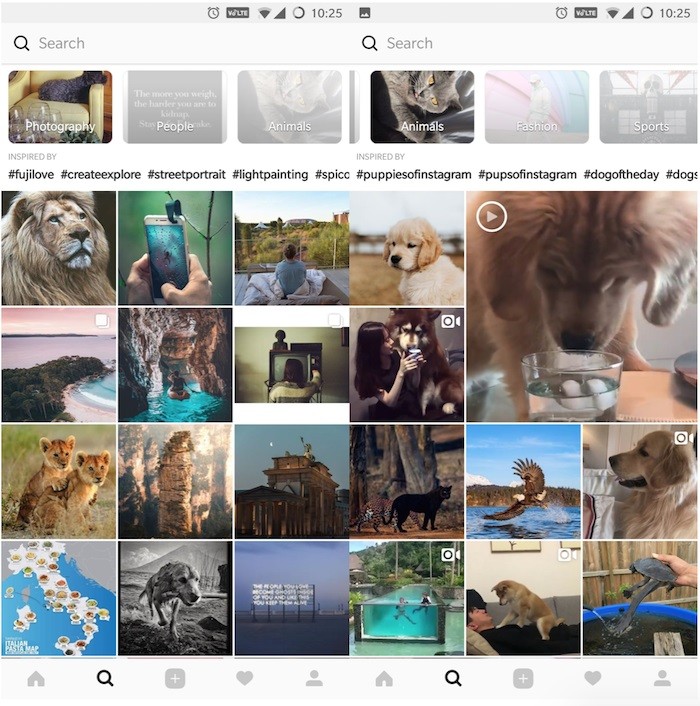 Instagram has started testing a new design layout for its Explore tab. For those unaware, the Explore tab is the place where you are shown photos and videos by Instagram based on the people you follow or the posts you like. Sometimes, you also see content from the people that you don't follow, but the friends you follow do. In short, the Explore tab is the place where you won't see posts from the people you follow.
Until now, the Explore tab in Instagram showed Instagram Stories and Live Videos at the top, below which were photos and videos. But, with the new layout, the Explore tab now shows you content that's grouped in different categories like People, Fashion, Sports, and so on.
The Stories and Live Video circles are now replaced with rectangular tiles of different categories that can be side-scrolled. When you tap on a specific tile, you will see posts in the Explore tab that fall under that category.
Moreover, there also are hashtags present below these tiles. These are probably those hashtags that are included in the posts shown in the Explore tab. However, Instagram is also showing some posts that don't have any hashtags at all, which indicates that the company is using machine learning or some other tech to show posts in this tab.
Having said that, this seems to be a server-side test, hence, not all the users will be able to see this newly designed Explore tab in their app, even if they are enrolled in the beta program.