Earlier this month, Instagram rolled out the Zoom feature to its Android and iOS apps. And now, to further enhance the experience of its users, Instagram is allowing them to hide inappropriate comments on their posts.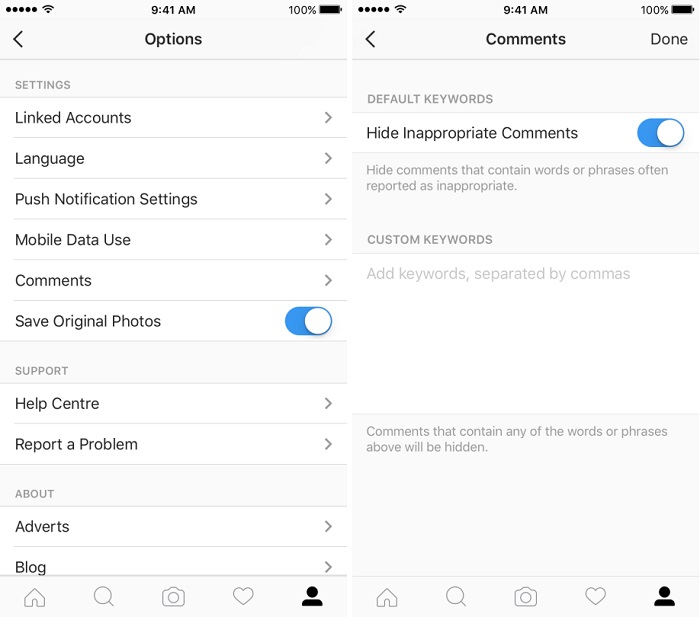 Instagram has 500 Million users and there surely are many who make the experience unpleasant for others. Hence, Instagram now lets users hide comments which contain words/phrases that are flagged inappropriate. However, it is possible that there will be certain words/phrases which an individual may find more inappropriate. Therefore, Instagram also lets users enter custom keywords which they don't want to see in the comments.
"The beauty of the Instagram community is the diversity of its members. All different types of people — from diverse backgrounds, races, genders, sexual orientations, abilities and more — call Instagram home, but sometimes the comments on their posts can be unkind. To empower each individual, we need to promote a culture where everyone feels safe to be themselves without criticism or harassment. It's not only my personal wish to do this, I believe it's also our responsibility as a company. So, today, we're taking the next step to ensure Instagram remains a positive place to express yourself." said Kevin Systrom,
CEO & Co-Founder of Instagram.
The option is available in Settings > Comments. You will find a toggle button provided against the "Hide Inappropriate Comments" option. Just tap on it to turn it on. This will block all the comments which contain words/phrases that are flagged inappropriate. However, you can enter the words you think are inappropriate in the "Custom Keywords" section which is right below the toggle button. You can add as many words as you want.
This feature is available to the users of both the Android and iOS apps.