Facebook-owned Instagram keeps rolling out new features to its app at regular intervals, especially the ones that encourage increased usage of Instagram Stories. Just a week ago, Instagram rolled out Emoji Slider to make polling on Instagram Stories more fun. Now, the company has announced a new feature that lets users share posts from Instagram feed directly to their Stories.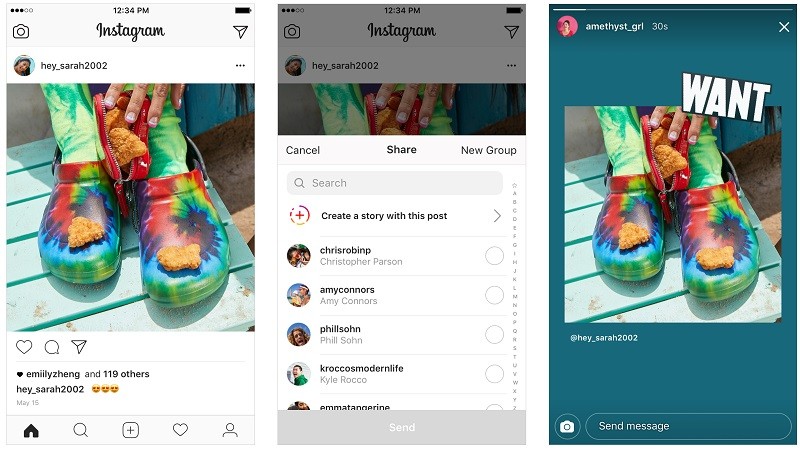 With the latest update, Instagram users can now share posts from their feed directly to their Stories as stickers. To share a feed post to your Story, all you have to do is tap on the 'paper plane' icon below the post right next to the comment icon, and then tap on the option that lets you add that post to your story.
Once you do that, the post will be added as a sticker to your Instagram Story along with the person's username as well as a link back to the post. The background color of the Story will change depending on the post you have added. And, you can also resize and rotate the post sticker in your Story to your liking, while also adding other stuff like emoji, hashtag and more.
That said, in addition to sharing posts from your account, you can only share posts from other accounts that are public. Moreover, if you have a public account, you can prevent others from sharing your posts to their Stories by heading over to the Settings > Resharing to Stories menu.
"When you come across something in feed that inspires you — like a post from a friend raising money for a cause or a photo of a new design from your favorite brand — you can now quickly share that post as a sticker to your story for your friends and followers to see." said Instagram in a blog post.
This new feature is currently only available for Android users, but, Instagram has said that it will be available for iOS users as well "in the coming days".