Stories on Instagram, which are actually a clone of Snapchat Stories, have become very popular among the Instagram users. In fact, the total numbers of users on Instagram who use Stories regularly are more than the total number of users of Snapchat. Well, anyways though, Instagram has made Stories more interesting now by introducing a new feature called Type Mode.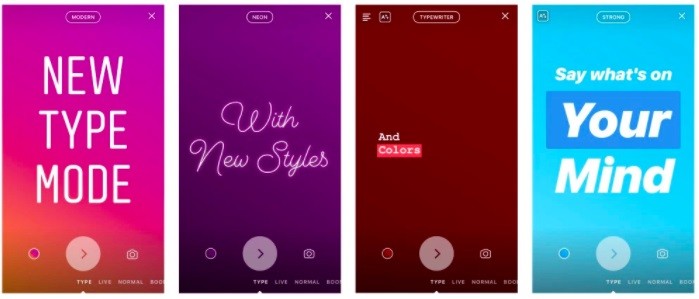 As the name suggests, with Type Mode, users can now post colorful text-based Stories on Instagram. You can type the text you want, select the background color, select the font style and then post it as a Story. No need of a photo or a video.
To post a text-based Story on Instagram, just tap on the Camera icon and you will see an option that says "Type". Well, just tap on the Type option, add text, select font style and background and you are good to go.
Needless to say, just like other Stories on Instagram that contain photos or videos, the text-based Instagram Stories will also disappear automatically after 24 hours. Well, it's worth noting that back in August last year, Facebook-owned WhatsApp also received a similar feature that lets WhatsApp users post colorful text-based WhatsApp Status.
This new feature is being rolled out as a part of update version 30 for both Android and iOS. Try updating the Instagram app if you don't see this feature.
Download Link: Instagram for Android | Instagram for iOS