A couple of hours ago, we told you that Jio might announce the Dhan Dhana Dhan offer soon. Well, the offer has just been announced by Jio along with the details of new plans.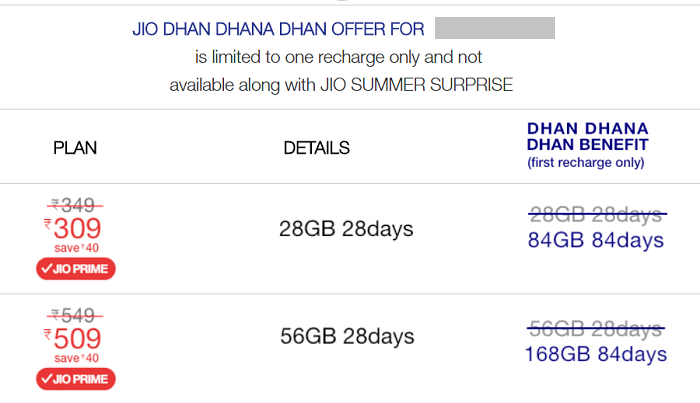 This offer is similar to Jio's Summer Surprise Offer which is has been discontinued. Under the Dhan Dhana Dhan offer, Jio Prime members will get 1 GB unlimited 4G data per day for ₹309 with a validity of three months. Along with the 4G data, customers will also get unlimited voice calls, unlimited SMS and access to Jio apps.
Jio Dhan Dhana Dhan Benefits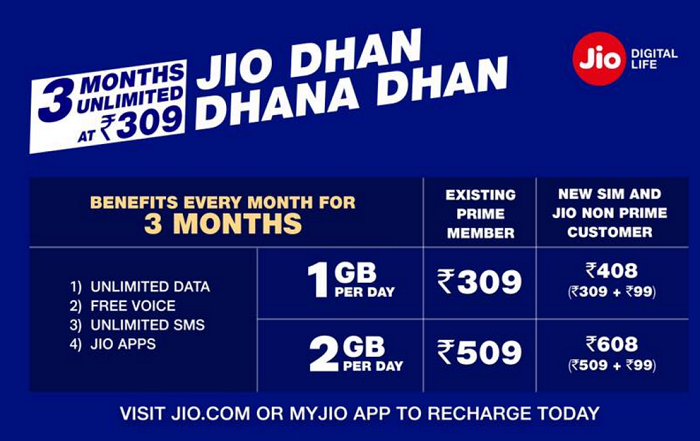 There's one more plan under this Dhan Dhana Dhan offer which gives 2 GB unlimited 4G data to its customers for three months for ₹509. Along with 2 GB data, customers also get unlimited SMS, voice calls and access to Jio apps.
Well, these offers are only available for Jio Prime members, however, those who are not enrolled in Jio Prime or are a new Jio customer can avail these benefits by doing a recharge of ₹408 for the 1 GB plan and ₹608 for the 2 GB plan.
Having said that, this is a one time offer which means we should Jio expect to come up with some new plans again after three months. Also, those who have already done a recharge of ₹303 for the Summer Surprise Offer cannot avail this offer.
What do you think about the new offer? Do let us know in the comments below.
Click here to Like us on Facebook for more updates on Jio