Reliance Jio has upgraded its plans with the start of this new year. Two weeks ago, Jio announced new tariff plans for prepaid customers as a part of the new year, one of which was priced at ₹199 and it offers 1 GB data per day with bundled voice calling. Jio's latest Happy New Year 2018 offer now reduces the price to ₹149 plan from ₹199 making it the lowest tariff ever in the telecom industry. That's not it, the Jio has introduced two offers, the 1 GB per day data packs will get ₹50 off while the existing plans will get 50% more data benefits.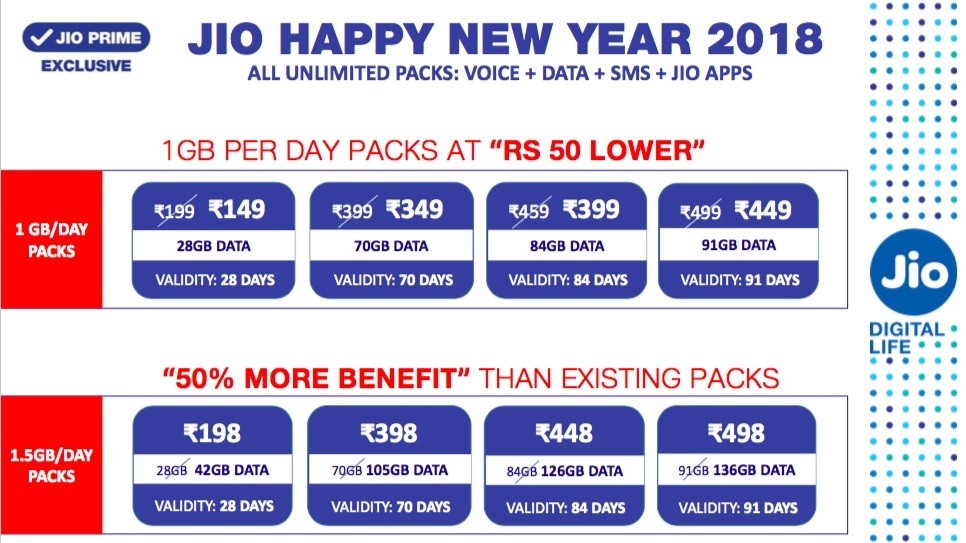 Either the user gets 50% mode data or ₹50 discount on the given plans. The included plans that give ₹50 off are ₹199, ₹399, ₹459, and ₹499 while the other four plans that offer 50% more data are ₹198, ₹398, ₹448, and ₹498.
But what happened to the existing ₹149 plan that gives free voice calling with 4.2 GB data? Well, now you will get 1 GB 4G data per day with free calling for the same price valid for 28 days. That means you will get 28 GB 4G data effectively for ₹149 only. Cheaper than you actually thought, eh?
The ₹399 plan will now offer 20% additional data with an enhanced validity of 2 additional weeks, increasing the current validity from 70 to 84 days. For the rest, the ₹198 plan will offer 42 GB data instead of 28 GB, the ₹398 plan will offer 105 GB data instead of the old 70 GB data. Same with the ₹448 and ₹498 plan, the data will be increased to 50% more.
Jio has introduced these special 1.5 GB per day data packs at the lowest per GB cost i.e. ₹4 per GB. These plans will be available to the users from 9th January 2018.
Below are the revised plans as a part of Jio Happy New Year 2018 offer.
₹50 Off Plans
[table id=134 responsive=flip /]
50% More Data On Plans
[table id=135 responsive=flip /]