We already have had a look at the upcoming Moto G5 Plus a few times now. We got a glimpse of the Moto G5 Plus design last month when its image and render surfaced online. Well, another image of a Motorola device has originated from Brazil which is said to be the Moto G5 Plus.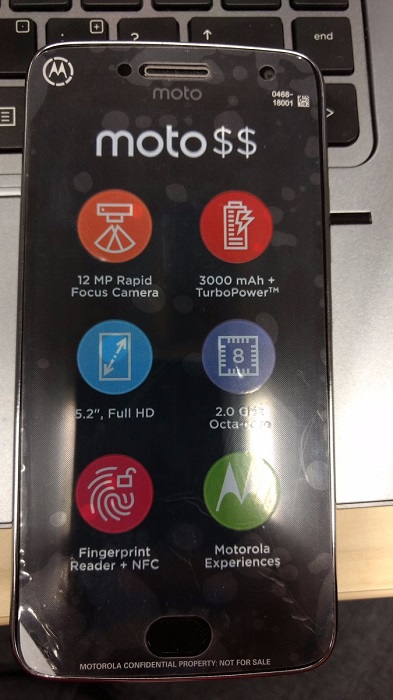 This a black colored device and seems to have metal frame around it. There's a fingerprint scanner at the front, and, if you take a proper look, the design is different from the fingerprint scanners found on last year's Motorola device. While those fingerprint scanners were square shaped, this one's rectangle with rounded corners. However, there's nothing to be surprised as the image and render we saw last month too had the same fingerprint scanner.
This Motorola device has a screen protector which says Moto $$ and has some specifications written over it. It's powered by an octa-core processor which is clocked at 2.0 GHz and is kept on by a 3000 mAh battery. It has a 12 MP camera at the back and sports a 5.2-inch Full-HD display.
Talking about the processor, it's very likely that this is the Snapdragon 625 processor, however, given the fact that this is said to be the Moto G5 Plus, a 5.2-inch display seems very unlikely as past leaks and rumors have suggested a 5.5-inch display.
If this is the Moto G5 Plus and sports a 5.2-inch display, does that mean that the Moto G5 would come with a 5-inch display? Well, we expect to get this confusion cleared soon once the device is spotted on benchmarking websites and more leaks surface online.