Leaked video shows off working unit of Samsung Galaxy S8 with redesigned UI
Earlier today, we got a look at the leaked promotional material of the Samsung Galaxy S8 and Galaxy S8+. Now, a video has leaked online which shows off the working unit of the Galaxy S8 along with its redesigned UI. Well, this is not the first time a video of this flagship has leaked, but, the video leaked today gives us a much clearer look of the UI of this device.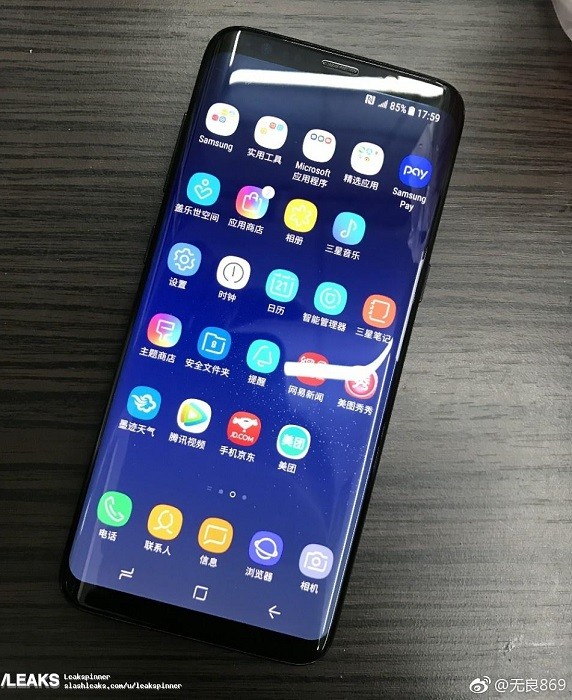 This leaked video is very short, but, it does show the working unit of the Galaxy S8 while giving us a much clear look at the redesigned TouchWiz UI which often receives criticism from many. It shows off the Always On Display which seems to have been improved from earlier versions. You also get to see the on-screen navigation buttons and new icons on the Galaxy S8.
Besides, it looks like Samsung has ditched the app drawer now as the app drawer icon is not visible and all the apps now appear on the homescreen à la iOS. However, it's possible that Samsung might give users an option to bring the app drawer back from the Settings menu if they want. We are attaching the leaked video below if you are interested in checking it out.
The Galaxy S8 is going to be unveiled on March 29 along with Samsung's AI powered voice assistant Bixby which was announced yesterday. The unveiling is just over a week away, however, we don't think this 2017 Samsung flagship will stop making rounds on the Internet until then.
Samsung Galaxy S8 and Galaxy S8+ rumored specifications:
[table id=90 /]