The LG G Flex is a pretty unique device and if @evleaks is to be believed, its successor aptly dubbed LG G Flex 2 will come in Q1 next year.
The LG G Flex got a lot of attention when it launched, thanks to its curved nature and self healing abilities. We were also quite impressed with its battery life. As per @evleaks, the LG G Flex 2 will come "with a feature even more unique than self-healing plastic."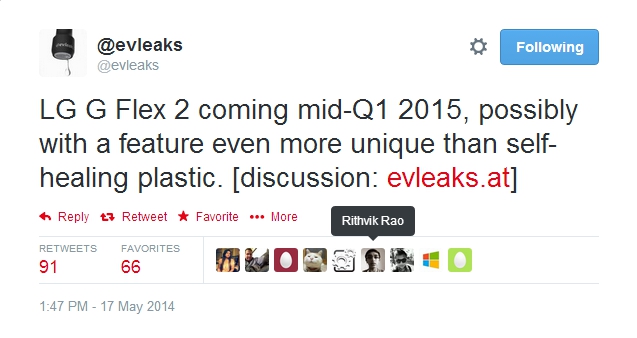 Although the G Flex was self healing, it did not heal heavy dents, so here's hoping the G Flex 2 brings more stronger self healing tech. We also hope the LG G Flex 2 comes with a better resolution display than its predecessor. The LG G Flex features a 6-inch 720p display and with the LG G3 all set to bring QHD displays to the market, we can expect the G Flex 2 to carry such a higher resolution display too.
@evleaks has also revealed that a LG handset will be among the first smartphones to feature in the rumored Android Silver program. The device will supposedly come with a Qualcomm MSM8994 chipset, which is the Snapdragon 810, an Octa-core chipset set to arrive in 2015. The rumored device will be the successor to the Nexus 6 initiative. Reportedly, the device could be the LG G Flex 2 since we don't expect LG to unveil two flagship devices at such short intervals.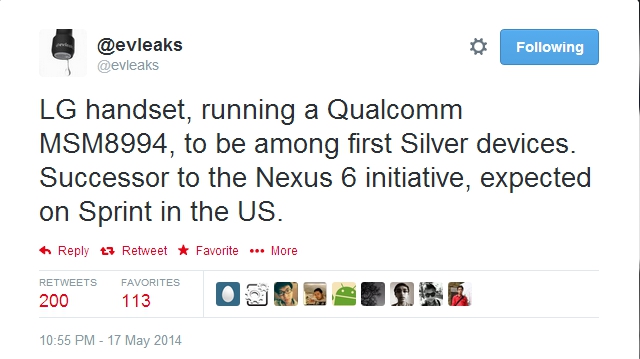 Either way, things are surely going to spice up with the Android Silver program. We also look forward to the LG G Flex 2 but we'll have to keep our excitement in check, considering it's still a long way off. Till then, we can surely enjoy with the LG G3, as it's just a week away from launch.